Stuart Broad's five-for helps England win a point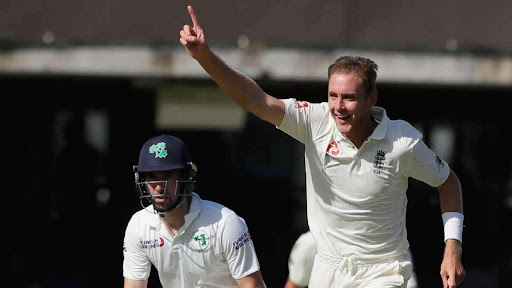 Stuart Broad gets the five wickets haul
In the game show on TV, Pointless, competitors must choose the most improbable response to each question—one that is correct but that no one in the audience surveyed by the program has ever considered.
Despite the rumors that this Test had little meaning, Stuart Broad offered the most obvious answer of all. This was demonstrated by Ireland's undeniable focus on World Cup qualification and England's understandable caution given their falling seam-bowling stocks and eagerness to experiment in that area.
It would be impossible for him to persuade Stuart Broad that a third five-wicket haul at Lord's, which would be his first at this venue in ten years, had no importance, just as it would be impossible to convince England that any sort of practice for their approaching Ashes campaign is meaningless.
Similar to this, telling Ireland that there is no use in showing up if they want to improve their Test experience—which is still only seven matches old—would be fruitless. It might as well begin right now as the international season must begin someplace.
After being put in to bat under cloudy skies by a team that loves to pursue, Broad's 5 for 51 restricted Ireland to 172. The total fell short of Ireland's first-inning total during the previous encounter between these teams at Lord's, which occurred four summers ago.
At that time, they bowled England out for 85 in their response before crumbling for just 38 in the fourth innings, and the hosts prevailed by 143 runs.
By the time the game ended on the first day, England had successfully reduced their lead to just 20 runs with nine wickets in hand after the cloud cover had given way to blazing sunshine by lunch. On his debut as Ireland's third seamer, Zak Crawley reached fifty off just 39 balls before falling to a juggled return catch by Fionn Hand.
Of his 11 fours, Crawley hit some beautiful cover drives mixed with some streaks inside edges. At the end, Ben Duckett was unbeaten on 60 after reaching his own half-century off 53 balls, and he was joined by Ollie Pope on 29.
James McCollum, Curtis Campher, and Paul Stirling all reached the 30s but were unable to continue after Broad took a flurry of three wickets in the span of eight balls to leave Ireland struggling at 19 for 3 early in the morning session. Broad then claimed two more wickets shortly after lunch and early in the evening session.
The task was too big, and arguably made even bigger by Josh Little's widely known absence, their best bowler who is resting after the IPL and before next month's 50-over World Cup Qualifier in Zimbabwe as well as the European T20 World Cup Qualifier in Scotland a month later. McCollum was patient, Campher was spirited, and Stirling was enterprising, but the task was too big.
In place of his usual new-ball partner James Anderson, who was unable to manage his recovery from a groin injury in time for the Ashes, Broad opened the bowling with Matthew Potts. While the latter probed admirably, Broad struck with the second ball of his third over, a fuller one that pitched a fraction outside off stump and angled back beautifully as PJ Moor walked across his stumps and was struck halfway up his front pad in line with middle and leg.
In order to catch Andy Balbirnie's outside edge as the Ireland skipper left for a five-ball duck and Broad got his second, Crawley executed a superb dive from second slip. Following two balls, Harry Tector moved forward Broad and slipped the ball directly to Potts at leg slip.
When Broad struck Stirling flush on the front pad as he shot across the line, he thought he had a fourth wicket right away, as did umpire Paul Wilson. However, Stirling escaped on review when ball-tracking revealed that it had just missed leg stump by slightly.
Josh Tongue, the new Worcestershire seamer who was originally selected to fill in for Anderson and Ollie Robinson, who is also being absent after injuring his ankle while playing for Sussex, took over for Broad in the 11th over from the Pavilion End and tested McCollum right away by sending down twin maidens to start. He bowled 13 wicketless overs for 40 runs while maintaining superb line and length and adding extra bounce and carry.
When a short ball from Tongue beat his inside edge, nipped back sharply, and barely missed the bat as it went over the stumps, brushing his thigh pad instead, McCollum escaped an England review for caught behind.
In contrast, Stirling reached 30 off 35 balls, including back-to-back fours off Tongue among his five boundaries, before he shaped to sweep Jack Leach and the ball looped off his glove to a waiting Jonny Bairstow, back behind the stumps after nine months away from international cricket due to a broken leg. By the time lunchtime rolled around, he had faced 93 deliveries for his 29 not out.
Ireland fell to 169 for 8 shortly after tea as a result of Broad's second strike in the fifth over following lunch when McCollum edged to Joe Root at slip and Mark Adair was bowled by him with a brilliant inswinger that touched the top off stump.
After ending a 38-run partnership between Campher and Andy McBrine, Potts got his second wicket by having Hand caught behind to end the innings. Campher had advanced on Leach and missed as the ball rocked his stumps, giving the England spinner his third wicket.