Steven Smith 71 key as Australia take slow road to slender lead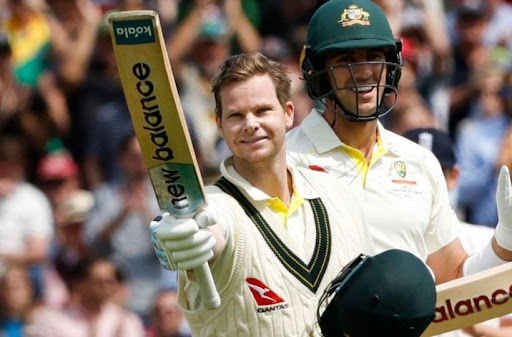 Steven Smith played an incredible innings of 71
At The Oval, Australia's tortoises held a slim lead over England's hares after the first innings thanks to Steven Smith. After England thumped 283 in 54.4 overs on day one, Australia's response was entirely different in pace.
After exactly 99 overs of their innings, they managed to gain ground, in large part because of the efforts of their captain, Pat Cummins. With Australia still 98 runs adrift, Cummins finished at 185 for 7, but they shared partnerships for 54 with Smith and then 49 with Todd Murphy to make 36.
Moeen Ali, who had a groin injury while batting on the first day, spent the majority of the second day in the dressing room, but the other three England seamers all bowled at least 20 overs. Stuart Broad was the best of the attack, but Chris Woakes finished with a 3-for-61 total.
With 13 runs off the bat in the first hour of play, Australia struggled for much of the morning session. However, when Smith came to the crease after Marnus Labuschagne was beautifully taken by Joe Root at slip, the game's momentum altered.
After lunch, while five wickets fell at the other end, he kept Australia's innings together by slamming back-to-back early boundaries through mid-off off James Anderson, breaking Don Bradman's record for the most runs scored by an overseas batter at The Oval with the first of them.
Usman Khawaja and Travis Head were removed from the game by Broad in his first two overs following the break, and neither Mitchell Marsh, Alex Carey, nor Mitchell Starc were able to reach 20 as England felt the possibility of a sizable advantage.
But after Steven Smith overcame a razor-thin decision by TV umpire Nitin Menon on a run-out opportunity and Cummins overturned a lbw ruling, Australia started to reduce the margin. Murphy played from No. 10, hooking Mark Wood for his first, second, and third sixes of his professional career. He then flicked a single off his pads to long leg to put them in the lead.
Following Woakes' lbw catch of Murphy, Cummins swiped Joe Root down the pitch, but Ben Stokes quickly made a superb catch on the boundary at long-on. It resulted in the fifth Test effectively turning into a one-inning shootout with a first-inning lead of just 12 runs.
Before lunch, Australia added 54 runs in 26 overs as the first session dragged on. Khawaja and Labuschagne chose a staunch defense because of the gloomy and hazy conditions, which favored England's seamers. Labuschagne was especially obstinate, waiting nearly 90 minutes to add seven runs to his overnight total.
To get rid of him, it took a flash of individual brilliance. Halfway down the pitch, Mark Wood slammed one in, drawing an outside edge that went into the space between Jonny Bairstow and Root at first slip. Bairstow dropped the ball for Root, who, despite acting slowly, dove low to his left and grabbed it with one hand.
Khawaja survived the lunch hour unharmed but was out for 47 after five balls. Broad caught him on the knee roll, and his assessment was positive. By deviating from England's customary short-ball strategy to Travis Head, Broad inflamed the crowd in typical fashion. He went full outside off stump and turned away in celebration after securing his outside edge.
Marsh launched himself for a booming straight six after determining that the only way to disrupt Broad's rhythm was to assault. His departure, however, came through a more hesitant shot—an inside edge against his own stumps as he nudged Anderson, who appeared happy to have finally ended a 35.2-over wicket drought with another wicket.
Root was England's sole option for spin when Moeen was forced from the field. Carey hit him for a straight six, and the very next ball he faced, a slow, loopy, wide offbreak, was chipped to Stokes at short cover. As soon as Starc top-edged Wood to long leg, Australia appeared to be in serious trouble.
When attempting to take on George Ealham, a replacement fielder whose father, Mark, played for England in the 1990s, on 42, Smith appeared to have run himself out while pushing a ball into the leg side. Bairstow blasted the bails off with Smith diving at full stretch falling short of his ground before Ealham charged in from deep midwicket and hurled at the stumps.
At first glance, at least. Menon, the TV umpire, was not persuaded that the shorter portion of the first bail that was dislodged had left the top of the stumps by the time that Smith's bat had passed the popping crease; the audience roared as his 'not out' verdict showed up on the big screen. After a sigh of relief, Smith slammed Broad into the ground until he reached 50.
Joel Wilson had Cummins out for lbw when England received the new ball, but the review was successful, and a couple of inside-edged boundaries gave Australia their first 50-run partnership of the innings. When Harry Brook hauled Woakes from the sideline and Smith attempted to whip him over square leg, Smith eventually stumbled; Bairstow went back and settled under his leading edge.
After Murphy swiped Wood away over a long leg and England went short to him, they gave up on that strategy. Australia then gained a narrow lead thanks to a flick from Anderson. He scored 34 crucial runs before Woakes leg-before-trapped him, but his biggest contribution to this game will come on Saturday as he tries to stop England from putting up a substantial fourth-innings target.