Sri Lanka dominates Ireland in the test series: Player ratings for the visitors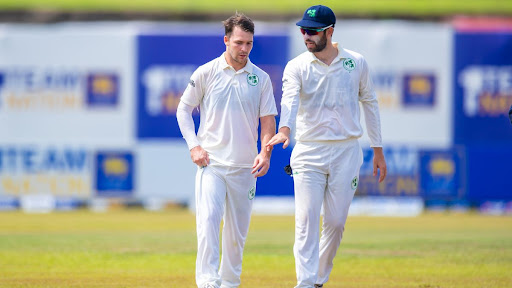 Ireland got hammered by Sri Lanka 2-0 in the two-match test series
Sri Lanka and Ireland squared off against each other in a 2-match test series that took place at the Galle International Cricket Stadium. Dimuth Karunaratne's side comfortably managed to get the better of Andrew Balbirnie's side. Sri Lanka's batting as well as bowling gave their best, some players even broke a few records too.
On the contrary, Ireland will look forward to forgetting the nightmare series they played against Sri Lanka. Most of the Irish players gave mediocre performances, however, few players were still bright.
Hence, without further ado, let us take a look at the performances of Ireland players in the Test series:
Batters
James McCollum (2/10): James McCollum was expected to lead the side from the front and frustrate Sri Lanka bowlers, however, nothing like that happened. The 27-year-old batter scored only 63 runs in the whole series with his best score being 35.
Although he made his debut for the Irish team in 2020, McCollum has played only around 15 matches for the team yet. The right-handed batter failed to show that he can face spin. Left-arm orthodox bowler Prabath Jayasuriya sent McCollum to the pavilion thrice in his total of four innings.
Murray Commins (0/10): The test series against Sri Lanka was an absolute nightmare for Murray Commins. He was given the chance to open the Irish innings, however, he failed to score a single run. Commins went back to the pavilion in both innings in the first test for a duck and Vishwa Fernando was the ringmaster. Consequently, he was dropped for the second test.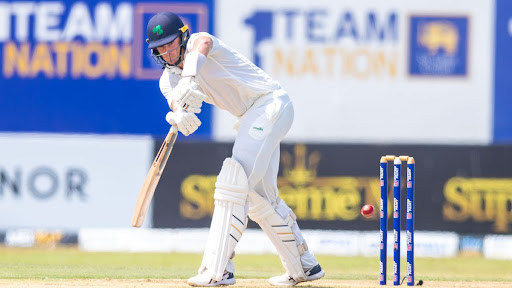 Peter Joseph Moor (1/10): In the first match, Andrew Balbirnie gave Peter Joseph Moor a chance in the lower-middle order, where he failed to impress the team following a duck and only 14 runs. Hence, he was shifted above in the batting line-up but he wasn't able to achieve anything in the process.
In the second test, he played 5 & 19 run innings and his side didn't profit much from his batting. Moor scored a total of 38 runs against Sri Lanka as Prabath Jayasuriya sent him back to the pavilion twice and Ramesh Mendis and Asitha Fernando dismissed him once.
Andrew Balbirnie (4/10): Ireland's skipper Andrew Balbirnie was expected to play a pivotal role in the Irish batting line-up. However, he failed to fill up the expectations as he scored a total of 10 runs in the first test. Two lethargic and uncomfortable innings of 4 and 6 runs were not going to help the Green Attire in such a series.
The skipper played an impressive innings in the second test as he scored 95 runs. He was expected to score more runs but eventually, Ramesh Mendis took his wicket before Balbirne was going to complete his century. In the second innings, it seemed like he was carrying the same momentum but Mendis again struck like thunder to thrash the Irish hopes.
Lorcan Tucker (3/10): In the first inning of the initial test match, Ireland's wicket-keeper, Lorcan Tucker seemed comfortable with the happening. However, that didn't last long as Sri Lanka's star bowler, Prabath Jayasuriya took his wicket when he was at 45 only. Likewise all the other batsmen on his side, Tucker also constantly suffered facing the left-arm orthodox bowler.
In the second test, Lorcan Tucker came back from behind to score 80 runs off only 106 deliveries, in his heroic innings, he smashed 10 boundaries. However, in the second innings, nothing worked for the wicketkeeper-batsman as he was dismissed early by Asitha Fernando when he had put only 13 runs on the board.
Paul Stirling (6.5/10): At the place of Murray Commins, Paul Stirling found himself in the playing XI for the second test. Hence, he played really well in the first inning of the match as he scored a much-required century. The 32-year-old scored 103 runs off 181 deliveries with the help of 9 fours and four sixes.
Asitha Fernando dismissed Stirling and stopped Ireland from completing the 500-run mark. He was expected to play a major more in the second inning too, however, by sending him back to the pavilion at only 1, Prabath Jayasuriya completed his 50 test wickets. 
All-rounders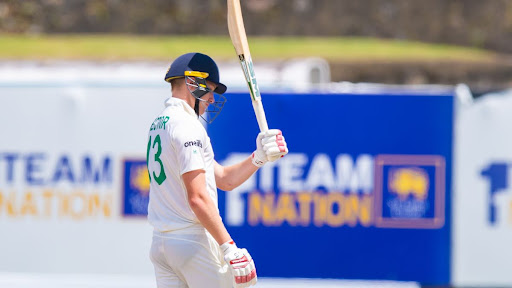 Harry Tector (6/10): The 23-year-old was a bright prospect all over the series. However, he lacked a big score for his team but he looked strong and confident a number of times against the lethal bowling line-up of Dimuth Karunaratne's side. He also got run out in the second inning of the first match, otherwise, he would have made a few more runs.
In the second test, he scored only 18 runs in the first inning, but his 85 runs in the second inning stole the show. When the whole batting line-up was falling apart, Harry Tector stood and tried his best to at least stop his side from losing by an inning. However, at 202, he lost this wicket.
Curtis Campher (7/10): Curtis Campher was unarguably the best player on Andrew Balbirnie's side. The all-rounder scored runs as well as struck crucial wickets. Although Sri Lanka played only two innings and they didn't get all out even once, three out of the total nine dismissals of Dimuth Karunaratne's side were done by Curtis Campher.
In batting, he went back for a duck and played a 30-run innings in the first test. Consequently, he came back with a century in the first innings of the second test by scoring 111 runs off 229 deliveries scoring 15 fours and two sixes. His other innings of the same match wasn't actually profitable for Andrew Balbirnie's side as he scored 12 runs.
George Dockrell (3/10): Bowling almost 22 overs without a single being maiden, Geroge Dockrell took Kusal Mendis' wicket when he was at 140. Dockrell conceded 112 runs with an economy rate of 5.21.
When it came to batting, he was also a part of the lineup that was falling apart. He was picked in the team in just the first test as he played the innings of 2 & 32. However, Heinrich Malan didn't feel like he should back Dockrell in the second test match.
Bowlers
Andy McBrine (2/10): The off-spinner bowled a whopping 40 overs in the first inning and got only a single wicket. Bowling only two maiden overs, McBrine conceded 162 runs with an economy rate of 4.05. Consequently, in the second test, he bowled 57 overs conceding 191 runs and taking one more wicket.
Graham Hume (1/10): Graham Hume was brought in by Heinrich Malan in the second test match in place of George Dockrell, however, his effect on the ground was lesser than his compatriot. Scoring a total of 6 runs, Hume picked up the wicket of Kusal Mendis who was playing at 245. Hence, he failed to portray his prowess in the match.
Matthew Humphreys (1/10): Another bowler who was brought into the playing XI for the second match was Matthew Humphreys. Hence, he was just another below-par performer from Andrew Balbirnie's side. Humphreys failed to pick up a wicket and he also only scored a total of 11 runs.
Benjamin White (1/10): Benjamin White will look forward to forgetting the test series against Sri Lanka. Although he's a bowler, he only recorded a single run in the four innings. In the first test, White managed to send back Angelo Mathews for a duck.
However, in the second test, he became the victim of Sri Lankan batsmen as he conceded 203 in 34 overs with a concerning economy rate of 5.97. As a main bowler of the side, White was expected to perform way better.Mark Adair (4/10): Mark Adair looked good against Sri Lanka in the first test as he took the wicket of skipper Dimuth Karunaratne in the first inning of the season opener. He also scored 23 runs in the second inning when Ireland went all back at 168. However, he wasn't picked up by the head coach for the second test.