Somerset scrap after James Anderson makes early inroads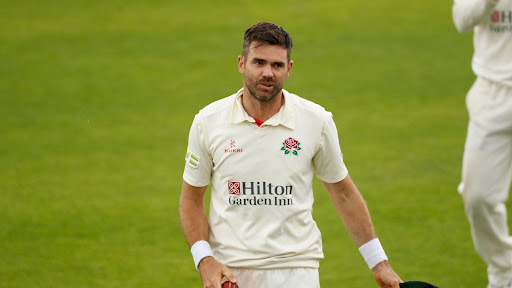 In his opening spell, James Anderson hit twice
James Anderson's cricket career has occasionally possessed an air of suffering from the Old Testament. He now has 1099 first-class wickets, yet he frequently exudes the impression of someone who is gloomily accepting of the cruel claw of fate.
On the other hand, fellow seamers would sympathise with Anderson, especially on mornings like this one when he had two slip chances fall short in his first eight balls.
The burdens of the ages rested on Anderson's frail shoulders on both occasions, and he turned resignedly on his heel and started sluggishly trudging back to his destination. An idea regarding Henry White's hymn:
"Oft in danger, oft in woe, / Onward, Christians, onward go; / Bear the toil, maintain the strife".
However, by the time a heavy non-moving shower hit Emirates Old Trafford in the middle of the afternoon, Somerset's batters had contributed to the toil and the struggle.
They had fought their way to 109 for 4 in cloudy conditions on a slightly grassier pitch than had been provided for the Surrey match a month earlier.
Never had it been simple. The 22-year-old Tom Lammonby soon embraced the elderly pro's belief that Anderson was best confronted from the non-striker's end after being dumped by Luke Wells and Tom Hartley.
When a single was available, he fairly scurried to that safer vantage point, leaving Steve Davies to edge England's best bowler to Hartley, who took the easy catch with a huge sigh of relief.
Tom Abell was leg before Anderson for a single six overs later, and George Bartlett was removed similarly to Will Williams for a four-ball nought the next over.
Although Bartlett is a skilled player attempting to make his way into the team, it is difficult to sympathise with someone who takes guard on or outside of the off stump and then attempts to work the ball to square leg. A spectacular escape is impossible in these conditions.
Tom Kohler-Cadmore assaulted the bowlers after his century against Northamptonshire the previous week, forcing George Balderson back to the Players and Media Centre and forcing Saqib Mahmood to play off balance.
However, when Kohler-Cadmore sprinted down the pitch and attempted to whip Mahmood over midwicket, he crossed the line between aggression and recklessness.
He had a horizontal leg stump on the ground, mockingly pointing it out. Bright little twenties in County Championship games rarely decide the outcome.
The ease with which James Rew and Lammonby led their team to safety and then to lunch was a sign for the opening hour of the cricket match later that afternoon.
Though the final score of 67 for 4 made it clear where the game's balance rested, one wonders what the schoolchildren who were invited to Emirates Old Trafford for the day thought of it.
The Lancashire scorer, Chris Rimmer, proclaimed, "149 dot balls in that session out of 176 bowled," and if the notching ever stops, he might consider dressing up as Elijah.
However, somewhat surprisingly, Somerset was in charge of the last hour of the day. Rew's square drive brought to mind the century he had made off Lancashire three weeks before, and Anderson returned without carrying quite the menace he had in the previous session.
Rew appears to understand what it takes to bat in a first-class cricket match somewhat more clearly than some of his senior colleagues, despite the fact that he is still prone to outbreaks of jittery, if not downright insane, shot selection.
Rew and Lammonby reached that modest milestone just before the rain came in and held off sweeping out for almost two hours. In the middle of the morning, you could have had decent odds on the Somerset innings featuring a fifty partnership.
By that point, Lammonby had scored an additional 14 runs off 52 deliveries after scoring 20 runs in 93 balls while remaining unbeaten earlier in the day.
There aren't many instances in red-ball cricket where a New Zealand cricketer rushed down the pitch to Anderson with his bat whirling like Vishnu's Nandaka, so it's safe to say that it wasn't a bazball. Anyway, not for very long.