Showed the cricketing world that we are not a pushover – Namibia coach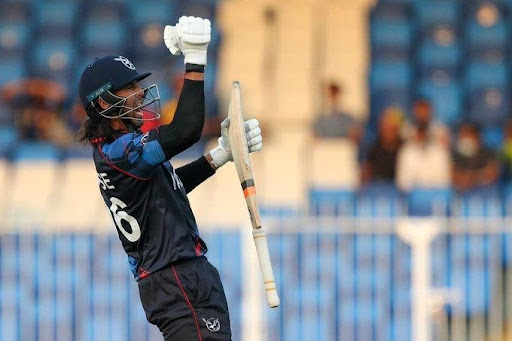 Twitter
Coach Pierre De Bruyn backs the historic victory of Namibia after they outclassed Ireland by 8 wickets on Thursday at Sharjah Cricket Stadium and confirmed their player in the main battle of T20 World Cup in Super 12s stage.
Namibia's qualification in the Super 12s is a groundbreaking moment for the nation as well as the sports world that they are not a pushover and De Bruyn hopes that it's all real when they wake up in the morning.
"You know, it's ultimately a dream that's come true for these players. They were six-seven-year-old boys dreaming of playing against India or Pakistan in a World Cup, and it's happened. We're going to have a nice bus journey back to our hotel, and for me, that dream has come true for these players. All they had the last few years until now was to watch these guys on TV and dream about it, and they're going to wake up in the morning thinking it's real. I'm just so pleased for them,"

De Bruyn said.
Namibia has another historic moment back in 2019 when they were awarded an ODI status and that changed the game totally according to De Bruyn.
"In 2019 April, that's when we qualified and got our ODI status. That made a big difference. I had three full-time contracted players. That allowed me to get 16 full-time contracted players, just that ODI status, and that gave us the opportunity to build.
"Albie (Morkel) and myself, we started together in January 2019. It's been a great journey with Albie. It's a guy that I wanted from the start. We've known each other for over 20 years. We played together, and what he brings alongside me as a head coach, that's exactly what I needed, his expertise, his calmness.
"Then for this World Cup I brought in a couple of consultants just for the World Cup, and yeah, my analyst Riaan Minnie, he's been around for two years. David Wiese, look, he's a fantastic player for us. His parents were born in Namibia, so he's eligible to play for us. What David has done the last two games is fantastic to see."
Read Here: How Parimatch offers opportunity to cricket fans
Namibian coach also talked about the fact how the players are working hard with limited resources back home but they expect things to change from now just like it did when things had changed after they were added an ODI series.
"But when it comes to the normal resources, if you measure yourself against full members, we're way off in terms of our facilities, full-time coaches, full-time SNCs, doctors, all of that. But we've got a saying that we've got to find a way.
"As a coach myself, I've really made sure that the players and us as a group, we just use our opportunities. We don't have everything, but these times like we're sitting here winning a cricket game knowing that we're going to the next World Cup. We know financially it makes a difference and we can upscale and we can invest a little bit more in our resources."
Now that Namibia has qualified and they will be playing with better teams as an underdog qualifier but De Bruyn believes that the teams are looking at them as an easy pushover for their advantage.
"We're certainly still the underdogs going into the Super 12s now, so that hasn't changed. But coming here, we didn't mind that tag. We've gladly accepted it. But we had a lot to lose. That we didn't accept, that saying of nothing to lose. We had a lot to lose, resources, financial impact, everything, sponsors, you name it.
"We are going into that Group B as definitely the underdogs. Those guys will look at us and say, okay, it should be an easy pushover, but I think what we've shown the cricketing world over the last week is that we're not a pushover. We're going to keep on competing regardless of the result, and we pride ourselves to play cricket like that. We're looking forward to it, but we're not going to be a pushover. We're going to compete to the best of our ability."