Seamers build on Steven Smith's century to give Australia control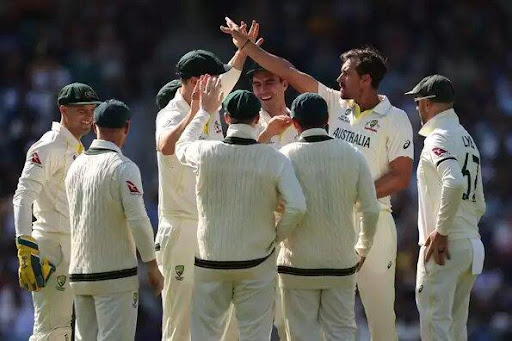 Mitchell Starc gets the wicket of the India's best Virat Kohli
As their team took control of the World Test Championship final, Australia's bowlers revealed to India exactly where they had gone wrong on day one.
Their fast bowlers settled into the ideal length on a still-helpful Oval wicket. India's response to their first-innings total of 469 was brought to 151 for 5 by stumps on day two thanks to Australia.
The majority of the damage was done by the fast bowlers, but Nathan Lyon also claimed a wicket from a dipping, twisting off break that had India's highest scorer, Ravindra Jadeja, cutting to first slip around 15 minutes before stumps, ending a 71-run fifth-wicket stand with Ajinkya Rahane.
The wicket and the way it was taken may have heated up the discussion regarding India's selection and R Ashwin's absence from the lineup against an Australian lineup that featured many left-handed hitters.
Despite this, India's main problems were not caused by their selection of four fast bowlers, but rather by the way they bowled. To constantly test the stumps and put all ways of dismissal into play on a pitch that bounced more than the ordinary Indian surface, they had to pitch the ball fuller than usual.
They did not do this often enough, and even though their bowlers recovered to take 7 for 142 in the early half of day two, it may have been too little, too late because they had allowed Australia to easily move to 327 for 3 on day one.
On a field that was already starting to show fractures all over its surface after being bowled out nearly exactly halfway through the day's play, Australia's fast bowlers stepped out and proved how it is done.
While Rohit Sharma and Shubman Gill got off to a strong start and Mitchell Starc and Pat Cummins regularly overpitched at the beginning of their new-ball stints, it only seemed a matter of time before the quicks figured out the right length – full but not driveable.
With the final ball of the sixth over, Cummins hit this length, nipping it in and trapping Rohit, the half-forward, in front. Then Scott Boland, a bowler who appeared to have been developed in a lab to bowl in these circumstances, produced an aggressive in-dipper that Gill tragically shouldered arms to after nine probing dot balls to the two openers.
Then, before Cameron Green produced a replica of the Boland ball that had dismissed Gill, Cheteshwar Pujara and Virat Kohli added 20 runs each before tea while appearing to be in fine form but constantly alert to the seam movement and occasionally unpredictable bounce that characterized this surface. India was 50 for 3 as Pujara replicated Gill's answer, with their top three batsmen all having been bowled or leg before wicket.
When Starc returned, he joined the fight with a vicious ball to Kohli that was slanted across from a left-arm over and took off from a length, making it 71 for 4. Pressing forward, Kohli was unable to remain secure in the situation and could only glove the ball to second slip.
If Cummins had not stepped out when he bowled a peach that straightened from that ideal fullish length to beat Rahane's outside edge and strike his back pad roughly in front of off stump, Rahane might have fallen shortly after. Rahane examined the play after being called for it on the field, and the no-ball was confirmed by the replays. Ball-tracking showed two reds and the line-of-impact call decision of the umpire.
Batting against the old Dukes ball has been much simpler than it has been against the new one over the past two English summers, with Nos. 5 and 6 here since the beginning of 2022 averaging a world-leading 53.08 while Nos. 1 to 4 average 31.28 – they have only performed worse in the West Indies (31.00) during this time.
After a nervous start that included that tight lbw decision and two leading edges from Jadeja, India's fifth-wicket combination appeared to be much more at ease than their top-order counterparts.
Jadeja, who benefited from Australia's bowlers, particularly Starc, routinely overpitching to him, sped along at over a run per ball, while Rahane, who was playing Test cricket for the first time since January 2022, clicked along more slowly but still appeared to be just as efficient.
India would have hoped that their partnership would last till stumps, but Lyon dashed those expectations when he hit his ninth delivery of the game.
Steven Smith was five runs short of reaching his 31st Test century, and Travis Head was four runs away from reaching 150 as the day began in clear, sunny weather. They soon reached their respective milestones, with Mohammed Siraj giving Smith a couple of straight half-volleys in the morning's first over to give India a concerning start to the day.
However, things got better when Siraj was gloved down the leg side on 163 by the left-hander after a persistent short-ball attack at Head's body finally paid off. In order to draw a loose drive away from the body, Mohammed Shami slanting a full ball in from outside of the crease to send back the No. 6 Green was a work of art.
The next to go was Smith, who continued to play for 121 by pushing away from his body at a harmless Shardul Thakur away-curler. India had scored three runs before Australia hit 400, and they may have thought they could end their innings soon after, but Alex Carey's counterattacking 48 pushed the score above 450.
Carey rode his luck until falling in a recognizable way, lbw when attempting a reverse-sweep against a stump-to-stump delivery from Jadeja. This was especially true against Umesh Yadav, who struck Carey's bat repeatedly in a brief stretch after lunch.
In the end, Siraj was India's most effective bowler, finishing with figures of 4 for 108, while Shami and Thakur both claimed two wickets. That was the first Australian wicket to fall to spin.