Sangakkara feels the call of not sending Riyan Parag ahead of Rassie was wrong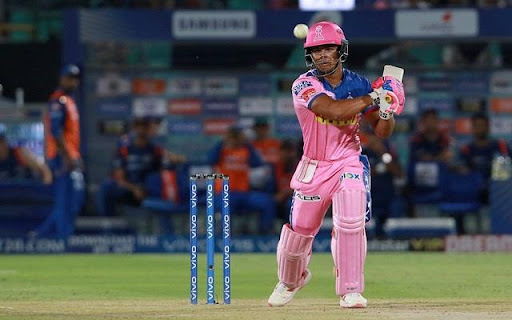 It was Sanju, Jos, and the other players around him that supported him. We had pretty simple plans in terms of bowling at the death
It all went down to the final over with Lucknow Super Giants (LSG) requiring 15 runs in the final over to seal their fourth consecutive victory of the season. That position was a test for the side as their batting depth is concerned.
Marcus Stoinis came batting at number 8 when he was unbeaten on 28 off just 12 balls in his first outing for his side LSG, Kuldeep Sen was handed the great opportunity to defend the score for his side in the IPL game.
Sen outsmarted Stoinis with the execution of deliveries in the slot where the Australian right-hander was unable to judge. He bowled three dot balls which meant even a six and four were unable to get the side across the line. Rajasthan Royals sealed a three-run victory to earn the top spot at the points table.
"I had no conversation with Kuldeep before the last over,"

said Kumar Sangakkara, RR's director of cricket, after the game on Sunday (April 10).
"It was Sanju, Jos, and the other players around him that supported him. We had pretty simple plans in terms of bowling at the death. I just want to say how impressed everyone, especially I am with how Kuldeep Sen handled his first game; how he bowled, how he thinks… He bowled the hardest over under pressure and did an excellent job for us."
Questions were raised about LSG's decision of putting Stoinis too deep in the batting order that night. K Gowtham came batting at number 3, Jason Holder at 4th spot, and Stoinis only made his way in the 16th over.
"Throughout the 20 overs, we kept believing we could win this game,"

said Rahul.
"We have depth in our batting, today Stoinis batted at No.8, when you have someone like that with so much power and who is such a destructive batsman… that's one of the reasons he's our second retained player.
"We believe Stoinis can win us games from any position, we had that belief through and through. If we'd gotten a couple of o partnerships going in the early stages, it would've been an easier target to chase but unfortunately, we couldn't get that start. Credit to the Rajasthan bowlers, who kept the pressure on and took early wickets. All in all, it was good learning for us and Stoinis joining our camp is a huge boost for us."
LSG was not the only side experimenting with their batting order but Rajasthan Royals themselves sent R Ashwin at No.6, holding Riyan Parag for later. Rassie van der Dussen, who was playing his first game of the season, came at number 4 while Parag only faced four balls to score 8 runs before falling in the final over as Ashwin got retired in the 19th over after scoring 28 off 23 balls.
"It was the right time to do that,"

said Sangakkara of Ashwin's decision.
"Ashwin himself was asking from the field as well and we had discussed just before that as to what we would do. As the coach, I got one call wrong not sending Riyan Parag ahead of Rassie van der Dussen and holding Rassie back so we couldn't get the full benefit of Riyan, but how Ashwin handled that situation, walking in under pressure, he batted, supported the team and then finally sacrificed himself in terms of retiring himself out and then backed it up with a magnificent bowling effort. And of course Boult. Yuzi Chahal, Prasidh Krishna, and Kuldeep Sen all of these bowlers were outstanding under pressure with the dew."
While RR needs to give credit to their bowlers when LSG were reeling at 101/6 when Quinton de Kock fell. It looked as if RR would seal a comfortable victory but some serious resistance from LSG sealed the game in the final over. Stoinis remained unbeaten on 17-ball 38 at the end.
"I'm very happy with the way we've been playing. The five games have gone down to the wire. Sometimes we've been behind the game and we've found a way to stay in the contest and give ourselves a chance to win,"

Rahul said.
"Here again today, we didn't start that great with the ball but we came back well and if not for Hetmyer's innings, we would've restricted them to 110-120. But again, that's how the game goes – a few errors on the field, mistakes with the ball, a few mistakes with the bat in a couple of games that haven't really helped but otherwise I think we're all confident and relaxed in the dressing room.
"We're a team that's going to give it 200% in the field and regardless of the result, we'll keep trying hard and giving our best each game. Most times we're confident the result will go our way but sometimes we will have games where we end up on the losing side. We'll learn from it and losses like this bring the team together and it's a good reminder for all of us to stay humble and keep working hard and enjoy every game."