Sam Billings dispels Hundred distrust as his captaincy is put to the test by tactical "nuances"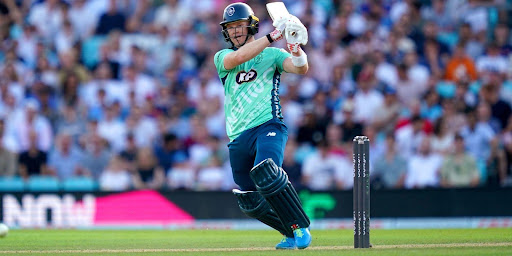 Oval Invincibles are being led by Billings into the final at Lord's on Sunday
For instance, in the final match of the group stage between Birmingham Phoenix and London Spirit, fast bowler Adam Milne of New Zealand reduced London Spirit to 3 for 3 in the first 10 balls of their run chase.
"It definitely has brought bowlers back into the game because, as a batsman, you can get stuck,"

Billings said.
"If you're really struggling, you get stuck down one end, and if you stink up ten balls, that's a tenth of the innings.
"There's definitely different challenges, different rhythms to the game, and it's way faster as captain, so it has definitely progressed my captaincy. You've got to make quicker decisions. And you get instant feedback from those five balls. Then you change ends, and you've got to really think on your feet. So I can't say anything but positive things about the cricket this year."
In response to the question of whether such subtleties are specific to the Hundred, Billings claimed he had already observed evidence of "front-loading" in the T20 Blast. Most obviously, this was demonstrated by Somerset's triumph in this year's competition, which included not only winning the tournament with a record 15 victories in 17 games but also claiming an astounding 151 out of 170 wickets throughout.
"In terms of making decisions, whether it's with the data behind it or your gut feel, it definitely does develop you as a captain,"

Billings said.
"Somerset did it brilliantly this year in the Blast with Craig Overton and Matt Henry bowling in that powerplay and breaking the game wide open by taking wickets.
"We're seeing a lot more front-loading in terms of pace bowlers. If someone's bowling really well, you're worrying about saving two or three at the death. If it's going right, you want to get your best bowler on, try and get their best players out, and then if we have to bowl an over of spin at the end, then so be it."
Australia's Adam Zampa was one of the spinners that Sam Billings could rely on at the end. He came in for Colin Munro of the Trent Rockets at a crucial point in their five-wicket victory at The Oval, but he will be absent along with left-arm quick Spencer Johnson now that he has been called up to the Australian ODI squad for South Africa.
"It's a shame, but that's just one of the challenges that directors of cricket face,"
"There's just so much cricket on that you can't get everyone available for blocks nowadays. But it's brilliant in terms of opportunities that it will provide for one of the guys who have got us to the final."
One of those, inevitably, will be Zampa's fellow Australian leg spinner, Nathan Sowter – one of the stories of this year's competition after fearing this time last year that his professional career was over. "He's a fiery little fella, and he just gives everything on the pitch. He's a brilliant team man," Billings said.

"I'm so happy for him."
Billings recognized that Sam Curran has a stronger track record than most other players on his squad when it comes to big-game performances. When England won the T20 World Cup in Australia last November, he was both the game's and the tournament's player of the match. Now that another significant final was approaching, his captain trusted him to deliver once more.
"It's pretty much ingrained in him," .

Billings said
"For such a young player, he's got a huge amount of evidence behind him to suggest that he is that big-game player and does it consistently.
"He's a huge asset to have on your side, character-wise and off the pitch, regardless of how on the pitch he's going. He's someone I'd have on my side every single day of the week."