Rohit wants India to have an open mind and something batting order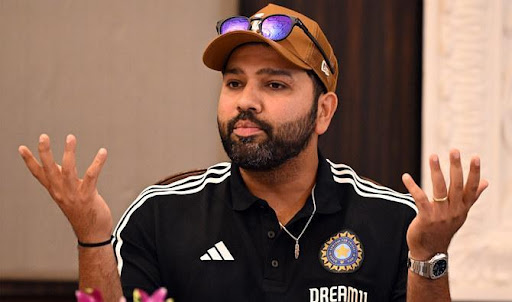 In a press conference where the India team for the Asia Cup was unveiled by Rohit Sharma
Rohit Sharma, India's captain, believes that flexibility of thought and adaptability in the middle order will be essential for India to realize their full batting potential at the ODI World Cup.
"One thing I want in this team is to make sure everyone is okay to bat anywhere,"

Rohit said at a press conference to announce India's Asia Cup squad in New Delhi.
"That's one thing we need to keep in mind. You need flexibility, guys who can step up at any position. No one should say, 'I'm good at this position or I'm good at that position'. You want guys to be able to bat anywhere, that's the message conveyed to every individual. Not now, but over the last three-four years."
In a way, Rohit reflected the sentiments expressed earlier this week by former India coach Ravi Shastri, who said that no player should hold a position exclusively and that even a senior player like Virat Kohli should move down to No. 4 if the team's composition required it.
"I know it's tough for guys on the outside to understand why a guy who bats at six is batting at four, but the message has been given. This is an international sport, not club cricket, that you're talking about. It's not like we go to sleep giving a position for a certain player and then change it the next morning.
"We say, 'this is what we want'. You don't want to be handicapped or stuck with one player batting in one position. Having said that, you want to get the best out of players in certain positions. All seven-eight numbers are open to anyone, that's the message we have sent out for so many years now."
To make his point clear, Rohit used Axar Patel's exampl. He believed that as a floater who can challenge the game at any position in the batting unit, Axar is better equipped to upset the opposition. Rohit believed he had an advantage over others like R Ashwin or Washington Sundar because of this talent.
"Where things boil down to is the batting option at No. 8 and 9,"

Rohit said.
"Axar, you know he's had a good run this year, batted well in white-ball cricket. He didn't get much opportunity in red-ball, but played well in white-ball, especially IPL. He had a few opportunities in the West Indies but couldn't make it big, but with him being there, it gives us the option of having a left-hander who can go up the order and play spinners if required, and also create batting depth."
The chairman of the Indian selection committee, Ajit Agarkar, elaborated on Rohit's stance on flexibility.
"Rohit didn't say anyone can play anywhere,"

Agarkar said.
"What he said is a player should be flexible in their mind. A player knows his role, where he's going to play, which over he's likely to bowl. A new-ball bowler will bowl with the new ball, or whether he can bowl in middle overs – those roles are set. But as the game or tournament evolves, you look at someone's form or the team's form, against whom you are playing, players should be flexible in the mind.
"Every captain has a plan that this batter will bat here, and we will play in this specific way, but as the tournament progresses, if someone's form is good, someone is playing well or match-ups dictate playing someone against a certain bowler, we're talking about that kind of flexibility, which is important. That much talent is there in the team. If there's talent that flexibility will come. It doesn't mean the role is not specified, roles are specified, you feel comfortable because of that."
In order to explain his remarks on flexibility and the reasons they shouldn't be taken literally, Rohit entered the conversation at this moment.
"When I said flexibility is important, it's not like I'm implying sending the opener at No. 7 or opening the batting with Hardik Pandya,"

Rohit said.
"Shikhar [Dhawan] and Rohit have only opened in the last seven-eight years, Kohli has batted only at three. Youngsters who come in at four-five, it's important for them to be flexible, batting up and down.
"In the last four-five years if you look, the opener has opened, No. 3 has batted at three, KL [Rahul] has batted five, Hardik six, [Ravindra] Jadeja seven. Four and five, sometimes if they move up and down, there's no problem. That much flexibility is important. Our position too when we came in, we batted up and down, I'm talking of that flexibility. It's not like opener bat at eight and eight opens, we don't do such mad things. Little bit of flexibility up and down is needed in a team."