Rohit Sharma likely to rest during IPL 2023 group stage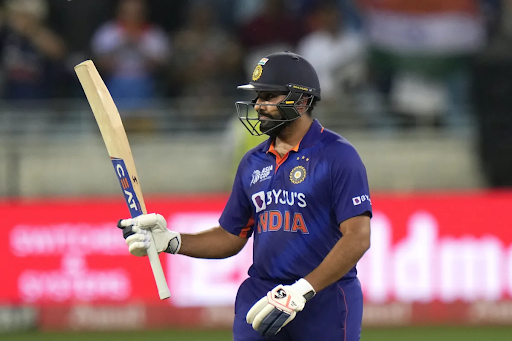 Rohit Sharma will take rest from a few matches in the IPL 2023 competition
Mumbai Indians are likely to rest their regular captain Rohit Sharma at some stage in the group stage of the Indian Premier League (IPL) 2023 tournament which starts on Friday with defending champions Gujarat Titans taking on Chennai Super Kings.
With the talk of workload management in focus, given that the Indian players have had a busy season and are going to remain busy with cricket assignments in the remainder of the year, so it is important for players to also take rest and remain fresh and safe from injuries in a busy season.
Mumbai Indians head coach Mark Boucher told ESPNcricinfo,
"He's the captain, hopefully he gets into good sort of form and hopefully he doesn't want to rest. We'll adapt to whatever the situation is. If I can get the best out of him as a captain and as a player, it'll be great. If it means that he's going to rest one or two games, then I'll do that, absolutely. Not a problem."
Mumbai Indians captain Rohit Sharma said he wants his new players to remain away from pressure as much as possible.
"Leading into that first game guys pretty much know what we are expecting out of them but the last thing I want to do is put too much pressure on them. I think it won't be fair, especially the guys who have not played IPL before."
"And there are a few guys in our squad who have not played IPL before. But if they get an opportunity to play, my job is to keep it very simple with them, and make sure that how they play their first-class game for their state, what they do in Ranji Trophies, in club cricket, try and replicate the same in IPL as well,"

Rohit said. 
Rohit Sharma said Mumbai Indians have picked a few bowlers from within their squad who should be able to fill in for the gap created by the absence of their most important fast bowler Jasprit Bumrah.
"We've got a couple of guys who can do that job for us which Bumrah used to do. We'll keep an eye on that and hopefully whatever space Bumrah was in, the other guys can come in and do the job for us. And wherever those guys have played, they've done that job for that particular team," Rohit

Sharma said. 
Rohit Sharma is all set for his 10th year with Mumbai Indians, who have won all of their five titles under his captaincy.
"We have played some really good cricket over the years. My experience with this team has been phenomenal. This team has given me a great opportunity to come out and express myself, first as a player and then as a leader. I have certainly grown as an individual and as a leader being a part of this team. MI has given me a great opportunity to showcase myself in a different avatar,"

said Rohit Sharma.