Rohit: 'I want to get into the phase I was in before the 2019 World Cup'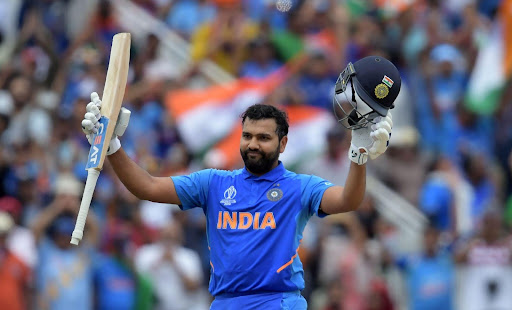 At the 2019 World Cup, Rohit Sharma set a record by scoring five hundreds
When Rohit Sharma leads the host nation in a World Cup, he wants to "shut out" the strain from the outside world and the weight of expectation that comes with it.
Rohit experienced "heartbreak" in 2011 when the competition last visited India because he didn't reach the final roster of 15. It's probable that this will be Rohit's final opportunity to win the World Cup twelve years later. He claims, though, that he is as at ease as one can be.
"For me, it is important how I keep myself relaxed and not worry about external factors that play a role, whether positively or not negatively,"  

Rohit told PTI in a recent interview.
"I want to shut out everything. I want to get into the phase I was in before the 2019 World Cup. I was in a great frame of mind and prepared really well for the tournament."
Rohit has the most runs scored in the competition with 648 runs and five hundreds. He attributes a lot of that success to the way he was thinking at the time, and as he gets ready for the 2023 version, he is attempting to adopt a similar outlook.
"I was in good shape, good mindset,"

he said.
"I want to bring that back and I have time to do that. Trying to recollect what were the right things that I was doing before the 2019 World Cup as a cricketer and as a person. I want to revisit that thought process of mine."
In advance of a World Cup, captains are frequently questioned about legacy. It was brought up to Rohit as well. Without a question, he would rank among India's top ODI openers, but what about leading the team?
Although Rohit has successfully guided Mumbai Indians to five IPL championships, he has yet to take home a trophy from an ICC competition. Does it affect him mentally?
"I am not the person who thinks about what kind of legacy I will leave behind,"

he said.
"My legacy will be for people to judge and talk about, not for me to say. I am not a firm believer in numbers. You should be happy and enjoy the time you have in front of you and try to live in that moment."
Being successful at the Asia Cup will be Rohit's first task as captain. He will take part in the meeting to choose the World Cup team at some point during the course of the next week or two. As India prepares for the competition, Rohit emphasized the need of providing players with clarity regarding their status.
"While picking the best combination, there will be guys who will miss out for various reasons and Rahul bhai [Dravid] and I have tried our best to explain to the players why they are not in the squad,"

he said.
"We have tried to communicate with the players after every selection and playing XI that has been announced. We talk to them face-to-face, one-on-one why they have not been picked.
"Sometimes I try to put myself in their shoes. When I wasn't picked in 2011, it was such a heart-breaking moment for me and I felt what's left after being dropped from a World Cup squad. If anyone misses out, there is a reason for it. If you are the unlucky one, we can do nothing."
How did he respond to being excluded in 2011?
"I was sad and sitting in my room, and didn't know what to do next,"

Rohit recalled.
"I remember Yuvi [Yuvraj Singh] calling me to his room and taking me out for dinner. He explained to me how it feels when you are left out.
"He told me, 'The best thing is that you have so many years in front of you. As we play in the World Cup, you take this chance to work hard on your game, skills and make a comeback. There is no way that you won't play for India or not get a chance to play in the World Cup.'
"I went back to the drawing board, worked hard and immediately after the World Cup, I made a comeback, and it has been good since then. Since this is me, who has gone through this emotion, no one can tell me that it's easier said than done. I have faced exclusion from a World Cup squad, and I know how it exactly feels."
In expressing this, Rohit also acknowledged that there is always a chance that certain selection decisions will go wrong, but he emphasized that everything was done with the team's best interests in mind.
"Me, coaches and selectors take into account all factors, such as opposition, surfaces, our strengths, their weaknesses, and then reach a common ground," he said.

he said.
"There is every chance that we will not always be perfect. At the end of the day, a few individuals make decisions, and we are bound to make mistakes as humans. We won't always be right."
The six-day training camp for the Asia Cup for India ends on August 29 in Bengaluru. After that, they will take a plane to Sri Lanka, where they will play Pakistan on September 2. When the Asia Cup was last played in a 50-over format, in 2018, India won. In that regard, India has a title to uphold. But Rohit has totally different objectives.
"For me, it's all about creating memories and creating a good rapport with my team-mates. Be happy in whatever you get and whatever you have."