Rob Jones' century surpasses Tom Taylor's all-around performance in Worcestershire's convincing victory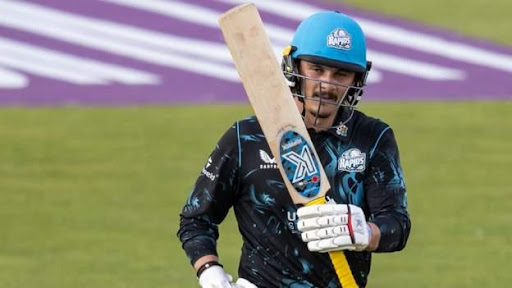 Rob Jones played an incredible innings of 122 runs
The Worcestershire Rapids defeated Northamptonshire at Wantage Road to win the Metro Bank One Day Cup for the fourth time this season behind Rob Jones' outstanding 122 from 126 balls, his first List A century.
Against Northamptonshire, Jones and his captain Jake Libby (82) formed a third-wicket partnership that set a record for Worcestershire. They combined for 194 runs in precisely 31 overs as they successfully chased down 253 in 43.1 overs with seven wickets remaining.
After Tom Taylor, the Northamptonshire centurion, claimed two early wickets for the Rapids, the pair calmed the team's fears. They brilliantly timed their pursuit, initially generally avoiding risk and pushing the ball into the spaces to stay up with the run-rate.
They were given three more lives by the fielders for Northamptonshire as they accelerated, but they otherwise appeared unfazed the entire time. Jones frequently lofted Simon Kerrigan down the pitch while driving and pulling the seamers with force, scoring 12 fours and three sixes in the process.
In order to save the Steelbacks from a precarious 139 for 7 with Dillon Pennington taking three for 47, Taylor had scored a superb 100 off 80 balls, his second century of the year.
The in-form Steelbacks all-rounder had appeared to be in a league of his own after Northamptonshire lost three middle-order wickets for a combined 18 runs, all on direct hits to fielders.
He added 108 runs with James Sales (25), smashing 14 fours and a big six onto the Turner Stand roof, but he was also astute with his stroke selection, spotting the gaps and hitting the ball cleanly.
Prithvi Shaw, the tournament's top run-scorer, was declared out for the remainder of the season owing to a knee injury, which gave a serious blow to Northamptonshire's prospects before the game.
The Indian international was hurt during the county's victory against Durham on Sunday. Last week, he scored a club List A record 244 against Somerset. The injury turned out to be worse than first thought, according to scan data the club got this morning.
When Northamptonshire was put in to bat, they lost two early wickets, and even though Ricardo Vasconcelos reached 25, he was the second victim of Pennington when he edged low to Josh Baker at second slip.
As a collaboration of 49 people, Rob Keogh and Luke Procter began to rebuild. Logan van Beek struck Keogh in the helmet, but Keogh didn't back down; instead, he clipped off van Beek's legs and hauled Pat Brown to the ropes.
Keogh appeared to be in command. However, he was easily defeated when, on points 35, he drove a loose ball from Brown to point. Justin Broad's direct hit to mid-off in the next over by Brown led to another strike.
Luke Procter (31) had driven skillfully and timed two late cuts behind square off one van Beek over. He attempted to hit the ball over the inner circle, but he got a rush of blood and ran down the track to Baker, where he picked out Gareth Roderick, who made a nice catch above his head.
In a stand of 34, Taylor and Luke McManus (15) made an effort to right the ship. After removing Baker off the field for six, McManus approached Waite and yorked himself as Waite's leg-stump was pushed over, putting Northamptonshire in serious difficulty at 139 for seven.
The ball was timed perfectly from the moment Taylor entered the field, hitting Baker back over his head, dismissively drawing Waite and Pennington, hitting Brown to the ground, and expertly sweeping the spinners.
Up until Pennington trapped him in the lbw position, Sales had already crossed one early boundary but was satisfied to play Taylor's sidekick. Then, in the penultimate over to end the inning, Van Beek struck twice, leaving Taylor as the lone out, caught at long-off.
When Roderick was found to have chopped the ball onto his pads and then had it ricochet to Gay, who grabbed the catch at second slip, Taylor scored in the first over of the chase.
Before taking too many big shots and getting caught at a deep backward square leg off Taylor, Ed Pollock was having some fun pounding the ground.
In their first 50 runs together as they rebuilt, Jones and Libby only hit three boundaries, but they consistently maintained a run rate over five, moving closer to their target with reasonable ease. The runs kept coming as Jones began to fire, and Libby too found the boundary ropes.
Northamptonshire brought in the field and switched around their bowlers, but they gave the Rapids three opportunities to win that proved costly. After being dropped by McManus on play number 29, Libby saw another lucky break on play number 60 when Gay laid an easy opportunity at mid-off off Kerrigan.
On 77, Broad put down Jones after he had bowled himself. Before finally falling, trapped in the deep off Kerrigan, he made the most of the opportunity by climbing to three figures. Before Libby hit the winning run, a huge six from Kashif Ali had Worcestershire on the verge of victory.