Ricky Ponting urges India to stick with struggling Virat Kohli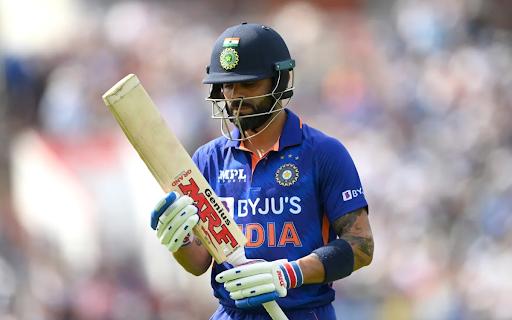 Virat Kohli has been a pale shadow of himself of late in international cricket
Former Australia captain and batting legend Ricky Ponting has warned India against thinking of dropping a struggling Virat Kohli from the side, especially in T20 cricket. Ricky Ponting has opined that an Indian side with Virat Kohli in the playing XI would any day look more dangerous than the one without him, irrespective of the struggles that the modern batting great is going through over the last 3 years. 
Having scored his last century across formats in November 2019 — against Bangladesh in Kolkata during India's first-ever day-night Test match — Virat Kohli has had a poor time in the middle with his penchant for big scores drying up on an alarming basis.
The Indian batting great has also lost his captaincy job across formats in questionable circumstances, something that is bound to have played a role in his mindset and confidence as Virat Kohli doesn't look like a tiger on prowl for his next hunt — century in his case or a big, commanding score — whenever he is out in the middle batting.
Citing the example of all great and legendary cricketers of the past who have had to go through a period of struggle in what they did best during the good days, Ricky Ponting said that Virat Kohli needs to be backed for as long as possible.
Ricky Ponting told the International Cricket Council (ICC) Review,
"I think if I was an opposition captain or an opposition player, I will be fearing playing an Indian team that has Virat Kohli in it, more than I would be one that doesn't have him in it." 
"I know there have been some challenges for him, it's been a difficult time. But every great player that I have seen in this game has been through it at some stage, whether that's a batsman or a bowler, they have all been through it. And somehow, the best find a way to rebound and respond, and it's only a matter of time before Virat does that,"

he said. 
"The other thing you risk as well is, if you leave Virat out on the eve of a T20 World Cup, and someone comes in and has a reasonable tournament, it will be hard for Virat to get back in it,"

Ponting said. 
"If I was India, I would keep pushing with him, because I know the upside. If they actually get him back confident and playing as well as he can, that upside is better than most. So I think if I was a captain or a coach around the Indian setup, I'd be making life as easy as possible for him to feel as comfortable as possible, and just wait for him to flick the switch and start scoring runs again,"

the former 2003 and 2007 World Cup winning Australian captain added. 
Meanwhile, in order to give him a break mentally and help him prepare for bigger assignments in the future — including the T20 World Cup 2022 in Australia — Virat Kohli has been rested from India's limited-overs tour of the West Indies starting July 22.