Rahul and Kohli centuries lead India to 356-2, massive victory over Pakistan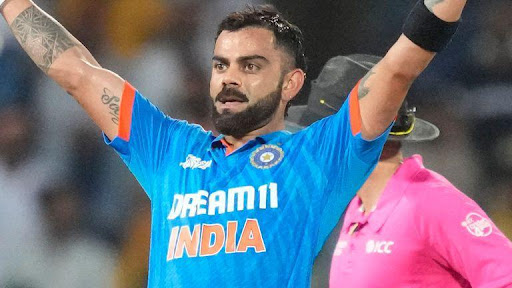 Virat Kohli scored 47th century against Pakistan
The India vs. Pakistan Asia Cup Super Four game has been postponed due to rain. India has made 147 for 2 in 24.1 overs, and the game will restart as a full 50-overs-aside encounter.
Rohit Sharma and Shubman Gill scored half centuries for India in the game's opening stand of 121 runs at an average of better than one run per ball. In contrast to Naseem Shah, who was unlucky at the other end and frequently outswing and added bounce, Shaheen Shah Afridi bowled a costly opening spell.
Before rain started falling with Virat Kohli and KL Rahul at the crease, Pakistan regained some control by getting rid of both of the openers within the span of eight balls, with Shaheen returning after leaving the field with an injured finger to get Gill with a slower ball.
At 7.30 and 8 o'clock, the rain let up enough for the umpires to assess the field. When rain returned to end the possibility of the game ending on Sunday with fewer overs, they were scheduled to do another inspection at 8.30 pm with a focus on two areas of concern: square of the wicket.
On Monday, additional rain is expected in Colombo. India could wind up playing on three consecutive days if the match is extended, with their Super Four encounter against Sri Lanka planned for Tuesday.
Haris Rauf was unable to play against India in the Asia Cup Super Four match on Monday because he experienced "a little discomfort in his right flank" on the day of the scheduled game on Sunday. Before the game was postponed to the extra day due to weather, only 24.1 overs were bowled on Sunday.
It's unclear how badly hurt Rauf was. The PCB statement, which acknowledged the harm, read:
"He was subsequently taken for a precautionary MRI, which revealed no tear. He is under the observation of the team's medical panel."
On the official broadcast, Pakistan's bowling coach, Morne Morkel, stated that Rauf had "pulled an oblique muscle" and that, with the ODI World Cup approaching, "we're going to put him on ice" for the time being. Haris Rauf had reportedly begun experiencing discomfort when he bowled his second over on Sunday, according to Morkel.
As a result, Pakistan will have to make due with the three pace options of Shaheen Shah Afridi, Naseem Shah, and Faheem Ashraf, as well as Shadab Khan as their top spinner and a combination of Iftikhar Ahmed and Agha Salman's occasional offspin, for the remainder of India's innings in Colombo.
The openers for India, Rohit Sharma and Shubman Gill, scored half-centuries and put up 121 runs in a quick start to their innings on Sunday. Despite bowling five wicketless overs and giving up 27 runs, Rauf gave the batting a degree of control. India had 147 on the board for the cost of two wickets but Pakistan battled back to eliminate both and control the run pace.
Given how important he has become to Pakistan's bowling attack, Rauf's absence will be concerning for Pakistan. He has been Pakistan's most effective bowler and an important first replacement for Afridi and Naseem. With nine wickets in four games, he is also tied for the most wickets in the competition.
KL On the second day of their Super Fours match against Pakistan on Monday (September 11), India compiled 356/2 as Rahul celebrated his comeback with a superb hundred and Virat Kohli added another century to his long list of ODI accomplishments.
Shubman Gill and Rohit Sharma both reached fifty runs on the first day of play for India, and then Rahul and Kohli took over to wreak havoc on Pakistan, who were missing pacer Haris Rauf for the whole of the second day. India's top-order demonstrated its strength on both days.
When India was asked to bat, Gill immediately put them on the attack by pursuing Shaheen Afridi early on. Gill's own usage of his feet was far more confident than it had been in his previous game.
As both achieved milestones and added their second consecutive century-plus stand, Rohit Sharma, who had previously survived some outstanding bowling from Naseem Shah, started to take risks with his own bat and ball. They were then easily outplayed and brought Rahul and Kohli to the crease before the rain took over and forced the game till the next day.
On Monday, Rahul took the initiative as Pakistan faced difficulties by the absence of Haris Rauf, who was relieved of bowling duties as a preventative measure after a scan revealed an irritation in his oblique muscle. Iftikhar Ahmed, a part-time spinner, was recruited by Babar Azam to provide the extra five overs that Rauf refused to bowl, but the plan failed.
Iftikhar had a strong first over, giving up just four runs, but Rahul ripped him apart in the next over, hitting him for a six and a four-yard cut. In a 14-run over, Rahul went after Shadab Khan, who had a difficult day on Sunday, to make his return met with even more scorn.
When the 38-over mark came around, he and Kohli each reached their fifties before taking a drink break. From there, they both pushed the gas pedal harder. Iftikhar's 43rd over, which scored 16 runs and brought India to 280 for 2, served as the start of it. In the 44th over, Rahul punished Faheem for his wide shot before scoring his century in the 47th.
As Pakistan suffered further difficulties, Naseem Shah left the field cradling his hand after bowling just two deliveries in the following over, becoming the player to achieve 13,000 ODI runs in the fastest time ever and scoring his 47th century in the format.
While putting together the best ODI partnership for India against Pakistan (233 runs), Kohli and Rahul finished with incredible scores of 122* and 111*, respectively, in the final eight overs, scoring 92 runs overall.
Brief Scores: India 356/2 in 50 overs (Virat Kohli 122*, KL Rahul 111*, Shubman Gill 58, Rohit Sharma 56; Shaheen Afridi 1-79, Shadab Khan 1-71) vs Pakistan