Pakistan's revival is fueled by Shakeel's double ton and Agha Salman's resistance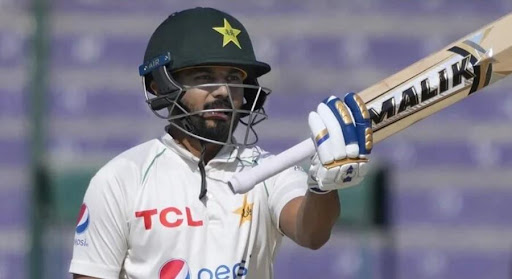 With Saud Shakeel's heroics, Pakistan now leads by 149 runs
The first five Pakistani wickets they took cost them 101 runs, while the following five added 360. Saud Shakeel gathered 208 out of that total.
At the conclusion of the third day of play in Galle, he would remain undefeated, having frustrated, pummeled, and ground down Sri Lanka and giving Pakistan complete control. Ramesh Mendis took his fifth career five-wicket haul as the visitors were eventually knocked out for 461 after continuing to bat for 121.2 overs, which is an impressive effort in Galle.
At the conclusion of the game, Sri Lanka's hitters completed the final 20 minutes of action without suffering a defeat; nevertheless, the real action will begin the following day, when a pitch that is already degraded is likely to deteriorate significantly more. However, as for today, Shakeel was the sole owner.
In fact, such was his dominance that Sri Lanka simply stopped attempting to get him out after a point, with much of the afternoon and post-tea sessions resembling a glorified net session as Sri Lanka allowed him to freely turn over the strike to the tailender at the other end, who offered valiant support.
Shakeel's innings might be divided into two sections: before Agha Salman and after Agha Salman. Agha was at the crease when Sri Lanka felt the pinch as the two sped along at almost five runs each over, with their partnership of 177 moving at 4.96 per over.
Saud Shakeel was entirely at ease during this time, working singles with ease, never looking for the boundary but graciously accepting any when the opportunity presented itself. Agha was his opposite end partner, and she was just as skilled at rotating strike and finding the ropes as he was.
Together, they beat Sri Lanka's bowlers, particularly their main threat, Prabath Jayasuriya, who amassed 145 runs in 35 overs, far above his career Test economy rate of 2.93. Shakeel used his feet, either coming down the track or utilizing the depths of the crease, while Agha made excellent use of the sweep.
Neither hitter gave Jayasuriya the opportunity to establish the lengths and lines that have wreaked havoc on other visiting batters. They were also helped in wearing out the Lankan bowlers by the left-right combination.
Shakeel started to demonstrate the other side of his game, one that is marked by resiliency and solidity that Sri Lanka just could not get beyond when Agha fell, trying for an unfortunate charge against Mendis only to find himself well outside his crease and stumped. For the last four wickets, he put together partnerships of 52, 16, 94, and 21.
But it doesn't mean there weren't any opportunities; in fact, two passed by. The first occurred when Shakeel attempted to move a length ball from Ramesh around the corner while on 93. The fielder at backward short leg, however, spilled a low grab despite not having to move. The fact that the ball did not stick in the hand proved that Shakeel had really had a good day.
The second was a dolly grassed by Angelo Mathews at deep midwicket. This was Shakeel at his most casual, trying to increase the scoring pace with a massive slog sweep, in contrast to the first, which was a genuine mistake coaxed out of the batter.
He was on 139, and Naseem Shah was his companion. At the time, their partnership was only worth 13. Shakeel would protect Naseem from the attack for a few hours while advancing Pakistan's lead. Only six of the pair's 94 runs were scored by Naseem.
Shakeel and Pakistan appeared to be able to bat for as long as they wanted during that time as the Lankan bowlers began to falter in the face of the tenacity of the hitters.
Naseem was solid in defense, except from having a lbw ruling reversed and suffering one or two outside edge defeats. No field placement was effective enough to limit Shakeel, who would repeatedly bat out the first four deliveries of an over before committing a strike on the fifth delivery.
Sri Lanka didn't realize the finish was near until after Naseem was defeated by a blow that was thrown up and dipped from Mendis. Shakeel also joined in to reach his double ton with a slice through point after the final guy Abrar Ahmed delivered a couple lusty punches. Abrar would finally hole out to Mathews, who made a solid grab while running the boundary at long leg.
However, the pitch had already begun to spit at that point, and Sri Lanka was 149 runs down—a situation that in Galle may be fatal. To salvage this Test, let alone win it, Sri Lanka's hitters will be aware of the difficult task they face tomorrow.