Pakistan in trouble after Babar Azam and Salman Ali Agha puts 304 runs on the board in the first innings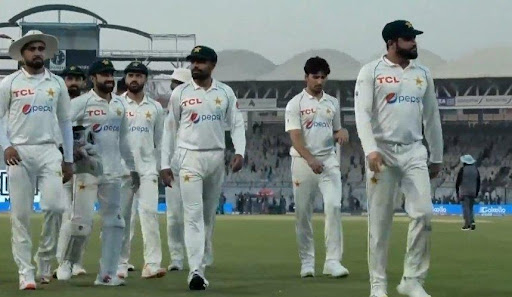 Abrar hit with the fifth ball of the innings, catching Crawley in front with a flat leg break, but Pope and Ben Duckett survived until stumps
In the third Test, Pakistan had won the toss and elected to bat first, Babar Azam and Salman Ali Agha both made half-centuries while as Leach wiped up the tail to get done with 4 for 140, Pakistan was bowled out for 304.
In the third Test, Pakistan won the toss and was elected to bat first. England's spinners bowled 56 of the 79 overs and Ben Stokes wasted no time getting Jack Leach into the game.
He turned into the first England spinner to share the new ball in the very first innings of a Test since Jack White in 1921 and struck early on, catching Abdullah Shafique on the front pad with a ball that slid through.
Shan Masood, playing his first Test match since January 2021 after two seasons of productive all-format run-making in domestic cricket, was positive early on, using his feet and twice hitting boundaries down the ground for four in Leach's first over, but fell for a 37-ball 30, having earlier endure a nearby lbw shout on review while reverse-sweeping.
He was sucked in by a short-ball plan, as Mark Wood pummeled the ball into the pitch at 90mph/145kph which he miscued down to Leach at long leg using the rear of the bat.
That carried Babar to the crease, which played positively alongside Azhar Ali and brought him back into the side at No. 3 in the final Test of his career.
Azhar got Ahmed's third ball through midwicket for four as he dropped short, the first of six boundaries that the leg spinner conceded in his first spell.
Those included a thick outside edge for four from Babar, slicing at a wide leg break, but the rest were played with controlled hostility.
Azhar had found some rhythm after a sluggish start but gloved a back-of-a-length ball down the leg side. Foakes, back behind the stumps after sitting out of the first two Tests, took a magnificent diving catch low to his left, which TV replays confirmed was a spotless take.
After reaching a first-innings half-century for the third consecutive Test, Babar was slow to set off from the non-striker's end as Salman worked to square leg.
Harry Brook's throw was somewhat unpredictable, but Foakes responded strongly and whipped off the bails with Babar just short of his ground.
Babar Azam and Salman Ali Agha both made half-centuries but Pakistan discarded three wickets away cheaply. Mohammad Rizwan was the first culprit, heaving Joe Root straight to deep midwicket before tea.
In the evening session, Babar was run out while hurrying through for a single; Nauman Ali, the left-arm spinner, top-edged a slog-sweep to mid-off; and Salman, the last recognized batter, was stumped while charging down the pitch to Jack Leach. As Leach wiped up the tail to get done with 4 for 140, Pakistan was bowled out for 304.
Abrar hit with the fifth ball of the innings, catching Crawley in front with a flat leg break, but Pope and Ben Duckett survived until stumps.
Pakistan checked the final ball of the day, an Abrar googly which struck Duckett on the body as he got down to sweep, but ball-tracking technology confirmed it had pitched outside his leg stump.