Pak vs New Zealand 4th T20I called off due to hailstorm in Rawalpindi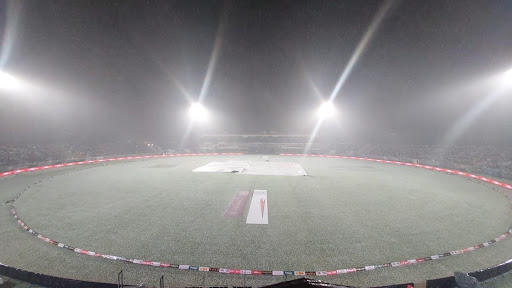 The fourth T20I was interrupted by a hailstorm
In April, of all the while a hailstorm caused the fourth Twenty20 international between Pakistan and New Zealand to be called off toward the end of the first innings.
After Imad Wasim's early triple-strike put the visitors on the back foot, Mark Chapman's unbeaten 42-ball 71 had served as a turning point for New Zealand's innings.
With seven balls remaining after their comeback, they had posted their greatest series total, as New Zealand had been 164 for 5 when the weather intervened.
It was a significant intervention as well. A small mist started to form on the Rawalpindi grass shortly after Haris Rauf tricked Rachin Ravindra in the flight during the penultimate over to send him on his way. However, the rain would get more intense nearly immediately, making it impossible for the next batter to enter.
Hailstones the size of ping-pong balls were peppering Rawalpindi as the players ran from the field, fans fled for cover, and ground staff hurried onto the pitch.
The ground staff sought shelter behind the coverings they had hurriedly brought out. The fact that the ground was covered in white made it clear that no more play would be possible almost immediately.
This means, perhaps surprisingly, that this weakened New Zealand team will extend this five-match T20I series to the last game on Monday, when a win will tie the series.
When the sides meet again after the Eid break, the Pindi crowd is assured of a live decider, which did not seem conceivable when the visitors suffered two crushing defeats to begin the series.
On a pitch that, in the words of New Zealand captain Tom Latham, "looked a belter," Pakistan had chosen to bowl first at a location where the recently finished Pakistan Super League saw dramatically high scores. Imad Wasim, though, stunned Latham's team with three quick wickets, putting them in a difficult position early on.
Before Will Young and Daryl Mitchell were both tricked by the pace and fly and cleaned up before Imad finished his spell, Latham miscued one to the boundary and was the first to fall.
He would immediately bowl out, allowing Pakistan to take the lead after four overs with just 19 runs allowed.
When Chad Bowes hit his rhythm and assumed control of a fourth-wicket stand with Chapman that started to reverse momentum, that started to alter.
In his third over, Shadab took a particularly heavy beating. A six off him let the opener reach 50 runs in 32 balls before Shaheen Afridi came back to make the breakthrough.
However, Chapman, who has been the visitors' finest batter this series, had started to go through the gears and was now purring. Haris Rauf provided him with a series of limits to assist him get going before he destroyed Zaman Khan by taking 18 off his over.
By this point, he had reached fifty, sparing no Pakistani bowler. Before the rain started, Shaheen was cut through the offside for four, and Rauf was smacked over deep midwicket.
Nature would eventually take its course, and all would be forgotten, but Chapman's performance is still important to New Zealand's chances of grabbing an unexpected series draw.