Ollie Price and Jack Taylor lead Gloucestershire to a stunning victory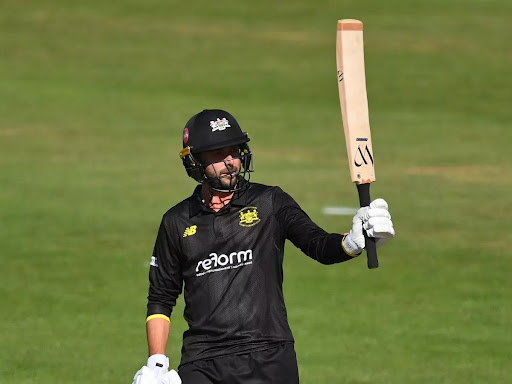 Jack Taylor celebrates his quickfire century
By defeating the Sussex Sharks by 166 runs at the 1st Central County Ground in Hove, Gloucestershire, led by Ollie Price and Jack Taylor, continued their impressive Metro Bank One Day Cup run with their fifth victory in seven games. This victory also improved their net run rate.
This was Sussex's fifth defeat in six games, another severe one as they were bowled out in just 25 overs, and they appeared to be a team lacking in confidence. This was another attempt to duplicate Sussex's good success in this league last season.
Their coach, Paul Farbrace, was left unhappy with their performance:
"It would be fair to say that we were out-batted, out-bowled and out-fielded., and that's what we've just talked about in the changing room. They know they've been embarrassed, and embarrassed is the word.
"That was the worst of the lot. This is the point where we say, that's it, we can't get any lower than that. There's only one way to go now and that's up. We fielded poorly, we started off nicely with the bat but then we capitulated. We gave our wickets away."
As they chased a huge Gloucestershire total, they lost interest in the match. Tom Alsop, who was short of runs in the match, was run out by a direct hit by Paul van Meekeren at mid-on as he attempted to scurry a quick single. Tom Haines, who was driving without moving his feet, was caught at cover in the fifth over.
Harrison Ward took a chance with his arm, hitting four fours and a six in a shaky 27 off 19 balls, but he was then lbw as he fell over trying to navigate a full delivery from Matt Taylor, who was making a comeback after recuperating from an infected toe. The decision to give James Coles the nod over Danial Ibrahim did not work out; the batsman was lbw for only six.
The focus was now on Coles to provide something extraordinary since Cheteshwar Pujara was keeping up and the needed run rate was rising constantly. With two fours and a six in his 17-ball 23, he was in the mood to do so as well.
Ollie Price then made a stunning catch of him. With Sussex reeling at 88 for five, van Meekeren attempted to draw him but got a top edge, which Price, running around from fine leg, collected the catch two-handed just inside the rope.
Despite some lusty smashes from Fynn Hudson-Prentice, who was bowled by another magnificent boundary catch by Ollie Price, Pujara's sixth outing at 126, when he was lbw to Tom Smith, effectively ended the match.
Ollie Price and Jack Taylor, who were in good form, put on a 128-run partnership in just 13 overs to help Gloucestershire reach their high total. Price scored a whopping 95 off 88 balls, including 11 fours. On the other hand, Taylor's 106 came at a rate of almost two runs each ball, making him appear practically pedestrian in comparison.
Taylor faced just 54 deliveries and smashed eight fours and seven sixes. This year, Taylor has previously struck two fifty-pluses and 121 runs against Worcestershire. When attacking the short boundary on the east side of the field, he occasionally appeared to be impossible to bowl to.
Just before James Bracey launched Gloucestershire's innings, who was in top form following his most recent 224 against Somerset, Chris Dent had been lost in the second over.
Before cutting Jack Carson to Pujara at the backward point, Bracey hit a fluid 41 that included five fours and a six. In the 19th over, the innings was in jeopardy at 127 for four after Miles Hammond, who was playing in his first List A game in four years, was stumped for 19. Graeme van Buuren then quickly fell lbw to Ibrahim for a duck.
At that point, Price and Taylor combined for some powerful shots that turned the game in Gloucestershire's favor. The most notable was a lofted straight six by Taylor against Hudson-Prentice that went over the media center and into the parking lot at the sea end.
Not for the first time in the league this year, Sussex's bowling performance was subpar. However, Henry Crocombe, whose opening three overs were wasted for 37 runs, had the joy of rejoining the attack to pick up four wickets, his finest performance in List A cricket.