New Zealand led 1-0 thanks to Southee's five-for and Seifert's 55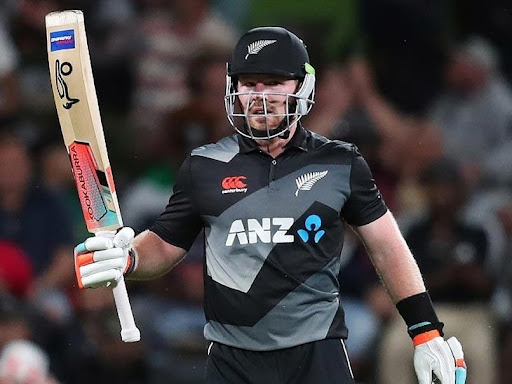 Tim Seifert scored a half-century in 30 balls on a two-paced pitch
New Zealand barely defeated UAE in the first T20I of the series in Dubai thanks to Tim Seifert's blazing fifty and Tim Southee's shrewd five-wicket haul. The victory for New Zealand on a challenging, two-paced track also depended on cameos from Rachin Ravindra and Cole McConchie.
Tim Seifert staked his claim for regular selection with a 30-ball half-century when he returned to the location of the T20 World Cup final in 2021, where he replaced the injured Devon Conway.
After starting a middle-overs meltdown with their off spin bowling all-rounders, Basil Hameed and Mohammed Faraazuddin of the UAE, New Zealand passed 150 thanks to late blows from Ravindra and McConchie.
Aryansh Sharma, 18, made his Twenty20 international debut with a dazzling half-century. He kept UAE in the game until Jimmy Neesham had him stump out in the 15th over. After his dismissal, UAE needed to score 41 runs in 30 balls and had four wickets in hand. But Southee and company knocked them out for 136, making it impossible for them to recover.
Seifert's prowess with a club had earned him the title of Bam Bam, which was strangely modeled after The Flintstones. In recent years, Seifert has strayed from New Zealand's starting lineup, but his recent runs around the globe have brought him back into the spotlight.
He came in second place overall in the Zim Afro T10 league last month. Then, on Thursday, he added another to his resume in Dubai after hitting three fifties in the LPL. In the powerplay on a difficult pitch, he was in charge of 47 of the 51 runs that New Zealand scored.
Junaid Siddique, Aayan Khan, and Ali Naseer were all pushed over mid-off before Ali was whipped over square leg. Seifert continued to generate enough pace for himself despite the UAE bowlers' continued delivery of slower balls towards the field.
At 55, Hameed spliced a reverse-sweep to point and ended his innings. Then, to help UAE get back into the game, he promptly got rid of Mitchell Santner in the same over.
Seven overs passed after the powerplay without a boundary for New Zealand. Neesham then blasted back-to-back fours against Hameed before being stopped at deep square leg while attempting a third against Siddique.
After that, McConchie and Ravindra put the innings on the right track with an unbroken 46-run, seven-wicket partnership off just 28 balls.
Zahoor was lined up by Ravindra, who dismissed him for 11 runs off of six balls, including a four-ball drill. The pair concentrated on identifying boundaries in the "V" because hitting across the line was particularly challenging on this course.
Aryansh's knock was responsible for UAE handling the chase admirably. In his 60 from 43 balls, he scored 10 boundaries. With only eight total boundaries during their whole innings, New Zealand nonetheless managed to prevail.
Aryansh was merely Vriitya Aravind's backup till recently, but in the first T20I match against New Zealand, he took center stage and displayed his skill at punching and driving. Then he treated Kyle Jamieson the same way after smashing left-arm fast Ben Lister for three straight fours. Once he was in Neesham's grasp, New Zealand was able to regain the initiative.
Santner had allowed ten runs in his first over during the powerplay, but he recovered to allow only 12 from his next three overs while also taking the wickets of Asif Khan and Ali Naseer.
When Asif threw one into the air, it appeared destined to land safely until Santner launched himself to his right and pulled off an incredible one-handed catch in front of the non-striker. Then, in the 17th over, he caught Naseer in front to speed New Zealand's victory.
Following his early success with the new ball, Tim Southee continued to be successful with the old ball by frequently burying cutters into the field. Along with Santner and Jamieson, he managed the UAE's lowest order. To become the player with the most wickets in T20Is, Southee needs just two more than Shakib Al Hasan.