New Zealand comeback in a nail-biter 3rd T20I after getting defeated twice in the span of two nights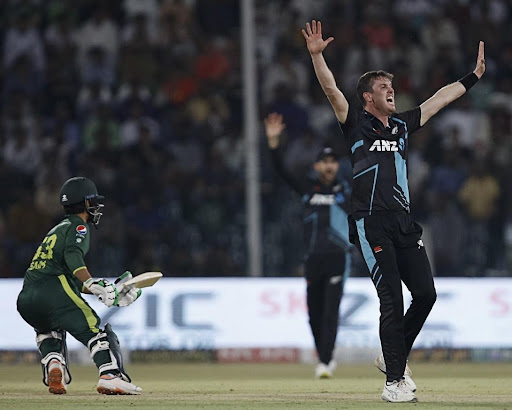 Babar Azam scored 101 off 58 balls
Although it wasn't quite as much of a mismatch as the game on Friday, the result was never in doubt. Pakistan climbed to 192 due to a lavish Babar Azam century, currently second only to Chris Gayle in the T20 format.
As Pakistan recorded another total well over average, Babar was helped by a half-century from Mohammad Rizwan and a valuable unbeaten 19-ball 33 from Iftikhar Ahmed.
With a terrific opening combination, Babar Azam and Rizwan more than made up for their shortcomings from yesterday. They took three overs to get going, but once they did, they brilliantly caught up throughout the first half of the innings, scoring at a pace of approximately ten per over during their 99-run stand.
After that, Pakistan's momentum was threatened by a string of wickets, but an uninterrupted 87-run partnership between Babar and Iftikhar in 43 balls kept Pakistan in control once more.
In response, New Zealand gave a better account of their skills than they did in the first game, with Mark Chapman's elegant half-century leading the pursuit. He batted an undefeated 40-ball 65 in what was mostly lone resistance, displaying both his technical skill and long-range hitting, keeping his side's spark alive until the final three overs.
However, it was impossible to stop the damage Haris Rauf was causing at the other end. He backed up his career-best performance from 1st T20i with another brilliant effort, destroying the middle order of New Zealand and putting an end to any fledgling pursuit with figures of 4 for 27.
Pakistan cruised to a 38-run victory when Shaheen Afridi and Zaman Khan put an end to the chase at the very end. Chapman then won the game with a superb six-over cover.
Midway through Pakistan's innings, as in the first T20I, there was a blip, and just like 1st T20i, Matt Henry was to blame.
Following Pakistan's quick start, Henry bowled a vital 11th over that resulted in one run being scored and two wickets being lost. The first to leave was Rizwan, who failed a slog shortly after bringing up his half-century.
Fakhar Zaman was then forced to chop one back onto his stumps as Henry found himself on a hat-trick for the second game in a row. To prevent the fast bowler from completing consecutive hat-tricks, Saim Ayub held his first ball out, but New Zealand found themselves in the lead.
For Ayub, Rachin Ravindra only needed one more ball to dismiss him, forcing him to hole out at deep midwicket. At this moment, Pakistan was unable to stop the bleeding as Imad Wasim feathered Jimmy Neesham through to the keeper in the subsequent over.
In just two overs, Pakistan had lost four wickets for just six runs, and New Zealand had roared back into the match.
Babar, as is his way, slowed down a little after the powerplay, so not even his staunchest supporters entertained thoughts of the Pakistan skipper scoring a ninth T20 century. Babar still needed 35 runs to win with three overs left, but Henry's final over saw him reach the 80s with two sixes and a four.
However, Babar was denied the strike, and a clever final over from Ben Lister appeared to have once again shattered his aspirations. With the final four balls of the inning remaining, he was still 15 away, and Gaddafi started dreaming once more.
The audience had been raised into a frenzy by the time Neesham was powered back over mid-off for six and Babar moved into the 90s. He hit another over mid-off for four to win it by seven runs with two balls remaining.
He would also save his greatest shot for last, a magnificent drive over cover that soared to the boundary and brought up the most improbable of his nine hundreds, almost as if it were scripted. Lahore roared beside him as he swayed back and let out a roar.
New Zealand would have had a real chance if Chapman had someone to keep him company at the other end, but Rauf ensured that wouldn't be possible.
After a risky third wicket partnership with Will Young, the highlight of which was a 95-meter Chapman six off Shadab Khan, Babar resorted to Rauf for the wicket he desired.
The fastest bowler for Pakistan more than met with his captain's request. He forced Young to hole out to Shadab Khan with his fourth ball back due to his superior pace, but he was just getting warmed up. He added two more wickets to his total in his third over.
The speed was too much for Daryl Mitchell to handle at first, so he delivered a bouncer to new man Neesham, who could only divert it to Shaheen Afridi at mid-off.
Rachin Ravindra too had no chance of escaping Rauf's cunning, as the young all-rounder launched an off cutter straight to deep midwicket to put an end to New Zealand's battle.