Muhammad Siraj reveals his unique 'Finger on Lips' celebration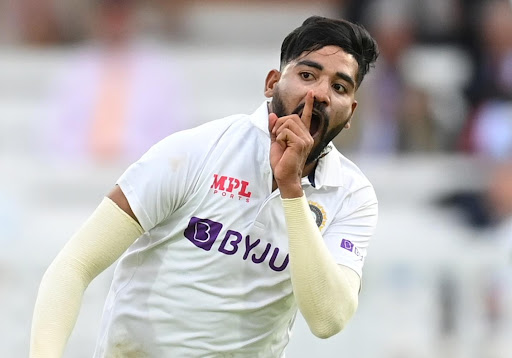 Courtesy ICC
Fast Bowler Mohammad Siraj revealed the reason behind his 'Finger on lips' celebration after his wickets against England
Indian right-arm pacer Mohammad Siraj picked 4 wickets against England at Lord's and he was seen celebrating by putting his finger on lips. He was asked about his "finger on lips" signal after getting every wicket. So what's the reason behind this celebration?
"This story (celebration) is for the haters (critics) because they used to say a lot of things about me like he cannot do this and cannot do that. So, I will only let my ball do the talking and hence this is my new style of celebration,"

Siraj said at the virtual post-day press conference after the third day's play of the second Test.
India finished their innings at 364 runs of a classy knock from KL Rahul's (129) but England skipper Joe Root finished the innings unbeaten on 180 runs to help England to put up 391 runs in their first innings.
During the pre-lunch session, a bottle corked was sent at Rahul from the Spectators but Siraj said that he was unknowing about it.
"I did not notice what happened but nothing (offensive) was said by the public,"

he maintained.
He said that the wicket wasn't helping that much so we planned to use a bouncer.
"It was important (to play with fourth fast bowler) because we have taken three wickets at the start and our fast bowlers were effective and bowling consistently in one area.
"The role of fast bowlers is important in England because when you come to England, you want to try things, but our plan here was to be consistent and bowl at one place,"

he said.
"I was looking to bowl at one spot consistently even during my Ranji Trophy days. My simple plan was to not try much hit at one spot consistently"

said Siraj.
"The wicket has improved for batting we will look to put on runs on the board. We try to score as many runs as possible,"

he said.