Many questions left unanswered as India continues to hunt for best ODI team: Player Ratings for India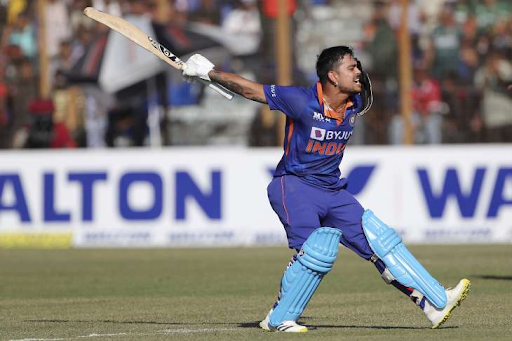 Ishan Kishan scored a double century
The Indian team management might start having headaches about the ODI set-up, as a year ahead of the 2023 ICC Men's Cricket World Cup, the team has now lost two ODI series in a row. Following the defeat against New Zealand, Rohit Sharma's men suffered a 1-2 defeat against Bangladesh away from home.
Let us check out the report card of the Indian players:
Top Order
Rohit Sharma (8/10): Indian skipper Rohit Sharma could consider himself a tad unfortunate, as neither did his team emerge victorious nor did he come out of it unscathed. The opening batter played two matches, where he scored 78 runs at a strike rate of 132.20.
In the first match, Sharma was his team's second-highest run-getter as he struck 27 runs. The heroic performance came in the next match, where despite sustaining a thumb injury, the captain struck a half-century.
Shikhar Dhawan (2/10): With the 2023 World Cup knocking at the door, every opportunity is a make-or-break for Indian cricketers, and Shikhar Dhawan will be frustrated after not utilizing the opportunities he got in this series. The veteran scored 18 runs in three matches at an average of 6.
After being dismissed for only 7 runs in the first match, Dhawan could better his performance by only one run in the next match. The last match was the worst of the lot as the left-handed batter scored only 3 runs.
Ishan Kishan (10/10): Ishan Kishan did not get a chance in the first couple of matches as India opted to stick to the tried and tested pair of Sharma and Dhawan. However, when the Southpaw got his opportunity following the skipper's injury, Kishan proved why he deserves his place in the team.
The youngster struck 210 runs in only 131 deliveries, helping the men in blue score 409 runs. Kishan's knock consisted of as many as 24 boundaries and also ten spectacular sixes, as none of the Bangladeshi bowlers could escape his wrath.
Virat Kohli (7/10): Virat Kohli had a mixed campaign in Bangladesh, but he will be fairly content with the overall outcome. The 34-year-old scored 127 runs in three matches, maintaining an average of 42.33 and a strike rate of 113.39.
Kohli could score only 9 runs in the first match before being dismissed for only 5 in the next match, but the former Indian skipper was successful in having a fruitful conclusion by scoring a century in the last fixture, where he scored a 91-ball 113.
Middle Order
Shreyas Iyer (7/10): While not many Indian players managed to prove their reliability in this series, Shreyas Iyer was among the rare ones who managed to show consistency. He scored 109 runs in three matches at an average of 36.33 and a strike rate of 74.14.
The 28-year-old scored a 39-ball 24 in the first match, while his best performance came a game later wherein Iyer smashed 82 runs. The third match did not go according to plans as Iyer scored only 3 runs, but the first two displays should be enough to nail his place in the team.
KL Rahul (6/10): KL Rahul did not have a splendid outing, but he also was not among the worst performers in the Indian team. The vice-captain scored 95 runs in three matches, at an average of 31.66 and a strike rate of 87.96.
His best performance came in the first match, where Rahul played a knock of 73 runs to help his team get to a fighting total. However, the next two matches were not impressive as he added only 22 runs more to his tally.
All-rounders
Washington Sundar (9/10): Washington Sundar came into this series with the form on his side, and the all-rounder utilized it to perfection by having yet another decent outing. He was India's joint leading wicket-taker with 6 wickets and also contributed with the bat by scoring 67 runs.
Sundar picked up 2 wickets and scored 19 runs in the first match, before picking up a three-wicket haul in his second match. The third fixture was about his batting skills, as Sundar struck 37 runs to prove his mettle as an all-rounder.
Axar Patel (4/10): Axar Patel had a rather strange campaign, as while he managed to score some important runs with the bat, his spin bowling was ineffective. The all-rounder scored 76 runs but managed to scalp only a couple of wickets.
Both of those wickets came in the third match as the 28-year-old went wicketless in the first two matches. As for his batting performance, his best showing came in the second match where he struck a half-century.
Shahbaz Ahmed (2/10): Shahbaz Ahmed had only one opportunity in this series, which was in the first ODI. However, the Bengal all-rounder could not make his mark as he conceded 39 runs without picking any wickets in the nine overs that he bowled, while he was also dismissed for a duck.
Bowlers
Shardul Thakur (5/10): This series was a big opportunity for Shardul Thakur to nail his place in the team, given Mohammed Shami's injury. However, the pacer could not really grab the chance as he could muster only four wickets in three matches.
The 31-year-old picked up one wicket in the first match, but in the second match, he conceded 47 runs without picking up any wickets. The final game, however, helped him change the narrative as he picked up 3 wickets.
Kuldeep Yadav (5/10): Kuldeep Yadav was initially named in India's Test teams, but injuries to Deepak Chahar and Kuldeep Sen opened up a slot for him to feature in the third match. The left-arm spinner had a rather average outing.
The 27-year-old conceded 53 runs in his quota of ten overs but also got the crucial wicket of Bangladesh's kingpin, Shakib Al Hasan. Besides that, Yadav also scored three runs.
Mohammed Siraj (8/10): Barring Sundar, Mohammed Siraj is perhaps the only other Indian player who can be proud of his bowling performance in this series.
The speedster was the joint leading wicket-taker with 6 wickets to his name. The Hyderabad-born player set the tone very early as he picked up a three-wicket haul in his first match, before scalping two wickets and one wicket in the next two fixtures respectively.
Deepak Chahar (3/10): Deepak Chahar's tournament ended with an unfortunate injury, but he will not be particularly happy with his performance before the injury either. The Indian pacer picked up only 1 wicket in the two matches he featured in.
Chahar picked up a wicket by conceding 32 runs in the first match of the series, but could not add to his wickets tally any further. The 30-year-old will now aim to return with renewed vigour and zeal.
Umran Malik (7/10): Umran Malik played only two matches in this series, but he can be happy with his performance and be hopeful of many more opportunities to come his way. The electrifying pacer picked up 4 wickets at an average of 25.25 and an economy rate of 5.61 runs per over.
Malik picked up two wickets by conceding 58 runs in his first appearance, while the performance was even better in the second match. While he picked up two wickets this time as well, the 23-year-old conceded only 43 runs.
Kuldeep Sen (3/10): Kuldeep Sen will be really gutted with how the tournament panned out for him. While he should have made three appearances in ideal circumstances, injury meant he could play only one match where he picked up two wickets while leaking runs left and right.