Livingstone's 95*, the bowlers, and a rain-shortened game help England tie the series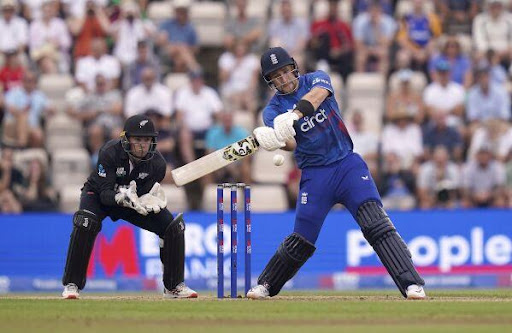 To save England, Liam Livingstone scored 95 runs
Liam Livingstone's 95-run innings saved England and enabled them to defeat New Zealand at the Ageas Bowl to square the series. In a rain-shortened game that only had 34 overs per side, England was able to set New Zealand 227 to win thanks to his greatest ODI total. Daryl Mitchell scored 57 points, but the visitors still lost by a large margin due to a lower-order meltdown.
In his 100th ODI, Trent Boult celebrated his comeback to the New Zealand team by capturing three early wickets in eight deliveries to reduce England to 8 for 3 in favorable bowling conditions. And by the time Livingstone left the field at No. 7, they had fallen further behind at 55 for 5, and they were in danger of suffering their fourth straight white-ball loss.
But Livingstone helped England to a respectable total through partnerships with Moeen Ali and Sam Curran, which were worth 48 and 112 points, respectively.
Tim Southee was the weak link in New Zealand's attack when Livingstone isolated him, and the only surprise was that he was unable to get from 91 to three figures off the final two balls after Livingstone carted him for six boundaries in 17 balls.
Livingstone's inclusion in England's World Cup squad has never really been in question, despite his sporadic performance this summer. He also has a fantastic IPL record. He has firmly demonstrated why with two opposing half-centuries in three days. His longest international cricket innings and highest-ever winning innings both came during this one.
With Mitchell in a commanding mood, New Zealand appeared to be on track at 111 for 3 when they lost Finn Allen to the second ball of their chase, castled by David Willey. However, New Zealand imploded, losing their final seven wickets for 36 as Reece Topley finished with 3 for 27 after taking three wickets in eight balls during his second spell.
The early damage for England was done by Boult, who was playing international cricket for the first time since last year's T20 World Cup. He secured a release from his central contract in order to maximize his availability for franchise leagues throughout the world, but his New Zealand career has been on hold since the end of last year.
But his new-ball spell made it clear why New Zealand was always going to be happy to have him back before the World Cup starts next month. With his seventh delivery, Boult struck as Jonny Bairstow's leading edge spooned up towards cover, where Mitchell Santner made a spectacular catch by perfectly timing his leap.
Joe Root just faced two balls before being struck on the knee roll by an inswinger. Ben Stokes then handed Boult the charge, but he only lofted the ball to mid-off.
Harry Brook was once more given the chance to start the batting in place of Jason Roy (back spasm) and Dawid Malan (paternity leave), but he struck out right away following a brief powerplay. Matt Henry was intended to be swung over the infield by Brook, but his leading edge looped up to the mid-off fielder who was backing up.
After leading the counterattack by smashing Boult for three boundaries in four balls, Jos Buttler was out for 30 from 25 when he sliced Santner's drag-down onto his own stumps. Buttler's dismissal suggested a slowish surface, similar to that experienced by Bairstow and Brook, with a number of balls sticking in the ground.
More than 20 overs remained in England's batting innings when Livingstone left at No. 7 to join Moeen. The pair scored 48 runs in 50 balls, beginning cautiously before occasionally letting loose when New Zealand gave width. At this point, Livingstone thought it was time to change tactics after Moeen was caught for 33 by Glenn Phillips on a spectacular diving catch at point.
Livingstone played his longest innings for England by the time he reached his 47-ball half-century, his second in three days, after scoring 17 runs off an over, including three boundaries in four balls. Livingstone had specifically targeted Southee.
Curran hit both left-arm spinners, Santner and Rachin Ravindra, for sixes at the far end of the field in his first game since the Hundred final.
When Livingstone smashed Henry's slower ball into the seats for his maiden six, the pair reached a 100-run partnership at the conclusion of the 32nd over. After Mitchell stepped on the boundary toblerone while trying to catch a ball off Willey at long off, Livingstone could only heave the final two balls for a pair of twos after Curran fell while pushing Southee to short third.
To keep England ahead of the game, Gus Atkinson bowled a strong opening spell. Allen, who will not be included in the preliminary World Cup team that New Zealand names tomorrow, escaped a lbw review off the first ball of the chase but was castled by Willey on the second.
When Willey pounced at mid-off, he caught Devon Conway from behind and let Will Young run out carelessly.
However, Topley's second stint turned the tide. Mitchell kept New Zealand moving, adding 56 alongside Tom Latham. Prior to Phillips being caught and bowled for a magnificent catch, Latham pursued a wide ball, and Ravindra edged his subsequent delivery to slip. Mitchell was the only option from 123 for 6.
Moeen quickly grabbed his 101st ODI wicket when Santner sliced to point after Mitchell had lifted Moeen over long-off for six and then botched a full delivery to mid-off, giving Moeen his 100th ODI wicket. In order for England to enjoy the early-evening sun, Willey cleaned up the tail and finished with three of his own wickets.
England 226 for 7 (Livingstone 95*, Curran 42, Boult 3-37) beat New Zealand 147 (Mitchell 57, Topley 3-27, Willey 3-34) by 79 runs