Listen, that's not how our cricket is played – Warner replied to Powell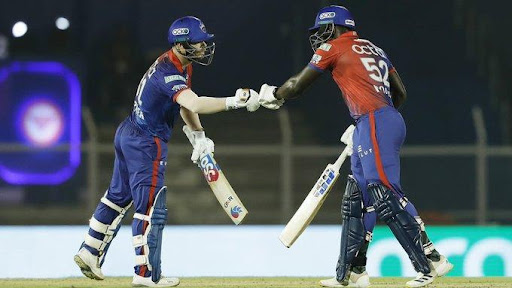 David Warner and Rovman Powell added 122 off 66 balls against SRH
After waiting for not so long, Delhi Capitals finally got the performance they have been waiting for since the start of the season. The victory against SunRisers Hyderabad was the key to what Rishabh Pant termed as a "close to perfect performance".
Failure after failure, Delhi Capitals have finally managed to get the kind of performance they have been waiting for since the start of the season. Their victory against SunRisers Hyderabad was built on the mighty batting performance of what Rishabh Pant termed as "close to perfect".
The victory has earned DC a fifth spot in the Indian Premier League (IPL) 2022 points table. A partnership of 122 off just 66 balls from David Warner and Rovman Powell negated the threat that DC had been showing previously.
"I think there is always room to improve but this is as close to the perfect performance as a batting group, yes,"

said Rishabh Pant at the post-match presentation.
Meanwhile, Pant (26) had failed to get going in another innings as he couldn't convert his start into a better one after falling for a full toss. Still, DC came out with a lot of positives including the useful returns with the ball of Anrich Nortje and Mitchell Marsh.
The main factor was that they were able to convert their batting performance into something meaningful as the top-order scored some big runs. David Warner's 92 against his former franchise needed no motivation under the perfect batting conditions even though he was breathless with the power-hitting of Powell.
"Challenging here with the humidity at Mumbai, and I was cooked towards the back end, getting older. And having Rovman at the other end…he's got some serious power to clear the fences, was amazing striking and I was glad he was there at the other end,"

said Warner deflecting the praise towards his partner.
"I was backing up there towards the end, [but] it was a little bit silly of me to try and to run fast. Man, he hits them clean, and gee does they go a long way,"

exclaimed Warner.
"Even look at Livo [Liam Livingstone] there – 117m – these guys are clearing the fences like anything. I'm getting older; I've to get back to the gym. I'm only hitting 85m and I have to hit one 100m at some stage,"

said Warner who was left not out on 92 after egging on Powell.
He did not utilize the ball for a hundred off Umran Malik in the last over but still, he managed 19 from it after hitting three boundaries and a maximum.
"Yeah at the start of the over I asked him [Warner] if he wanted a single to try and get a hundred but he said 'Listen, that's not how our cricket is played'. I should try to smack it as hard and as far as I can, and I did that,"

chuckled Powell.
Both Warner and Powell accepted that the pitch at the Brabourne Stadium was ideal for batting and there had a simple plan under those conditions.
"It's just sometimes you plan for a particular ball – the slower balls and yorkers. Because the wicket is so good you can hit through the line when you see the fastball. So it was just planning for the yorker and slower ball and those kinds of stuff,"

said Powell.
Another planning helped him come at the upper spot of 5 in the line-up as he had a chat with the skipper.
"I had a conversation with Rishabh. He come to my room and asked me where I want to bat. And I tell him, 'Just trust me and I'll bat at No.5'. Over the last year or so, my ability to play spin has increased, I'm batting spin a lot better, I know I can bat pace already. So I just tell him to trust me at No. 5. Give me a chance to start, and give me chance to bat the first 15-20 balls as how I want to bat them. And then the next 20 balls I will try to maximize,"

said Powell during the innings break.
"That's how it goes, I came into the IPL knowing I was in good form and I had put in a lot of work. The start of the IPL was a little bit tough for me. I just kept believing in myself,"

he explained further after the game,
"I had a conversation with Rishabh and explained to him. Yeah, I was a little bit disappointed to bat at 8 in that game but it is the nature of the game. Whatever situation you're placed you have to come out and be at your best. They came up with a conclusion and they came up with a plan and I'm starting to bat a little earlier now"