Jos Buttler: Door not closed on Harry Brook for World Cup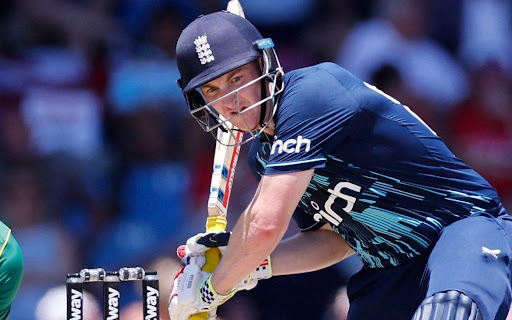 Buttler: Unfortunate Brook a victim of England's depth
While Ben Stokes' comeback to ODI cricket as a specialist batsman "changed the dynamic" for selection, Jos Buttler maintained that Harry Brook may still force his way into England's final World Cup team after this week's 41-ball century in the Hundred.
Having been unexpectedly left out of England's 15-man team the previous week, Brook replied on Tuesday night at Headingley by scoring 105 runs off of just 42 balls for Northern Superchargers. The next-highest score was only 15, and when he stepped in after 20 balls, he was at 10 for 3.
He is now expected to go to India as a reserve, but England has until September 28 to make changes to their 15-man provisional World Cup roster. They made two last-minute roster adjustments four years ago, replacing Joe Denly and David Willey with Jofra Archer and Liam Dawson.
Butler entertained the thought that he could still be able to force his way into the team based solely on performance. Harry Brook is a member of England's squad for a four-match T20I series against New Zealand that gets underway on Wednesday.
"There's still a long time before everyone is meant to get on the plane, so we'll wait and see what happens,"

he said.
"We all know Harry's a fantastic player and we saw what he can do the other night," Buttler added. "It's not like it's a surprise: we know what a brilliant player he is, he's just the unfortunate one at the moment to not be in that squad at the moment.
"Of course, Ben Stokes coming back and being available just as a batter sort of changes the dynamic a little bit. Ben's a fantastic player to be able to welcome back, so it's a really tough selection."
There is no apparent like-for-like switch that would keep the squad's balance despite the fact that several members of England's initial squad, including Liam Livingstone, who may be Brook's closest equivalency as a power hitter, had quiet tournaments in the Hundred. For England's chances on the wickets in India, Livingstone's ability to bowl both off- and leg-spin could be essential.
"There's been [a lot of] players performing really well over a period of time," Buttler said. "That's where we're at the minute."
This weekend, Buttler, who will lead Manchester Originals in the Hundred's knockout rounds, suggested seeing the caliber of players England could afford to omit as a plus.
"We're blessed with a lot of strength in depth, and talent. "[There are] excellent players not in that provisional squad at the moment. It's been the nature of England squads in the white-ball teams over the last few years really, which is a great sign for us. They're good problems to have."
With 298 runs scored in eight innings, Buttler leads all batters in the competition and is the only one to have scored more runs than Brook. He has a strike rate of 143.26 and occasionally plays within himself to counteract the early swing that has been a hallmark of the competition.
"I've been feeling pretty good and enjoying my batting,"

he said.
"It's certainly swung about a little bit more than sometimes it does, so I've been just trying to adapt. I'm a pretty experienced player now. You always want to get off to a fast start and take advantage of the Powerplay, but some days it might be that that's the hardest time to bat.
"Even in such a short game, there's still time to do that. In a Test match, it might be [that you] soak it up for an hour or something, but in a T20 or the Hundred, it might be just three or four balls that you need – and that's okay. Something I've learned over time is you can still have those little phases of getting in."
Buttler will play against Southern Brave in the eliminator on Saturday. He missed the conclusion of the Hundred last season due to a calf injury, but he is excited to lead Originals into the knockout stages of a competition he believes has gone too far.
"These are the games that you want to be involved in: a chance to try and get into the final,"

he said.
"It's going to be a great night at The Oval, sold out. We've played some really good cricket to earn the right to be in this position and now it's about trusting that again to play with the same freedom, even though it's an eliminator match."