James Anderson: Australia won't be able to cope with England at their best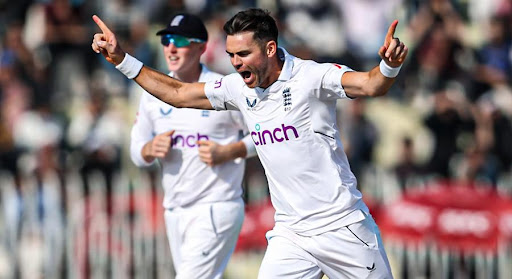 The Australians have been challenged by James Anderson
As he prepares to play only four of the five men's Ashes Tests this summer, James Anderson feels Australia will be unable to compete with England at their best.
Anderson is recovering from a minor groin strain sustained in Lancashire's County Championship encounter against Somerset last week. While the 40-year-old intends to be totally fit for the Ireland Test at Lord's on June 1, he will most likely sit out that game in order to prepare for the Ashes, which begin on June 16 at Edgbaston.
Anderson stated that "three or four out of five would be more realistic than five" with those five Tests against Australia spread out over six weeks. It is consistent with Ben Stokes' claim that the hosts will need to call on eight seamers this summer. For Ireland, the skipper will have four options, with fast Mark Wood likely to sit out the Test alongside Anderson.
Going into his tenth Ashes series, England's third most prolific wicket-taker believes England can reclaim the urn from Australia for the first time since 2015. Especially if they can reproduce the dominant style of play that has led to them winning 10 of the last 12 Tests under Stokes and head coach Brendon McCullum.
"If you look at our team, if we play to the best of our ability with that mindset, I don't think anyone can cope with us,"

said Anderson.
"So yes, I think we can win.
"I feel like if we can keep the same mentality and the same sort of feeling in the dressing room we've had. It's fairly relaxed, we're trying to enjoy ourselves, we're trying to entertain people, take the positive option."
In many respects, Australia will be the litmus test for many of the values that England has adopted since the beginning of last summer. A drive to entertain, rather than judging performance purely on winning and losing.
So far, England's mentality has only been called into question once, when they were defeated by New Zealand in Wellington. They had dominated the second Test for the first three days, forcing the Blackcaps to follow-on before succumbing by a single run late in the fourth day. James Anderson took the last wicket.
Given the fervor of the Ashes, will such generosity fly this summer? Stokes told Sky Sports that if England only needed a draw to win the series, he would declare to give Australia a chase in the last Test at the Oval. Anderson hopes that, in light of Ben Stokes' words, the attitude and mindset continue at their peak. Especially given the link between playing fearlessly and producing remarkable results.
"We're going to get the same messaging from Brendon and Ben about how we go about playing. I think there'll just be a little bit more attention around it because it is an Ashes series. But I just hope we can play the same way because it's been brilliant to be part of.
"I'm excited by the way we've been playing, it's about something greater than the outcome. It's about entertaining people and trying to enjoy ourselves while we do it. The end result has been taken away to an extent in the last few months, and I think that focus on ourselves has helped produce performances and produce results."
Australia is sort of a last frontier. Victories over New Zealand, India, and South Africa, as well as a 3-0 series win in Pakistan, have seen them outperform all contenders thus far.
While a trip to India in early 2024 will provide an intriguing opportunity to assess how an experimental batting style transfers to turning surfaces, this summer's visiting attack – the best in the world right now – will provide the most severe resistance thus far.
Anderson expects some changes, but cites success at "every stage that we've been through" as proof that they must do unto Australia what they have done to everyone else.
"I'm sure we'll have to do something slightly differently against Australia because they might have different plays and whatever else. But we've coped with everything that's been thrown at us so far. It's been exciting.
"They are naturally extremely competitive, aggressive when they play. They'll have discussed it and have their own plans and own ways of how they are going to cope with it. I just think if we do what we've been doing and play as well as we possibly can, I don't think anyone in the world can cope with it."
Anderson's recent home Ashes experiences have not been particularly positive, especially during a period when England has not lost a series on these shores since 2003. He strained his calf on the morning of the opening match of the 2019 season (2-2), and he pulled up during the third Test of the 2015 series, which England won 3-1. You can see why he wants to avoid injury by avoiding the Ireland game.
There were two 4-0 away defeats in between, as well as 5-0 setback six months following the home triumph in 2013. Anderson's second whitewash came following a three-appearance tour in 2006-07.
"For me, I've avoided the last three away," he joked, channeling Stuart Broad's comments on the Covid-19 tour of 2020-21. "Four out of five, I think". The one unvoided being the 2010-11 success, of course.
Indeed, Anderson was dropped alongside Broad in the most recent debacle in Australia. When Stokes took over as captain, his first item of business was to recall them.
Since then, Anderson has found a fresh lease on life under a skipper who is more concerned with taking wickets than with sustaining run rates. Though the batting has received the most attention, England has taken the full 20 wickets in all of Stokes' 12 Tests. Anderson, on the other hand, has 45 dismissals at 17.62, putting him just 15 dismissals shy of the 700-mark.
"I'm not trying to just bowl into the channel and get him to leave then hope he prods at one in 16 overs time," Anderson said. "I'm trying to get a wicket every ball. It might sound strange, the whole point of cricket is to get people out as a bowler, but there are different ways of going about it.
"I love it. I think it's great. I've gone from potentially bowling 35 overs in an innings, potentially trying to winkle a few out, to just giving it everything in your spell knowing we are on. There's a better feel, everyone is involved and there are ideas coming from everyone."
The primary source of the ideas is singled out for special recognition. Anderson has played under eight different captains during his international career, which will celebrate its 20th anniversary on Monday, the anniversary of his first of 179 caps, against Zimbabwe. His current, and almost certainly final, captain is his favorite.
"Yeah," Anderson answered after a long pause when asked if Stokes was the best. "It is hard to say over a short period of time but he's had an amazing start. I think he is completely different from any captain I've ever played with before and I've really enjoyed it."
"I can't fault anything really. I think everyone knew that he was a leader, the way he trains, whether it's the gym or whether it's catching or batting or bowling the way he goes about his business, he is the ultimate professional. The way he plays he leaves everything out there. So he's a born leader."
"For me, it's the finer details, not just on the field where his tactical nous has been spot on, but also his emotional intelligence off the field and how he talks to everyone in the group.
"If he needs to put his arm around someone or fire someone up, he's just got a really good way of doing that. And the way he speaks to the group as well is excellent. I've been really impressed."