It's nice to get that one off the back – Labuschagne on the first overseas ton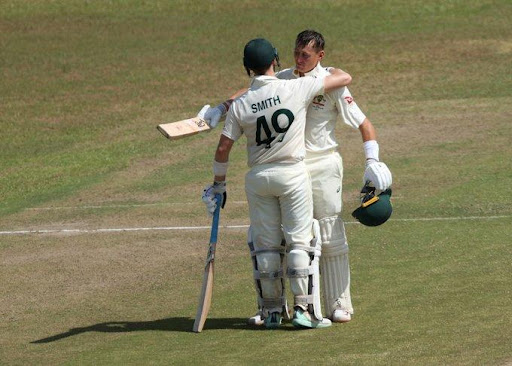 Marnus Labuchagne scores his seventh Test hundred and first on the foreign soil
The Australian batter Marnus Labuchagne scored the seventh ton in his Test rally; his first century came on foreign soil on day 1 of the second Test against Sri Lanka in Galle.
Earlier the day, Pat Cummins had decided to bat first on what according to him was a firm wicket, Australia got themselves in a comfortable position after a third-wicket stand between Labuchagne and Steve Smith, with both scoring centuries.
"It's nice to get that one off the back, the first one away from home and to contribute and put the team in a position like we did today was very nice,"

Labuschagne said. 
"It's not something you sit there and think about all the time. But it's something reporters (bring up) and the media beat everything up a bit. It's nice to score runs in different conditions and show people that you can play in not just bouncy, seaming, or swinging conditions, but against spin as well." 
Much of the predictions were built around the conditions that offered a bit of success just two weeks before but also had to deal with a lot of spin on those conditions.
What they came across was a slightly milder version of their expectations where they could trust their defense a lot more.
"A lot of my preparation coming into this game was actually done on a wicket that was going to be spinning from day one. I actually had to adjust my game a bit,"

Labuschagne revealed.
"Speaking to Steve out there and speaking to Uzzie [Usman Khawaja] – we were just talking about trusting our defense a bit more, being able to be a bit more selective rather than having to be as forward with our game as you were on the other wicket when the wicket is going so big and it's so inconsistent. You have to take some chances and premeditate a sweep or premeditate running down the wicket. On that (second Test) wicket you could trust your defense a bit more and use those other options as boundary options rather than surviving options."
"There was certainly a bit of talk around the traps and some of the words we were getting were that they were going to make it a better wicket. But I didn't really look at the wicket until today; I didn't invest too much energy. That wicket was a lot nicer to bat on and just trust your game, I had to make sure I adapted my game a bit and not go as hard as I would if the wicket was going big,"

he added.
Labuschagne was not the only one who had the feeling of relief after scoring an overseas hundred but Steve Smith, who added 134 runs for a third wicket with Labuschagne also scored his first century in the format in one and half years.
While Sri Lanka managed to trap Labuschagne at 104, Smith was unbeaten at the crease on 109.
"Both of us felt like we'd left some runs out there for the last few Tests. So it was nice to cash in when we got an opportunity,"

Labuschange said. 
"From last week I was very disappointed. Probably just going away from my process rather than the dismissal. I think you're going to get out on that wicket eventually, but you just want to make sure you stick to your process, and obviously, Smudge got run out. So that would have been very frustrating. The boys said this morning when he rocked up to the ground, he was in the Smudge headspace and he looked locked in." 
Meanwhile, Labuschagne found it pleasing while batting at the nice wicket and the challenging days await the Australians.
But the 28-year-old reckons that their two spinners – Nathan Lyon and Mitchell Swepson should be able to generate more turn than the opposition's spinners.
"Nathan spins it on glass, so I'm sure he's going to get some turn and bounce on that wicket. And same with Swepo,"

Labuschagne said. 
"They're both big spinners of the ball. So I think that's a real advantage for us, we've got two bowlers that are probably going to put more revs on the ball than their bowlers, which is just going to create probably more of that inconsistent spin. But it is a nice wicket. So it's going to be a bit more of a grind and just being patient and sticking to your process,"

Labuschagne said.