It was a good batting surface but nice to see the rough which challenged batters – Kane Williamson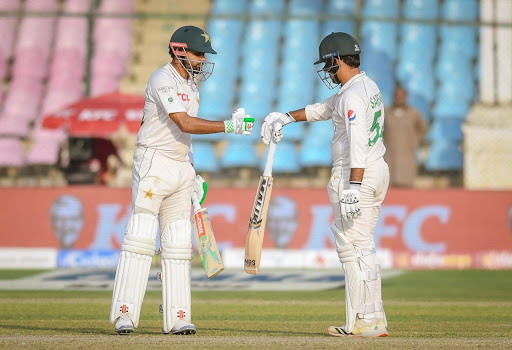 Babar Azam says as you know, we wanted to get a result as I said at the toss and we went for the declaration but the light was not good enough, so it ended in a draw
On day 5, an unbelievable declaration by Babar Azam set New Zealand a target of 138 in the final hour of the first Test in Karachi but the blurring light illuminated his face again as the game was stopped when the target was 77 away with 7.3 overs left.
At the start of day 5, Tim Southee made an opportunity in the second over of the day when Imam-ul-Haq drove at a full ball and got an outside edge. But there was no slip set up and the resulting boundary took Imam to his half-century.
But it didn't take long for New Zealand to get their first wicket of the morning. In the next over, Bracewell dismissed night watcher Nauman Ali lbw.
Babar Azam walked in at No. 5 and, after defending the first few deliveries, took full benefit when Bracewell leaned toward the shorter side. The Pakistan skipper shook back and pulled the off-spinner to the square-leg boundary twice in a 12-run over.
That provoked Southee to bring Sodhi on, and the leg spinner removed Babar with his very first ball of the day. The Pakistan captain was selected to review the on-field decision but it proved worthless.
Sarfaraz Ahmed started aggressively. After hitting two consecutive fours off Southee, he hit three boundaries in Ajaz's first over of the day.
The first two came using the sweep shot, and when Ajaz changed to over the wicket, Sarfaraz jumped towards the leg side and cut him through covers to move to 25 off 15 balls.
Imam continued to contribute from the other end. With the partnership having crossed 50, Neil Wagner was brought into the attack for the first time in the innings in the 57th over.
He started around the wicket and even had Blundell standing up to the stumps for an over, but Imam and Sarfaraz saw him out to take the side to lunch.
After lunch, Sarfaraz raised his second half-century of the match but fell on the very next ball. It was a short and wide delivery from Sodhi but Sarfaraz toe-ended his cut into the wicketkeeper's gloves.
The greatest disaster for Pakistan's expectations came in Sodhi's next over. Throughout his innings, Imam had come down the track to counter Sodhi's turn from the rough outside off.
He was on 96 when he used his feet again however this time Sodhi sneaked through a googly to leave him abandoned so far down the wicket that even a slight delay from Tom Blundell in effecting the stumping didn't matter.
In the final session, Saud Shakeel and Mohammad Wasim added 71 for the eighth wicket to pull them out of the danger.
Wasim looked to be batting much more freely. He even trudged Bracewell over wide long-on for a six, and three off the next ball took Pakistan's lead past 100. However, Sodhi had him lbw with a flipper to keep New Zealand in the game.
However, Mir Hamza stayed strongly with Shakeel, facing 34 balls for his unbeaten 3. Shakeel reached his half-century with six off Ajaz and, soon after, Babar got back to his men. While an unbelievable declaration by Babar Azam set New Zealand a target of 138 in the final hour of the first Test in Karachi.
New Zealand sent Michael Bracewell to open with Devon Conway. However, Bracewell fell for 3, and Conway and Tom Latham continued onward for the target.
In one phase, New Zealand needed 83 from nine overs. Babar looked concerned but the blurring light illuminated his face again as the game was stopped when the target was 77 away with 7.3 overs left.
"As you know, we wanted to get a result as I said at the toss and we went for the declaration. But the light was not good enough, so (it ended in a draw). (On thinking of a different option for the fifth bowler for the next Test) Our fifth bowler is Salman Agha, he wasn't been feeling well. We missed him with the ball. So, I think our five-bowler attack is good. Wasim and Saud brought us back into the match. Credit to them for playing positive cricket, Saud played a mature inning and we look forward to him playing in the future,"

says Babar Azam.
"I wouldn't say chances slipped away. We had to hang in and take chances. To have lost the toss and have had a chance was pleasing. Late in the third innings, they played nicely. There was a bit of assistance if bowled in the right areas. But a couple of good innings took the game to safety for them. Tremendous comeback from Ish Sodhi, he can be extremely proud of his return to Test cricket. Kane showed his class and what he's capable of in these conditions. (On captaincy) Not too different from what we usually do,"

says Tim Southee.
"It was a fantastic opening stand that set the tone and was important. I came in and looked to get used to the pace. It was nice to build a lot of partnerships. (On prep against Abrar) They are well-equipped world-class bowlers. We tried to stick to the plans. It was a good batting surface but nice to see the rough which challenged batters. Well played by Imam who took them to a draw. Still had chats with Tim and a great game of cricket. Old school, pretty quick turnaround and we'll be back on it. (On rating the double among others) I don't think about it too much. It's about contributing to the team. It was a nice team performance,"

says Kane Williamson.