India thrashes New Zealand in a 3-match ODI series at home: Player ratings for the hosts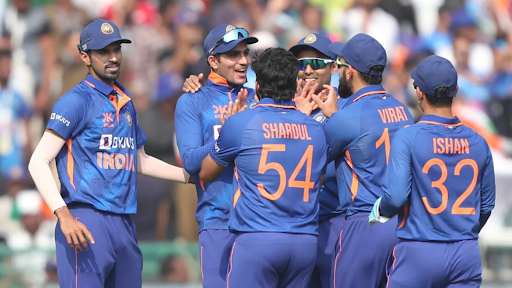 Team India defeated New Zealand 3-0 in the ODI series at home
It was a series to remember for Team India as they thrashed New Zealand 3-0 to win the ODI series at home. Indian opener Shubman Gill scored a magnificent 360 runs in the series including a memorable double century in the first ODI at Rajiv Gandhi International Stadium, Hyderabad.
Let us take a glance at the performances of Indian players in the ODI series:
Top Order
Rohit Sharma (8/10): Indian skipper Rohit Sharma was the man in form in this series as he scored 186 runs in three matches with an excellent average of 62. With 10 huge sixes, his batting looked in complete flow.
The Mumbaikar looked good in the first game but couldn't convert his 34 into a big knock. However, he scored a half-century in the second ODI to put his side across the line but it was the final encounter where he showed his real class.
The 35-year-old looked in great touch in the last match as his fans witnessed a special knock from him. The skipper scored 101 runs before getting dismissed by Michael Bracewell.
His innings included six magnificent sixes and nine boundaries. Talking about his captaincy, the Hitman took some serious decisions that went in favour of India. Overall, it was a great one to remember for the man from Mumbai.
Shubman Gill (10/10): Full marks to the young man for his magnificent effort in the series. Despite having big players like Virat Kohli and Rohit Sharma in the team, Shubman Gill was the man to look at here. His double century in the first match helped India post a big total on the board.
With these effortless innings, he became the fifth Indian to score a double century in ODIs after Sachin Tendulkar, Virender Sehwag, Rohit Sharma and Ishan Kishan. The Punjab-born player did not stop there as he scored another century in the final match at the Holkar Stadium, Indore.
Gill scored 112 in the last match to make sure he wins the player of the series award. Throughout the series, the right-hander looked in solid touch, thanks to his five maximums.
Gill has most probably booked his place for the World Cup later this year as an opener with Rohit Sharma. The upcoming series against Australia is another challenge for the young man.
Virat Kohli (3/10): For the man who just scored his 46th ODI ton in the previous series, failed to deliver against New Zealand in all three games. Virat Kohli had a forgettable one but with the kind of player he is, the Delhiite is allowed to make some mistakes. He looked good in the final match but ended up losing his wicket to Jacob Duffy. The former Indian skipper scored 55 runs in three matches.
Overall, the former Indian skipper is not out of form but it is just a matter of one good knock. The upcoming series against Australia is going to be a real test for the king. With pacers like Pat Cummins, Josh Hazlewood and Mitchell Starc, Kohli has to be ready with his very best.
Middle Order
Ishan Kishan (2.5/10): Just like Virat Kohli, the new sensation of Indian cricket, Ishan Kishan had a forgettable series against New Zealand. The southpaw scored 30 runs in three games with an average of just 15. Recently against Bangladesh, he hammered a splendid double century to become India's fourth player to achieve the feat.
Undoubtedly, he is going to be in the squad for a long time now because of the performances he has given. Also, with KL Rahul also not at his best, Ishan Kishan might get a good number of chances in the near future as well.
Suryakumar Yadav (4/10): Everyone's favourite Suryakumar Yadav disappointed his fans in this series by scoring just 45 runs in the three games he played. He did not get a chance to bat in the second ODI but he must have scored big in the final game keeping in mind the kind of wicket.
It was a good chance for him to showcase his unique shots but the right-hander fell for just 14 after hitting two maximums. SKY has to be back in his prime form against Australia now as not many ODIs are left before the most-awaited World Cup in India.
All-Rounders
Hardik Pandya (6/10): India's main all-rounder Hardik Pandya looked in solid touch on a couple of occasions but the hard-hitting player couldn't convert his form into a big one. He was excellent in the final ODI, scoring 54 off just 38 deliveries but his fans wanted him to go on till the end. Pandya also took four wickets in the series with an average of over 30 and a strike rate of around 6.50.
Pandya is a much better cricketer than the above stats and cricket fans are expecting him to be back with a bang in the upcoming series against Australia.
Washington Sundar (2/10): All-rounder Washington Sundar played in all the games but did not provide results. He could only manage to pick up 2 wickets in the entire series which was a forgettable outing. Sundar was expensive as well as he gave away 116 runs in just 16 overs he bowled.
At this crucial stage, India is experimenting with the players they need for the big tournament and the southpaw has to take every chance very seriously to grab a spot in the World Cup squad.
Shardul Thakur (7/10): Lord Shardul as everyone call him, Thakur was brilliant with the variations in the series. He picked up 6 wickets at an average of around 20 in three games. Most importantly, the right-arm pacer grabbed wickets at a crucial time when the runs were flowing from the other end.
In the final ODI when Devon Conway was murdering every bowler, it was Thakur who helped India with wickets. He is a key player for India in the upcoming matches who can both bat and bowl in a crucial scenario.
Bowlers
Mohammad Siraj (7.5/10): Mohammad Siraj has been at his very best these days. He is Rohit Sharma's go-to bowler when it comes to taking wickets early. Siraj picked up 5 wickets in the series in just two games. What made him even better was his average as he bowled with an average of just 11 and an economy of less than 4.
The bowler from Hyderabad picked up one four-fer as well that came in the first ODI. The Kiwi players were going strong but Siraj bowled tight lines to give India a much-needed victory. Over the last year, the right-arm pacer has improved a lot with his line and length.
Mohammad Shami (7/10): Mohammad Shami played just two games in the series and grabbed four wickets with an average of under 22 and an economy of around 5.50. This was not bad for a pacer in ODIs.
With no Jasprit Bumrah in the squad, Shami has been handling the position of a lead bowler quite well. He will surely be in contention for the upcoming World Cup at home later this year.
Kuldeep Yadav (8/10): At one time, Kuldeep Yadav was highly disappointed by not getting enough chances to prove his worth. Now, he has made full use of the chances he has been given. The wicket-taking bowler picked up six wickets in the three-match series to book his spot for the future series.
There were a lot of experiments related to spinners in the past but Kuldeep showed his importance in the squad whenever he got opportunities. The left-arm chinaman would now look further for another good series against Australia. He alongside Yuzvendra Chahal has been brilliant for the team in the past.
Yuzvendra Chahal (7/10): Just like Kuldeep Yadav, India's frontline leg-spinner Yuzvendra Chahal has shown his worth whenever he gets a chance. The 32-year-old from Haryana played just one ODI in the series and picked up two important wickets including Mitchell Santner.
With an economy of under 6, he bowled well in the battle to help India whitewash the visitors. Chahal is most likely to be a part of the upcoming series as well keeping in mind his experience on the international stage.
Umran Malik (4/10): With a bunch of players in the squad, not everyone will get a chance in the XI every time. Umran Malik has shown his worth in the past and has been improving each day. With the inclusion of Siraj and Shami, Malik could only play one game but he took an important wicket of Devon Conway to help India win the match.
The speedster is expected to join Team India in the upcoming few series as well to prepare himself for the World Cup. His line and lengths have improved and can be more dangerous as time progresses.