In the first Ashes Test, Ben Stokes declares himself healthy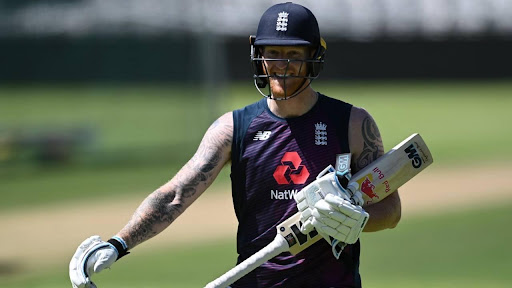 Ben Stokes during a training session at Edgbaston for England on the day before the first Test
After working out with a severely strapped knee on each of England's three training days, Ben Stokes has pronounced himself well enough to bowl in the opening Ashes Test at Edgbaston.
On Thursday, Ben Stokes was scheduled to bat at the beginning of England's nets session, but he postponed his turn so that he could bowl about four overs on a practice strip on the outfield as bowling coach David Saker watched.
"The last three days have been really good for my confidence," Stokes said at his pre-match press conference. "I've bowled every day so far and been able to run in with more intensity day by day. I've got myself in a really good place to be able to bowl."
Stokes hasn't thrown a ball in a competitive game since April 3, when he bowled the only over of his IPL season with Chennai Super Kings, and he hasn't thrown a ball in a first-class game since England's loss in Wellington four months ago.
After that test, he claimed to have a diagnosis for the cause of his ongoing left knee problem, but he has consistently refrained from making it known to the public. Before leaving for India for the IPL, he received a cortisone injection, and CSK remained quiet for the whole of the competition about his actual fitness level.
When England defeated Ireland at Lord's earlier this month, Stokes became the first person in Test history to lead a winning team without ever throwing a ball, facing a ball, or keeping score. Since then, though, he has gradually increased his workload.
Last week, while England was on a team-building tour to Loch Lomond in Scotland, Stokes released a brief Instagram video of himself bowling at St Andrews University. Since then, he has stepped up his preparations for the last three days in Birmingham.
Stokes suggested that maintaining bowling fitness throughout the entire series may be difficult:
"David Saker has come in and mentioned something to me last week in Scotland, saying, 'If you're still bowling by the fourth or fifth Test, we've done something right.'
"I definitely feel in a better place than I did in Wellington and even before that. Obviously every time I am out on the field, that [bowling an important spell] is what I want to do, but my body was stopping me from doing that.
"What I have done is put myself in a place where I feel a lot more capable of being able to do that. I am not going to speak too soon because who knows where I could be in two weeks' time? But hopefully I don't have to worry about that – I will worry about it when it does happen."
Stokes was questioned about whether he would think about holding back so that he could still contribute with the ball toward the conclusion of the series. He responded, "I give of myself completely all the time.
With the series being condensed into a window of six and a half weeks, he also highlighted his conviction that it will be "a very tough ask" for any of England's seamers to play all five Tests.
"All our bowlers have been told to prepare as if they are playing every game,"

Stokes said.
"It will be very likely that we will have to make some changes as the series goes on."
Stuart Broad beat Mark Wood to the third seamer slot in England's lineup two days before the toss due to his "incredible" record against Australia and previous success against David Warner, whom he dismissed seven times in the 2019 series. Broad also received credit for England's "incredible" record against New Zealand.
"When you say Broad, Robinson, Anderson, that is a pretty good three guys to be able to say are in your starting XI,"

Stokes said.
"It's very hard to look past someone like [Broad], in the opening game of the series, especially against Australia. I'm very happy with the team we've ended up picking."
Additionally, Moeen Ali has been recalled after being called up on short notice after Jack Leach's summer season was postponed due to a lower-back stress fracture.