If not fit to play, Williamson could be a New Zealand team mentor at the ODI World Cup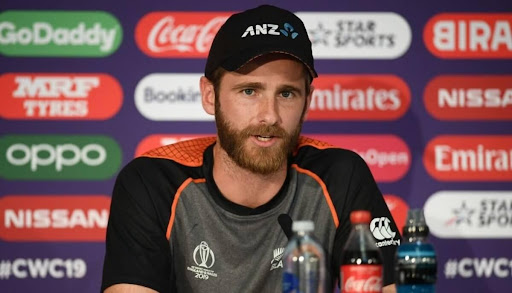 As Kane Williamson recovers from surgery, his knee is still in a brace
The team management is willing to bring in the injured batter as a mentor for the competition, thus Kane Williamson may still go to India for the ODI World Cup later this year.
At the same time, Williamson's participation in the World Cup as a player has not yet been ruled out by New Zealand head coach Gary Stead.
Williamson returned from India on crutches after sustaining a ruptured anterior cruciate ligament in his right knee during the first game of the 2023 IPL. He later underwent successful surgery. Williamson is still receiving therapy, so his knee is still in a brace.
"Look, it's still far too early to know," Stead said ahead of the five-match ODI series in Pakistan. "He's had the operation and, to date, what we know, that's been successful. So he is in the very, very early stages of his rehab programme."
"It's obviously pretty non-weight-bearing at this stage, and he's in a brace. So, it's really just meeting milestones as we go. Our line around Kane, at the moment, is still it's unlikely that he will be available, but we certainly don't want to rule out a person of his class and calibre, and the things he brings to this team, too early in case there is that chance still."
"Yeah, absolutely would take him to India as a mentor."
With 12 Indian cities selected as host cities, the ODI World Cup is anticipated to begin on October 5 and end on November 19. However, the final schedule has not yet been made public.
The ICC usually releases the World Cup schedules at least a year in advance, but this time it was also held off until the BCCI received the required approvals from the Indian government. Long-term planning in New Zealand has been considerably hampered by the wait for the timetable.
"The schedule is not out yet, so there's not much we can do about that,"

"So it does keep our options reasonably open without knowing the venues and who we are playing at different venues."
"So, it does make it pretty difficult to finalise plans right now. But that again just gives players opportunities, that are within the squad now, to come out here [in Pakistan] and play for New Zealand."
Kane Williamson and other first-choice New Zealand players were not present, so Mark Chapman came from the periphery and struck an unbeaten 104 off 57 balls to help his team score 194 and win the T20I series 2-2 in Rawalpindi.
Then, according to Stead, Chapman was included in the New Zealand ODI team and is also a candidate for the ODI World Cup.
Since making his ODI debut for New Zealand in 2018, Chapman has only participated in five matches for the team.
He is, nevertheless, a skilled spin player, which is mostly due to the fact that during his formative years with Hong Kong, he played more frequently in Asian and subcontinental conditions.
"The T20I series result itself was fantastic for the team, if you consider the number of players that are at the IPL" Stead said. "And we were playing a full-strength Pakistan team – a team that made the T20 World Cup final. So, to get a two-all result against them and play the way we did, especially in the last T20 game, was fantastic."
"The Mark Chapman-James Neesham partnership was really, really significant. Obviously, it wasn't the best of starts with the bat, but the composure the two of them showed in that situation was brilliant."
"It was not just one knock about Mark Chapman why he was added to the ODI squad, but there is a lot of competition for places and it's not so much about the competition, but it's how we keep building towards the World Cup. And Mark Chapman is one guy who is in our thoughts around that."
Martin Guptill has released his NZC contract and is now a free agent, but Mike Hesson, a former New Zealand coach who is currently with Royal Challengers Bangalore in the IPL, thinks Martin Guptill might be another option to replace Williamson in the ODI side due to his experience.
When Guptill played in the PSL in 2023, Quetta Gladiators, he led the league in scoring with 310 runs in nine innings at an average of 38.75 and a strike rate of slightly over 150.
"I think World Cups do require experience and I think Martin Guptill is one of those guys that has always turned up at World Cups," Hesson said on Sky Sports NZ recently during a chat with Logan van Beek.
"I think he would be very much in their thinking and the ability for Devon Conway to either stay at the top or bat at No. 3 depending on which another player stands up and says: 'Look, I must be included'.
"I don't think the World Cup is a time where you want too many new faces. You want to intersperse the talented youngsters amongst some experience. Missing Kane… that diminishes that experience significantly."
"So, that's where Martin Guptill comes back into the mix. He has obviously performed well in some T20 tournaments around the world recently and in particular the PSL."