ICC World Test Championship final 2021: India, New Zealand set for thrilling final day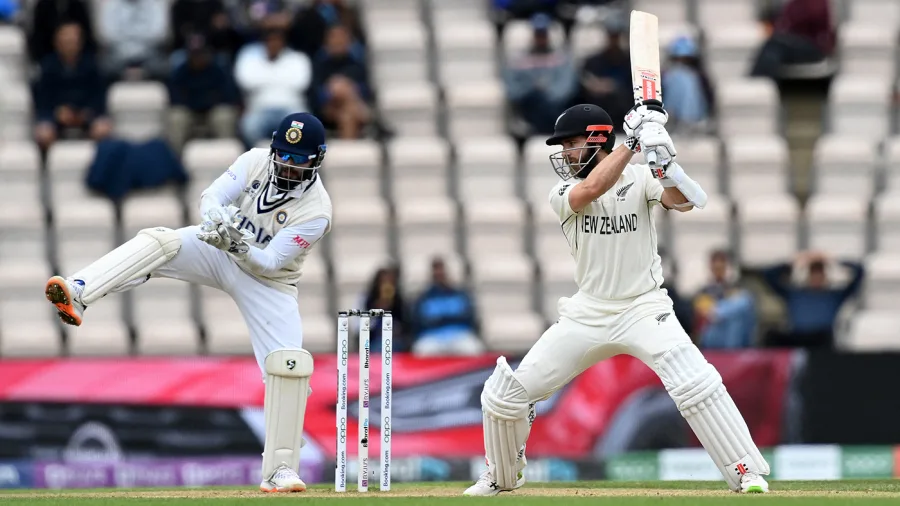 Kane Williamson played a determined knock on Tuesday, scoring 49 from 177 balls
The fifth day of the ICC World Test Championship final 2021, which will utilise an extra day's play awarded by cricket's governing body in a bizarre yet welcome move, was replete with exciting cricket as fortunes swung from one side to another, with India slightly ahead in the low-scoring encounter being played at The Hampshire Bowl in Southampton, England, on Tuesday. 
India fought all day long after an hour's time was lost at the start due to persistent drizzle, but weather cleared up and rains stayed away on what was the penultimate day of the ICC World Test Championship final 2021.
India, who conceded a 32-run lead in the first innings after they bowled New Zealand out for 249 in their first innings, were ahead by 32 runs in their second innings reaching 64/2 with Virat Kohli (8*) and Cheteshwar Pujara (12*) at the crease.
It was the brilliance of India's star fast bowler Mohammed Shami (26-8-76-4) who applied tremendous pressure on the Kiwi batting line-up on a day when Jasprit Bumrah had a miserable time. New Zealand eventually cracked despite their captain Kane Williamson fighting on for a resolute 49, consuming 177 balls in 294 minutes. His innings prevented India from bowling New Zealand out for a lesser total and claim any kind of advantage, in what is turning out to be a low-scoring encounter.
Shami moved the ball dangerously but remained wicketless for a long time, but his persistence with probing line and lengths combined by pressure from the other end by Ishant Sharma (3/48) helped India keep New Zealand within their grasp. Ravichandran Ashwin managed one more wicket to return with a spell of 15-5-28-2 as New Zealand could not take their first-innings lead beyond 32, in which Tim Southee (30) played an extremely important hand.
Southee returned to haunt the Indian opening pair with his dangerous movement of the ball later in the day, but not before Rohit Sharma (30) and Shubman Gill (8) got through initial overs against the new ball.
Rohit and Gill both were trapped leg-before on incoming deliveries after Southee set them up with a flurry of balls going away from them. While Gill, the first to fall, missed flicking a delivery that went on to hit him in front of the middle-stump, the senior pro in Rohit shouldered his arms to be dismissed in an embarrassing manner.
India are still ahead by 32 runs and their best of batting yet to come. The possibility of any result—be it in the favour of India or New Zealand—can only come to the fore if either of the teams suffer batting collapse and are bundled out within a session or two.