History tells you that generally, the host nations are slight favorites in big tournaments – Jos Buttler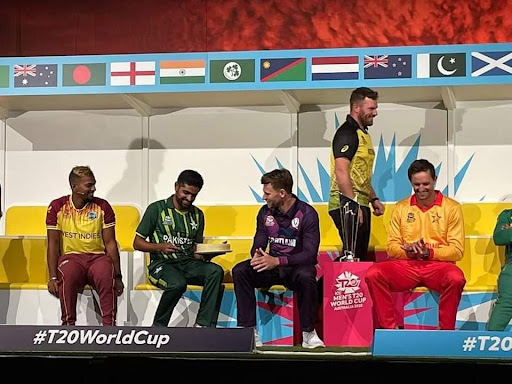 Kane Williamson says we don't have a choice in what people call us (underdogs)
The question asked by Aaron Finch was, "What color is your Ferrari." Aaron Finch didn't exactly have a response to that. Finch deflected the question to the England skipper. "I think Jos is your man for that," he responded.
The question asked by Aaron Finch was,
"What color is your Ferrari."
Aaron Finch didn't exactly have a response to that. Finch deflected the question to the England skipper. 
"I think Jos is your man for that,"

he responded. However, less than a month later, one lucky captain will return to Melbourne and lift that trophy. Is Finch the overwhelming favorite to do that?
"T20 can be unpredictable,"

Buttler responded.
"(But) history tells you that generally, the host nations are slight favorites in big tournaments. Lots of people have played in Australia in those conditions, but of course, no one is going to know the conditions or be as accustomed to them as the Australian team and the reigning champions, as well. You'd have to pick them out probably as the favorites for the tournament.
"There are lots of very, very good teams here, very good players who will all have a say throughout this World Cup.
"I think it's just about trying to peak at the right time,"

the Australian captain said.
"There's no point getting caught up with what we should be doing or shouldn't be doing in the lead-up to the tournament. I think it's important that everyone within the squad knows their roles and what role they're most likely to play throughout the tournament, and we can tweak things here and there, but there's a really good feeling in the squad."
Like Australia, India is also one of the strong competitors for the title and they start their tournament campaign against Pakistan on October 23 at MCG, and in a tight format such as this World Cup, every game carries a lot of weight. Rohit, however, isn't ready to buy into the hype that usually precedes an 'Indo-Pak match.
"We understand the importance of the game, but there's no point just talking about it every time and creating that pressure within you,"

he said.
"From there until now, it's been a long journey,"

Rohit said.
"The game has evolved so much that you can see how it's being played now compared to what it was in 2007. 140-150 was a good score back then, and now people try and get that score in 14-15 overs. It's just that the teams have become more fearless.
"Teams have started to take a lot of risk without worrying about the result, which I think is a good way to play this kind of format. It is something that our team is also trying to do because this is the kind of format where there is a risk, but there are high rewards as well. You've got to be brave enough to take those risks, and certainly, we'll be prepared to do that as well."
The Indian skipper isn't too fussed about the absence of lead pacer Jasprit Bumrah and said that he knows the XI he wants on the field for the opening game.
"You can't show disappointment in injuries, you need to look forward to what we can do. We have backed our other boys and we are backing them. Hope they deliver. We wanted to come here early and acclimatize to the situation. By the time we play Pakistan, we will be prepared. We don't believe in last-minute information, I don't want to believe in telling someone at the last minute that you are playing."
New Zealand, who are known to delightfully lift their game for the World Cups irrespective of conditions, and Sri Lanka, who recently stunned everyone with the Asia Cup title, have their eyes firmly on the trophy too.
"We don't have a choice in what people call us (underdogs),"

Williamson said,
"but for us, we came here and try and focus on the cricket that we want to play and address what's in front of us. We had a pretty memorable World Cup a few months back and played these guys (Australia) in the final. It was a great game of cricket, and these sorts of tournaments are always pretty special to be a part of.
"Everybody has different tags and rankings that go up and down throughout the year, and I suppose they end up with different names. But yeah, you come here in tournament sport on any day, anything can happen, especially looking across all these teams with match winners throughout."
Shanaka chimed in too.
"After a very good Asia Cup, we are very much confident, the team is. The environment is really good. We are well-focused on our batting. As it is the early summer, the conditions will be somewhat different, so we are focusing on that. Apart from that, I think the bowlers, are shaping up, so Chameera is back with us and Lahiru Kumara is back with us, so they are plus points coming from the Asia Cup.
"Yeah, it depends on the day. In T20 cricket we never know who will be good and when. I think the better teams come out of the day with a win. We are prepared for the challenge and we are looking forward to a good tournament."