Gloucestershire easily wins, ending Sussex's tenuous chances of making the final round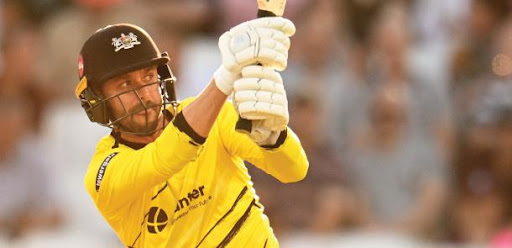 With 30 off 14, Grant Roelofsen started the Gloucestershire chase
Sussex Sharks' chances of making it into the Vitality Blast's knockout rounds were dashed by a demoralizing five-wicket loss to Gloucestershire at Hove.
Despite a slow pitch, their 160 for 9 never seemed like enough, and Gloucestershire, who were already out of the quarterfinals, easily won with 19 balls remaining. Ben Charlesworth led the way with 34 runs, becoming the team's first hitter to surpass 300 runs in this season's competition.
Because of this, Somerset will compete on Sunday with Surrey, Hampshire, Essex, and Kent for a spot in the knockout rounds, leaving Sussex to rue the fact that they only managed to win one of their seven contests at the 1st Central County Ground.
As soon as Sussex was down to 52 for 4 in the seventh over, Gloucestershire appeared to have the game under control. Sharks captain Ravi Bopara, who scored 108 in his team's victory over Kent on Friday, was one of the two wickets Ajeet Dale captured during the powerplay.
When Shadab Khan gave Tom Smith a return catch in the following over after getting a leading edge again, Gloucestershire was in complete control. Charlesworth made a fantastic catch running in from midwicket.
Grant Roelofsen lost a simple take in the covers that Smith could have taken down Michael Burgess for 21. It turned out to be a costly error as Burgess and Harrison Ward added 64 runs from 47 balls, with Ward achieving his second T20 fifty. His first came in Sussex's victory in Bristol last week.
The Sharks accelerated with 46 runs between the 13th and 16th overs, but when Ward dragged a ball from outside off stump and was caught at long-on, Gloucestershire squeezed once more, taking four wickets for just ten runs. Left-arm spinner Graeme van Buuren picked up Fynn Hudson-Prentice and Nathan McAndrew during a standout spell of 4-0-13-2 during which he didn't concede a boundary.
Although Burgess finished on 64 from 51 deliveries, it didn't seem to be enough. In a crucial final over, Josh Shaw removed 18, and Burgess blasted the final two balls for sixes to complete his second T20 fifty of his career.
South African Roelofsen gave Gloucestershire's reply a great start when he scored 30 off 14 deliveries before falling to McAndrew, who went on to take two wickets in three deliveries before pinning Ben Wells in front in the fifth over.
After taking a knock to the right hand that prevented Charlesworth from hitting a straight shot in the ninth over, Bopara had to leave the field. Although Hudson-Prentice, who replaced him, bowled Charlesworth to keep Sussex in the game, Gloucestershire always outpaced the run rate.
A poor season for Sussex was summed up when the winning runs came from four wides. Sussex used eight bowlers, and Shadab's googly was too excellent for van Buuren in the 15th over. However, James Bracey and Jack Taylor chased down the target with the minimum of fuss.
When Gloucestershire plays Hampshire in their final game of the season at the Ageas Bowl on Sunday, they may still be able to influence who finishes in the top four.
Gloucestershire 165 for 5 (Charlesworth 34) beat Sussex 160 for 9 (Burgess 64*, Ward 54, van Buuren 2-13) by five wickets