Getting a lot of respect after the five-sixes feat against Gujrat Titans – Rinku Singh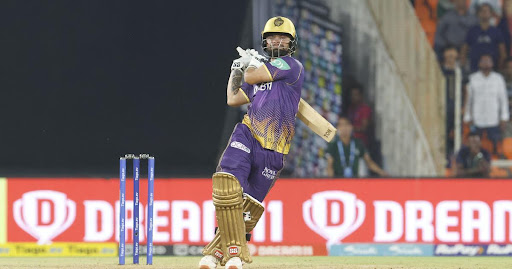 With 21 required in the final over, Rinku Singh nearly pulled another heist for KKR against LSG
Another day, another big task but it was a regular day for Rinku Singh who struck an incredible 67 off 33 balls against Lucknow Super Giants but still ended up on the losing side by 1 run.
The knock from Rinku Singh went in-vain as they lost the match by 1 run while chasing the target of 176 imposed by LSG at the Eden Gardens to end their campaign at seventh position with six wins out of fourteen games.
Needing 21 for victory in the final over, the equation came down to 18 off last 3 balls as Yash Thakur kept it tight in the first 3 balls of the over. Rinku who had confidence to hit three sixes and he got the strike on the fourth ball which he hit for a maximum. The next ball went for a double and it required 8 off the final ball, which meant a sixer on the last ball won't make much a difference.
"That was running through my mind a bit, when I hit five sixes (against Gujarat Titans). So I was relaxed and confident of handling the situation. We needed 21 runs off the last over and I missed one ball, became a four,"

said Rinku at the post-match press conference.
It all started last season when a 15-ball 40 thrilling finish between KKR and LSG gave victory to the latter. But Rinku Singh surely picked a lot in this year's season of IPL as he ended up with 474 runs at an average of 59.25, finishing as the leading run-scorer for KKR. 305 of those runs came only in seven innings of the run chase.
"I think it feels like all 14 matches I've spoken about Rinku. I am personally very happy for him (Rinku) the way the season has gone for him. He is quite close to me and I know how much hard work he has done. I don't really have words to describe him because the entire country knows what he has done. If he can bat in situations like these, he can do anything,"

skipper Nitish Rana lavished praise on Rinku in his chat with the IPL broadcasters.
When asked about how the season has gone for him, and if he is thinking about bigger things now, Rinki said:
"Anyone will feel good when the season goes so well. But I'm not thinking on the lines of selection for the Indian team. I will stick to my routine, continue my practice. The name and fame will be there but I'll just stick to my work.
"My family members are very happy. A lot of things have worked well. When I played that innings last year, people started noticing me. After I hit those five sixes I started getting a lot of respect from the people and now a lot of people recognise me. So it feels good,"

he said.
Andy Flower, the head coach of LSG praised the innings of Rinku Singh while he also praised the LSG seamers for holding up tight in the end. Both Naveen-ul-Haq and Yash Thakur, despite being expensive in the last, had bowled well enough to stop KKR from crossing the winning line.
"We were in a good situation, we had worked so hard in the first 14-15 overs. And if they had won it from there it would have been genuinely astounding. Rinku played out of his skin again, didn't he, to get them that close. It was a matter of not making a really obvious error in those last few overs. He batted beautifully, he batted brilliantly, and we didn't quite hit our straps at the end there. But then Naveen [ul Haq] and Yash [Thakur] were doing quite a tough job bowling multiple overs at the death. Usually you want to share out those death overs a little bit better, more evenly distributed among the seamers. But they came through in the end.
"Both of them have been brilliant for us this season. Yash as a young guy coming through in his first IPL season – I knew him when he was bowling in the nets at Punjab Kings. So to see him do so well and handle himself so brilliantly under pressure, it's really wonderful. And Naveen has been brilliant for us; really competitive, smart, decisive, and he is allowed to get hit by good players occasionally. It happens to all bowlers. So lot's of respect for Rinku in the way he played. But it was brilliant by our guys, including our captain, to get us through," said Flower.

said Flower.