Essex's own Bobby Dazzler gets their Blast season up and running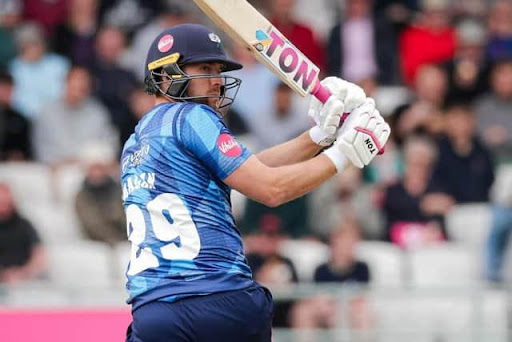 Robin Das declares himself at 69 off 33 balls
As Essex finally started their season with a six-wicket victory over Gloucestershire, Robin Das maintained his spectacular breakthrough week by scoring his first Vitality Blast fifty.
The 21-year-old batsman Das, who played against Ireland on Friday, hit a century on his first-class debut before smashing a beautiful 69 to help Essex reach a challenging 196 total.
Ben Charlesworth's devastating 19-ball fifty, the quickest for the county in T20s, was a major contributor to that enormous Gloucestershire score.
However, Das led Essex to victory with five balls remaining, assisted by fellow homegrown batsman Feroze Khushi's 34 off 12 balls and Tom Westley's spry 31 not out.
"There is a lot of scope for things to go better but I guess I've had worse weeks,"

Das said.
"I am really happy with how the week has gone and hopefully can keep the ball rolling and keep the momentum going.
"It is very pleasing to contribute with Feroze. I have played with him since club cricket at the age of 13 or 14. It is nice to play with those players you grew up with and shows a real strength to our club; players coming through the pathways and into the first team."
After an extraordinary streak of five straight washouts, Essex and Gloucestershire hadn't bowled a ball at each other at the Cloud County Ground in Chelmsford since 2016. Due to the Ireland match, Essex also put off the start of their Blast season.
Grant Roelofson and Chris Dent, both former Eagles, gave Gloucestershire a good start in the powerplay with 61 for 1, but the latter's slight edge behind caused them to halt.
Following the bowling of Miles Hammond, Dent, and Ollie Price in the next two overs, the visitors were at 80 for 4 shortly after the midway point. However, Charlesworth kicked into overdrive after a lackluster start in which he was dropped on 13 and had 20 off his first 13 balls.
He assaulted Sam Cook before hitting Matt Critchley twice in a row for sixes on the leg side. He reached his half-century with two fours through mid-on, two maximums over deep square (one on the back foot, the other flipped off the front), and two maximums over deep square.
When Cook found his edge on the next ball, he emerged victorious. When Jack Taylor came and went in the same Daniel Sams over, James Bracey's first ball, which made it 47 runs in 12 balls for Gloucestershire, was heaved for six. However, the next ball, which was in the same Daniel Sams over, was picked out long off.
If Essex had any doubts that the assault had finished with Charlesworth, Marchant de Lange helped himself to 18 off the final over, featuring a run of four, six, and six.
Before the game, Danny Lamb, a short-term loan from Lancashire, arrived. He smashed a four and a six off the final over to help Gloucestershire to an impressive 195 for 7.
With his third delivery, fast bowler de Lange had Adam Rossington caught at deep midwicket. However, after pulling out of his delivery stride, de Lange continued to bowl one more ball before leaving the field of play.
Before doing the trick twice off Tom Smith's spin, Khushi had previously poked de Lange back over his head. But as Essex rushed 72 for 2 in the powerplay, he was caught by a remarkable throw at short third.
With 11 fours and sixes straight and over midwicket, Das demonstrated his superior power for a small man in addition to his skillful shot-making against Ireland.
Despite being dropped on 38, he managed to score his first T20 fifty in just 27 balls. Had Michael Pepper not taken a knock during a Second XI game, he might not have even been on the field.
The Eagles were far ahead of the pace when Critchley slogged to long-on and Das top-edged a slog-sweep, but they were pushed back.
Price bowled Walter; Sams chopped to short fine; and Simon Harmer clubbed to long-on; but Westley flew through to deliver the verdict, handing Gloucestershire their third loss in as many games.