Double-tons by Mendis and Madushka give Sri Lanka an opportunity to go for victory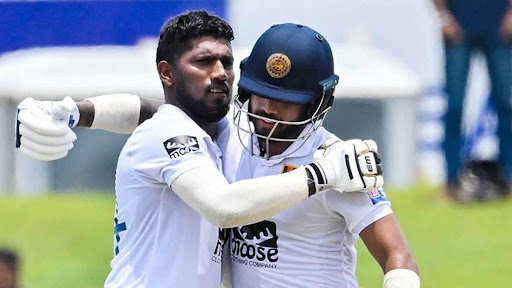 Both Kusal Mendis and Nishan Madushka got their first-ever double century in a Test match
In a contest where Ireland may have thought they had secured their safety with a first-innings score of 492, Sri Lanka put themselves in a position to fight hard for victory on day four.
To force Sri Lanka to bat again on day five, Ireland will begin the day two wickets down and 159 runs short.
Major batting milestones were undoubtedly achieved as the hosts built up a massive 704 for 3 declared, giving themselves a lead of 212. The most notable ones are listed below:
– In just his fourth Test innings, Nishan Madushka finished a first double-century. In his previous three knocks, his highest score was 39.
– Kusal Mendis advanced to 245 from 291 balls and scored his personal first double-hundred. He had previously been out twice in the 190s.
Kusal Mendis also blasted 11 sixes during this quick innings, which broke Kumar Sangakkara's previous Sri Lankan record of eight sixes against Bangladesh in 2014.
– Angelo Mathews finished off 114 balls to score his 15th century in a Test match.
No hitters were struck out before reaching the century mark, but Dinesh Chandimal had to retire hurt after appearing to dislocate his shoulder while jumping into his crease on 13.
This score was enormous, but it wasn't quite a record one because Sri Lanka once scored more runs against Zimbabwe for just the loss of three wickets. And back in 1958, against Pakistan, West Indies scored 790 for 3.
After postponing the declaration so Mathews could reach his century, Sri Lanka bowled 22 overs at Ireland and took two wickets.
It was almost a dream offbreak to begin when Ramesh Mendis spun his second delivery hard, pitched it well outside off, turned more than James McCollum anticipated, took the glove, and had it bounce into off stump.
In order to send Peter Moor running, Mathews made a spectacular catch at short cover. He dived forward and to his right to grab the leading edge just centimeters before it landed on the ground. This came off the bowling of Prabath Jayasuriya, who had a lot of late-day spin past the bat.
At the end of the innings, the captain Andy Balbirnie and Harry Tector, who had played well in the first Test, were at the crease. Balbirnie had set the tone with a 95 in the first innings.
The middle order for Ireland played quite well in the opening game. Can they manage it after laboring for 151 overs in the field during the first innings on a fifth-day surface? By stumps, they were 54 for 2 in either case.
On day four, Sri Lanka faced 74 overs and kept a run rate of 4.68 overall. Using one of his favorite scoring strokes, Madushka sliced his next ball for four to reach his 150 off the third ball of the day.
For a few overs, he and Mendis warmed up together, but by the middle of the morning, Mendis had reached his ninth Test century off 131 deliveries (he had begun the day on 83), and Madushka was heading for a double.
Even though Sri Lanka were still down, Mendis anticipated a declaration and warmed up for a six-hitting rampage with a strike over deep midwicket off a Ben White half-tracker. However, the pair mostly relied on numerous runs into the outfield to maintain a high run rate.
Indulging in only moderate celebrations, Madushka reached his double-hundred on the penultimate over of the morning session. He lost the game to Andy McBrine shortly after lunch when the latter successfully reviewed a not out judgment.
Mendis began to relax his shoulders in Mathews' presence as the sixes quickly came now that Sri Lanka had taken the lead. With the exception of one, all of his huge hits off White's bowling went over deep midwicket; the lone exception sailed into the sightscreen.
While some of these were slog sweeps, pull shots dominated. Mendis scored 133 of his runs overall in the area between cow corner and backward square leg.
Although Mathews delivered powerful legside punches of his own, he let Mendis take the lead early on in his innings. He got into a rhythm, picked off the singles, and patiently awaited the genuinely awful balls to be put away.
Mendis reached the milestone this time, off the 263rd delivery he faced, after falling twice in the past while attempting to reach his double-hundred with sixes. Following that, he continued to attack, and Mathews increased his rate of scoring whenever he fell.
The sole concerning incident for Sri Lanka on day four occurred when Chandimal dove into his crease after being sent back for a poor single and practically didn't get up because to how seriously he appeared to have injured his shoulder. He limped from the field and was never again seen. Sri Lanka made the declaration as Mathews sped to his century.
Ireland's bowlers were unable to exert pressure in any way. Andy McBrine bowled a monumental 57 overs and finished with a score of 1 for 191.
Leg Spinner White only bowled 37 overs, but he went at nearly six and let up 203 runs without taking a wicket. Additionally, Curtis Campher let up 101 runs, while Matthew Humphreys, making his debut, was only deployed for two overs on day four.