Derbyshire is defeated by Glamorgan thanks to a century from Colin Ingram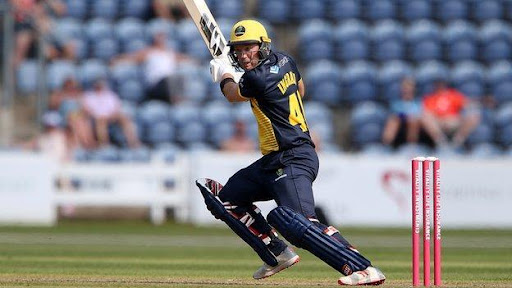 Unbeatable century by Colin Ingram
Glamorgan defeated Derbyshire by seven wickets in the Metro Bank One-Day Cup match at Derby thanks to a century from Colin Ingram.
With 17 balls remaining, Glamorgan defeated Derbyshire's 298 for 8 by scoring an unbeaten 115 from Ingram off 108 balls and a 65 from Kiran Carlson off 52.
In a stand of 82 runs from 76 balls with Colin Ingram, who won the game with a six off Luis Reece, Billy Root contributed to the victory with an unbeaten 34 from 31 balls.
After Harry Came and Reece shared a 134-strong opening stand with their scores of 73 and 69, the home team was on track to score a more impressive total.
But after Derbyshire lost five wickets for 26 runs in six overs after Haider Ali was dismissed for 63 from 50 balls, the visitors, who had already taken command under Ingram and Carlson, were always favorites.
When Reece and Came started to gain momentum, with Came getting a free hit from Ben Morris for the first six of the innings in the eleventh over, it looked like it would be a better day for Derbyshire.
Reece reached his fifty from 52 balls with the aid of a scoop over the wicketkeeper, but after being struck on his right elbow by a throw, he only managed four more runs before being stumped, giving Ben Kellaway his first List A wicket.
When Kellaway's direct hit from backward point knocked out Came and then struck Alex Horton in the ankle with a hard blow, the wicketkeeper was once more involved and needed medical attention before continuing.
Having already pulled and driven two enormous sixes on his way to a 42-ball fifty, Haider Ali was starting to hurt the bowler's statistics at that point.
After cutting the off-spinner for his fifth four and being carried onto the pavilion roof, Kellaway was caught at point after Ali sliced a powerful drive.
The rest of the innings went downhill after that, with Matt Lamb missing a long drive and Tom Wood being caught trying to push Kiran Carlson through mid-wicket.
Anuj Dal was struck by a bowling motion while trying to scoop Andy Gorvin, and Brooke Guest was successfully caught running at midwicket.
Despite falling far short of what was likely six overs earlier, Derbyshire managed to beat Glamorgan with their highest Lisa A score thanks to some creative thinking from Sam Conners and a six by Alex Thomson off the final ball of the game.
The visitors built up a strong basis, but both openers were out in consecutive overs after Tom Bevan drove a Nick Potts no ball for four and pulled the free hit for six.
In an attempt to direct Potts to third man, Eddie Byrom got caught behind Bevan as he skied Dal to deep mid-wicket.
However, Ingram and Carlson kept Glamorgan moving faster than necessary. After a brief rain delay, Ingram hit Conners over cover for six to bring his team's total to 142 for 2 at the midway point.
To reach 50 from 40 balls, Carlson pulled Wood for a six. However, when he attempted to sweep Thomson, he got a top edge and was caught at short fine leg.
However, Ingram and Root ensured that there would be no dramatic finish as they gave Glamorgan their first win of the competition and condemned Derbyshire to a second loss.
Glamorgan 299 for 3 (Ingram 115*, Carlson 65) beat Derbyshire 298 for 8 (Came 73, Reece 69, Haider Ali 63) by seven wickets