Dawid Malan: 'I'm not there to please anyone, I'm there to score runs'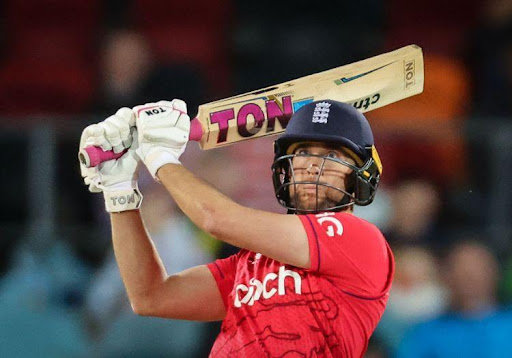 At Chester-le-Street, Dawid Malan led England's chase
Harry Brook is not a threat to Dawid Malan's participation in the ODI World Cup, and the former cricketer says he has no idea where the connection came from.He bats fourth, fifth, and six, while I start at third base.
Malan, a 35-year-old left-hander, was important in England's victory over New Zealand by scoring 54 runs off of 42 balls as he spoke just after England's decisive seven-wicket victory was declared.
Malan made only four runs off his first ten balls, but after a sluggish beginning, which saw him, he went on to score yet another game-changing half-century while wearing the England jersey. Malan's haul of 11 T20I fifties in 48 innings is second since 2019 behind Jos Buttler's (13) total.
In addition, he scored 1,614 runs in T20Is within the same time frame, outpacing Jos Buttler's 1,453 runs. In contrast, Moeen Ali, who is in third place, only has 841. It is not an understatement to say that Malan has been nothing less than a white-ball marvel for the past four years.
He has every reason to be certain of his value to the England team. With just one ODI against Ireland in the run-up to the 2019 World Cup, his possibilities in the 50-over format have been far more constrained.
However, since then, he has the highest ODI average (57.30) of any English batsman who has played three innings or more, and he has also scored the most ODI centuries of any Englishman in that time period (four).
Despite this, Dawid Malan acknowledged that the biggest sensation he felt after being named to England's tentative World Cup squad was "definitely relief".
"You look at the amount of depth we've got in English cricket…to get the call was extremely satisfying,"

he said.
"I know there are people who've missed out and I have so much sympathy for them.
"From a personal point of view, I was exceptionally pleased to get that call, because I felt I've worked really hard to get in that squad. Every opportunity I've been given in 50 overs in my last four or five series, I've gone and had to score the runs, doing it the tough way to get in there."
But Malan's position on the team is still up for question, much to his awareness and anger. His T20I starts being too slow (Wednesday's innings was typical), his age (he turns 36 next week), and his temperament (Eoin Morgan memorably reprimanded him for not running a bye off the penultimate ball of his unbeaten century at Napier in 2019) are all talking issues.
Additionally, there is the nagging impression that he is a second-team player who will not be benched. Pick the big boys because the competition is heating up. He also scores too many runs, which is the issue with all those criticisms.
"That's what I'm picked for,"

Malan said.
"To score runs and win games. I am not there to please anyone, I'm there to score runs for Jos [Buttler] and Motty [Matthew Mott] and contribute to wins.
"I feel like I have done that consistently over the last five or six years, whatever it is in white-ball cricket. You get criticized, and that is part and parcel of the game. You might not be the favorite of the crowds, and the fans, and the commentators and the press, and everyone else, but all I can do is score runs when you get given the opportunity. Touch wood, I do that more often than not, and hopefully I continue to do it to keep the faith that the leadership have shown in me."
If England decides to change its mind and choose Brook for the final World Cup team, Malan is one of three players who might be forced to make way, along with Liam Livingstone and Jason Roy. It would be a cruel blow to any of the three, but England has demonstrated in the past that they aren't afraid to make such choices.
First, they chose Jofra Archer in place of David Willey on the eve of the 2019 World Cup, and most recently, they left Roy out of the team for the most recent T20 World Cup victory in Australia.
A fourth, less likely option would be for England to decide to change the composition of their team and swap out a seamer for Brook. However, this would require a shift in mentality, as England firmly believes that having a large arsenal of quicks, including the as-yet uncapped Gus Atkinson, will be essential for a tournament in which they will play nine games in eight cities over the course of less than a month.
"I think you always have to score runs when you play international cricket,"

Malan responded, as to whether he felt the need to be looking over his shoulder. 
"It's a provisional squad but, from my understanding, it's up to us to score runs to stay in it. I think it would be tough, two weeks before we are flying, especially with people potentially resting for the Ireland series, to suddenly lose their place. But that is cricket and that's the way life goes. Nothing is ever guaranteed until you stand on that plane…I know people compare me to Brooky but I bat top three and he bats 4, 5, 6, so I don't know where that comparison's from."
There is a thin line between confidence and illusion, and while Malan has every right to be confident that he will make the World Cup final 15, if not the starting XI itself, the difference between three and four in the batting line-up won't be what saves him.
If England trusts Brook to bat at No. 3 against Pat Cummins, Josh Hazlewood, and Mitchell Starc in a Test match, they'll be more than delighted to trust him to do the same in a white-ball match against New Zealand, Bangladesh, and Afghanistan.
"I don't know who will get the nod at the top of the order,"

Malan concluded.
"Hopefully I can score as many runs as I can in the opportunities I get here, I'm not sure how many games I'll play, but when I do, hopefully I score runs and the runs put pressure on the selectors and the guys to pick an XI and keep me in it. I try not to look too far ahead, and score as many runs as I can in each opportunity."