David Willey believes that Northants can win at the third attempt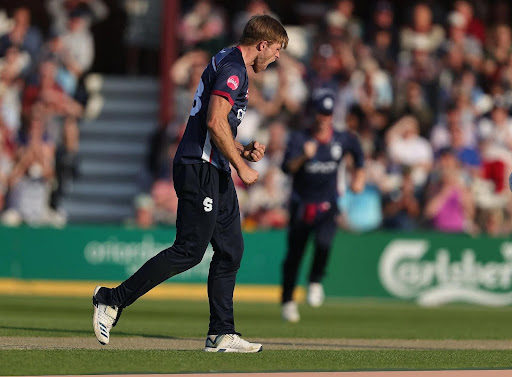 After spending time in Yorkshire, David Willey has returned to Northamptonshire
With a hard-earned six-wicket victory at Derby and two overs remaining, David Willey's return to Northamptonshire as an all-action T20 Blast skipper got off to a winning start for the third time.
He was in the thick of it as expected, backing up four tight overs and a boundary catch with a valiant 31 at No. 3 that helped give Northants the foundation for victory. He has no intention of being lazy.
Josh Cobb, the current captain, was "shocked and disappointed" by Willey's promotion to the position in his first season back with Northants because it wasn't officially announced until just before the competition while Northants awaited Royal Challengers Bangalore's exit from the IPL at the group stage.
However, rumors on the street for some time had it that Willy had been offered a lot of power at Northants after he quit Yorkshire in protest of the widespread staff layoffs. What was important was how things were done, not so much what was done.
On tough days like these, Willey really shines. For Derbyshire and Northamptonshire, this was unquestionably a working holiday. The kind of demanding surface that should have players requesting a day off in lieu of the extra work required, not to mention Mick Lynch calling a wildcat strike out of protest and Amazon withholding payment because the score wasn't rising quickly enough.
Derbyshire's Powerplay of bowling perfectly encapsulated that. To limit Northants to 29 for 1 was certainly a change of pace for them because they had let up scores in the upper 70s in their first two games.
However, nothing changed. They've suffered three straight losses, so it doesn't seem likely that they'll repeat their quarter-final performance from the previous year, when they crumbled against Somerset in Taunton.
But Willey has something to work with thanks to Northants. In contrast to purring, his 64-card stand with Chris Lynn grumbled and scowled, yet they have a formidable top six. They also have more variation with the ball this season because left-arm leg spinner Freddie Heldreich was included for the first time.
Even though Wayne Madsen twice threw him over the ropes, Heldreich bowled Anuj Dal in his first over, who was unable to smash him out of the park. Heldreich did a respectable job. But if he wants to impress his new taskmaster, he won't have to repeatedly repeat a poor stroke of fielding at fine leg.
Derby was at its friendliest with a warm, sunny Bank Holiday, a tree-lined field that belies its basic character from earlier, and a kind, amiable audience. The fact that Derbyshire lost four wickets for 49 by the eighth over, with Leus du Plooy playing all around one from James Sales prior to Heldreich's entry, and Luis Reece and Haider Ali both failing with straight hits as the pitch revealed its true nature, however, made it clear that local tastes would not be easily satisfied.
From a precarious position of 49 for 4 in the ninth, Madsen and Brooke Guest retaliated with a shrewd stand of 92 in 70 balls. Because Madsen was in charge of overseeing things, you had the impression that it might be enough, but it never quite seemed like enough.
Madsen evaluates pitches better than anyone in the area. Numerous statistics could be computed by data experts. It's only a matter of time before Google pitch robots start collecting soil samples from the ground. The usage of every algorithm that money (in Derbyshire's case, around 50 pounds) can buy is possible. Then, when Madsen was told that 175 would be the winning score, he would mull it over and change it to 151.
Derbyshire were very cautious on this occasion. Madsen and Guest started out steadily, continued to be solid during the middle phase, and stayed steady until the overs came to an end. The Steelbacks dismissed Guest in the final over when he lifted Andrew Tye into long-on, while Madsen was eliminated in the penultimate over when he pulled Taylor to deep midwicket.
Sales failed to make the precise throw that was required after Reece refused Madsen's request for a single into the offside, which might have led to Northants dismissing Madsen with just a single to his credit. The unfortunate bowler, former Derbyshire seamer Tom Taylor, dropped him on 40 as well. Taylor threw a ball to mid-on, but Tye botched it with an awkward dive.
Despite losing Ricardo Vasconcelos early on by pulling to short midwicket, Willey and Lynn were able to put Northants in a respectable position. When Reece struck out both hitters in the space of three balls, Willey holed out at deep square and Lynn dragged on a wide one, Derbyshire bowled with vigor and realized they had a chance.
Saif Zaib, a fine natural talent who has languished in bud for far too long, flowered with the most alluring innings of the day on 14, but he was saved on 14 by Zaman Khan, who slapped the left-arm spinner, Mark Watt, to the edge of the circle. As a result, Northants easily defeated a target of 44 from the last six balls.