Conditions are extremely tough in India with humidity, cramps, and all other challenges: Jos Buttler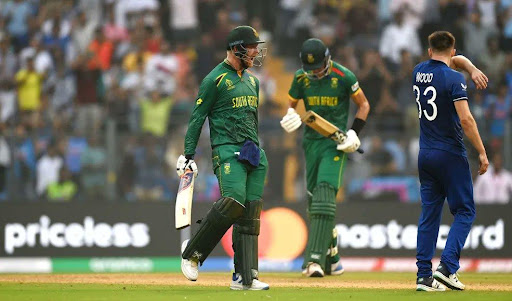 Henrich Klaasen says we had some hard chats, boys bounced back with training sessions. Fantastic performance today
Klaasen and Jansen played an outstanding inning having set the highest total for Proteas in One-Day Internationals against England while the only players who performed better for England at bat were No. 10 Mark Wood, who scored an almost ridiculous 43 off just 17 balls, and Gus Atkinson, who scored 35 in just four ODIs.
England had won the toss and decided to bowl first. Following their problems with the ball, Willey and Atkinson replaced Sam Curran and Chris Woakes.
Topley got off to a good start, although it needed an England review to secure the dismissal after he was hit for four off the opening ball of the match. He produced a superb outswinger that enticed de Kock to drive and found an edge that Buttler snagged behind the stumps.
South Africa scored 41 runs in the last four overs of the opening power play, with Hendricks seizing his opportunity to help himself to four fours in eight balls from Willey and Atkinson. Ultimately, South Africa finished at 59 for 1.
However, Topley had left the field with a finger injury sustained while trying to stop a ball that van der Dussen had struck back at him.
After Adil Rashid, who had been sidelined for most of the match due to a stomach ailment, came on the attack in the 18th over, he broke the stand between Hendricks and van der Dussen with his tenth delivery, as the latter mishandled a slog sweep and sent a top edge sailing high to Jonny Bairstow at midwicket.
After returning to bowl in the 35th over with his left index and middle fingers strapped together, Topley removed the dangerous Aiden Markram for 42 with his sixth ball back thanks to a brilliant catch by Bairstow.
Bairstow couldn't contain his joy, pumping both fists in celebration after he had run to his left from deep backward square and backpedaled as he lost his footing on the patchy outfield, all the while keeping an eye on that he didn't fall back onto the boundary rope.
For a man who, three months ago, had mentioned that the severely fractured leg he had sustained in September of last year still caused him difficulties, this was no little accomplishment. Next, at mid-off, Topley struck again, smashing the ball straight down Stokes' throat to dismiss David Miller for a cheap stroke.
Henrich Klaasen thrashed Rashid well back into the stands beyond deep midwicket and took 19 runs off Topley in the next over.
After he was hit by a yorker from Wood that left him lying on the pitch in a soaked and exhausted heap while he recovered, Klaasen celebrated his century in fine style, punishing Wood's low full toss over the fence at long-on and then pulling a four wide of deep fine leg to reach the milestone.
Jansen reached a 35-ball fifty, with a burst of six, four, and six off Atkinson down the ground, behind deep point, and over midwicket. In the penultimate over, which resulted in 26 runs overall, Jansen struck three sixes off Topley, demonstrating his amazing ball-striking ability.
After being bowled by Atkinson Yorker that struck his leg stump in the final over, Klaasen fell, but his innings were over and he left to a rousing ovation. Shortly after, Jansen returned on the same route, unbeaten and having set a highest total for South Africa in One-Day Internationals against England.
In six overs of their reply, England lost their top three players for just 24 runs. Jansen removed Joe Root and Dawid Malan with consecutive balls at the end of his second over and the beginning of his third.
After missing his team's opening two games due to a hip injury, Ben Stokes returned to the field and angrily threw his bat into the air after spooning a Kagiso Rabada delivery straight back to the bowler, becoming the third England batsman in a row to fall for single-figures as his team collapsed to 38 for 4.
Gerald Coetzee conceded 16 runs in his opening over, but Jos Buttler's four, four, and six were as good as it got. Coetzee replied by taking two wickets in the first three deliveries of his second over, having England's skipper caught behind and Harry Brook lbw for 15 and 17.
The only players who performed better for England at bat were No. 10 Mark Wood, who scored an almost ridiculous 43 off just 17 balls, and Gus Atkinson, who scored 35 in just four ODIs. Reece Topley was unable to bat because he was hurt while fielding.
Aiden Markram, South Africa captain:
"Fantastic all-round performance. Couldn't have asked for a bigger effort and skills to top it off was fantastic to see. Slightly surprised by England's decision at the toss. We know they like chasing, we'd have batted first. Happy it worked out the way it did. Was good that our big quicks weren't cooking in the heat. (On Hendricks) Really great knock, especially without warm-up. He's been around a long time, that experience helps. He's really working on his game every day and has reaped those rewards. (On Klaasen) He at 5 and Miller at 6 is a destructive pair at the back end. He's come a long way. We've played together for a while, great to see him showcase the abilities that we knew he always had, on a big stage. (On Jansen) He's having a great comp. Takes a lot of pride in his batting and prepares to deal with the worst-case scenario. Lot of ability with the bat, and his confidence will rise. Great stand with Klaasy. Incredibly pleased for him. Great way to bounce back after the Netherlands loss, it hurt us."
Jos Buttler, England captain:
"Incredibly disappointing. Come in with hopes of playing well but we were short of that and were well beaten. Changes weren't as big an issue. Throughout the first innings, lots of things didn't go to plan. Topley got injured, we were unsure whether he'd come back or not and get a few overs in, that kind of stuff. It was a tough 50 overs. Thought if we'd restricted them to 340-350 on this pitch, it'd have been a good chase but they got away. Bowling first is potentially a mistake. You always look back on the decisions you make. Incredibly tough conditions with heat, etc, you saw that with the boys in the field. Potentially should've batted due to the heat. Conditions were extremely tough. The humidity, cramps, and all other challenges were tough. We needed to get off to a good start with bat chasing a score like that. The ball did a bit, batters got down the leg side. When that kind of thing starts happening, you start thinking the writing is on the wall. The loss leaves no room for error. We have to probably win every game here on in."
Heinrich Klaasen, POTM:
"It's up there with my best ever. The conditions were brutal. It's just proper heat, sapped out all the energy. Was told to not run my runs too hard, to save energy cos the heat out is extreme. It was two overs too early. England also looked under the pump. (Chat with Markram) But a couple of quick wickets brought them back in. The chat with Marco was the same and that's what happened. Jansen was next level; he kept me going and should get this award. His runs are so vital. The Netherlands was a tough loss. One bad performance doesn't make us a bad team. We had some hard chats, boys bounced back with training sessions. Fantastic performance today."