Boult is 'as hungry as ever' to play for New Zealand and win the World Cup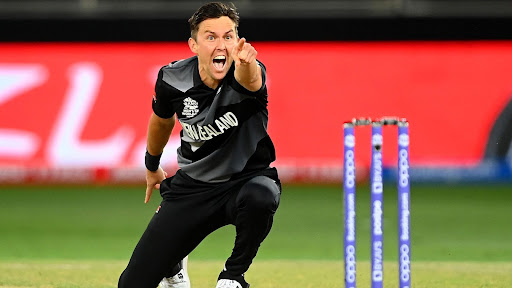 Trent Boult has taken the most wickets for New Zealand in ODI World Cups
Trent Boult of New Zealand is "as hungry as ever" to represent his country once more and win the World Cup. Boult last played an ODI about a year ago and gave up his national contract to concentrate on T20 franchise cricket.
Boult was added back to the ODI team for the next series against England, which will be a crucial component of New Zealand's preparation for the World Cup in India, which starts in October. Boult participated in the most recent two World Cup finals, where New Zealand lost to Australia and England for second place.
"It wasn't an easy decision to make just over a year ago to move away from the New Zealand cricket bubble in a way,"

Boult said.
"I never wanted it to be about New Zealand or franchise cricket. I just respected the fact that my career is [only] so long, and just tried to make the most of my remaining years as a bowler. Yeah, definitely as hungry as ever to still represent the country, and hopefully do something special with the guys over the next couple of months. I can't wait.
"I have always had this in the back of my mind to come back and work towards an ODI World Cup. There's history involved there. The times we have had in previous campaigns has been very exciting. So just hungry to get involved, and hopefully play a big role.
"I'm just thinking about hopefully lifting something pretty shiny that we were pretty close to four years ago. That's the biggest focus."
With MI New York, who he assisted in winning the first MLC trophy, Boult recently finished a contract. In that league in the USA, he had the most wickets taken.
He formerly played for MI Emirates in the UAE's ILT20 and Melbourne Renegades in the BBL. Prior to that, he played for Rajasthan Royals in the IPL. Boult missed 35 international games of various types while not playing for the New Zealand team.
"Life's short, make the most of everything. It has been an exciting 12 months or so on the road,"

Boult said.
"[I was] getting the chance of experiencing cricket around the world. Just hot out of Texas [for MLC]. I had a great time out there, lifting the trophy with MI New York.
"Just pretty grateful to get the experiences across a couple of big tournaments, and it's been different watching the Black Caps games from afar and seeing the guys go out there and take on the international game. I still respect the international game immensely; it plays a big role in any kid trying to come through and play cricket as a dream. The idea of a World Cup is still the pinnacle in my opinion as well."
Just before traveling to India for the World Cup, New Zealand will play a series against Bangladesh and four One-Day Internationals against England in the following month. Boult, along with Tim Southee, will once again be anticipated to be New Zealand's leading swing bowler for the ODI World Cups. He has taken 39 wickets at an average of 21.79 from just two editions, 2015 and 2019.
All-rounder James Neesham, who was lost to the franchise along with Boult after he turned down a NZC contract, is still part of New Zealand's World Cup ambitions despite the fact that he will miss the England ODIs due to the birth of his first child.
Moving to franchise cricket, according to Boult, does not make players' jobs simpler in the traditional sense while the debate over club vs. country continues.
"I'm not sure about the contracts. It's a hard question as well, with franchise cricket around the world,"

he said.
"It's not taking over, but there's a lot more of it. I still think international cricket plays a massive role in, I suppose, earning you the right to get into the franchises and play.
"And franchise cricket can be pretty hard. You are one or two performances away from being pushed out of the franchise. There are hundreds of cricketers trying to come in behind you and take that role as well. There's a lot at stake."