Ben Stokes was "emotionally beat up" as Pat Cummins enjoyed Australia's historic victory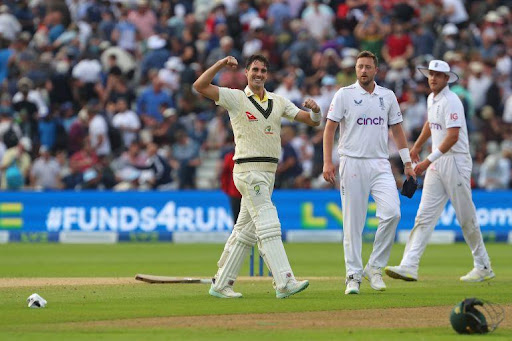 Australia defeat England by 2 wickets
The first Ashes Test was won by Australia by two wickets at Edgbaston, and England's captain Ben Stokes said he was "pretty beat up emotionally" after the match. Australia was led by his opposite number, Pat Cummins, and battled to a dramatic victory.
When Stokes himself dismissed Australia's Player-of-the-Match Usman Khawaja for 65 with a ball that had already played 72 overs, opening the way to the tail with 72 runs still needed, England appeared to have taken control of the game in front of another rapt audience.
After Alex Carey drove a head-high catch to Joe Root to leave England needing two wickets to win, Cummins and his partner Nathan Lyon joined him at No. 10 and it was 54 to win. They would, however, fall short as Australia's ninth-wicket combination saw out the new ball and secured victory in stirring scenes that resembled the heartbreaking what-might-have-beens of their dramatic two-run defeat on the same venue in 2005.
"I'm not gonna lie, I was absolutely s****ing myself for the last five minutes there," Khawaja said at the post-match presentations, after claiming the match award for his haul of 206 runs across the two innings. "It's so heart-wrenching. When you're playing and you're in it, you're fine, but when you're watching it from up there, you know how the fans felt. But that was an unbelievable game.
"I watched 2005 Edgbaston as a young kid on TV, I stayed up late, and I was there when Stokesy played an unbelievable innings in the last Ashes but this has definitely got to be one of my favourite Test matches I've ever played."
Ben Stokes, on the other hand, experienced a range of feelings. Given that England made much of the running throughout the first four days of the game, including their bold but eyebrow-raising declaration at 393 for 8 on the first evening, and despite England's repeated claims that they are not a results-driven squad, this was a setback that is sure to hurt.
"It was gripping not knowing which way it was going," Stokes told the BBC. "If that's not attracting people to this game that we love and have committed so much of our time to, then I don't know what will.
Asked if England had thought the game was up at eight-down, Stokes replied:
"You never think you've won a game till you've won it, and it was still massively in the balance there and hard to get genuine wickets on. We had to come up with different ideas constantly and change things up all the time.
"It comes down to small margins," he said, referencing his own crucial miss at midwicket off Cummins, a valiant one-handed effort that couldn't quite stick. "If a couple of small chances go our way, like that catch – I thought I did have it but it just popped out … We can't look back too much on things like that. Unfortunately, we are here as the losers and Australia have won but we have got four more to go."
Regarding the declaration, which was made with six overs of the opening day yet to go and Joe Root letting loose after hitting 100, Stokes said:
"I saw that as the time to pounce. I said in the dressing room that, if we were playing against any other team and we were in that position, that is what we would have looked to do.
"I am not going to change the way I have gone about my cricket over the last year just because it's the Ashes. Who knows? We could have got another 40 runs – but Joe could have got out or Ollie [Robinson] could have got out next ball. I thought we were in control of most of the game and we managed to produce a result and that is all we want to try and do.
"If we are going to be involved in games like that, and we end up being on the losing end, it's obviously devastating. I am pretty beat up emotionally at the moment, but that is sport and it's the greatest emotion in the world."
Cummins, on the other hand, was understandably overjoyed with his 44 to end the chase. Despite the difficulty he had faced upon arrival, he stated that he had been optimistic about his prospects.
"Honestly, pretty good,"

he said.
"That wicket didn't have too many demons in it for a day-five wicket. I thought it was well within our grasp.
"I think both teams spoke a lot about playing their own style before the game,"

he added, after Australia's more measured style had won out over England's bombastic approach.
"And I think it's just one of the beauties of this series. Totally contrasting styles. I think we both play to our strengths. And you don't necessarily know which style is better, but that makes for good entertainment."
On Khawaja, meanwhile, whose first-innings hundred was his third in seven Tests in a stellar start to 2023, Cummins added:
"He showed incredible composure in both innings. Just played at his own pace, played his own method, didn't get caught up in everything else. He's been a class player for the last couple of years and to have someone like that out in the middle that we could all bat around, we're really happy for him."