Ben Stokes has 'really good plan' to deal with long-term knee injury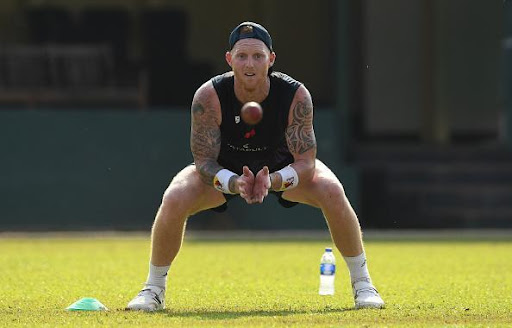 Ben Stokes practicing with the team mates
Ben Stokes has ruled out bowling at the World Cup, but he claims to have "a really good plan" in place to recover from his persistent left-knee ailment and play as a "genuine allrounder" the following summer.
As a specialist batter, Stokes participated in the final three Tests of the Ashes series this summer. He will play in the same capacity when he rejoins England's ODI squad on Friday, perhaps at No. 4.
While he declined to go into further detail about his injury management strategy, he did not completely rule out the possibility of having surgery between the World Cup and England's Test tour of India early the following year.
Speaking to the media for the first time since resuming his ODI career, Stokes explained why he was unable to turn down the chance to help England defend the trophy they won at Lord's four years ago: "Going to India and trying to defend the World Cup was a big reason."
After the Ashes, Stokes acknowledged that he was "exhausted" on both a physical and a mental level, but he took a break from the game in August, going on vacation and skipping the Hundred. He continued negotiations with Matthew Mott and Jos Buttler that had begun earlier during that time off and informed them that he was eligible for selection.
He will play in England's four One-Day Internationals (ODIs) against New Zealand over the following eight days before departing for India at the end of the month. Even though Stokes said that the World Cup is "the only thing I'm thinking about," he did admit that he has been consulting with doctors to come up with a long-term strategy for his knee.
"It's been a good chance to rest up and get into a good position for these one-dayers and the World Cup afterwards, I've had some good conversations with specialists in different fields around rehab and a plan going forward after the World Cup. There will be the potential of something happening after the World Cup."

he said.
"There's actually quite a long time off after the World Cup. I've been having some good conversations with some specialists [about] rehab and physios, the surgeons, the guys who know what they are doing. There is a plan in place. I know what's going to happen; I just don't think now is the right time to say what I'm doing.

He told the BBC
"When we do what we need to do to give myself a chance of getting back to being a genuine allrounder, there will be a time when I can say what I'm doing. We have got a very good plan in place. I want to be playing next summer as a genuine allrounder; this winter is all about playing this World Cup, then getting this knee sorted."
Stokes did not elaborate on his strategy, but it doesn't seem probable that he will be involved much with the ball during England's five-match test series in India. While stating that the IPL 2024 is "too far away to worry about," he will also need to debate the potential of a retention on his INR 16.25 crore (£1.6 million) contract with Chennai Super Kings in the upcoming months.
Stokes cited an unmanageable schedule as the reason he stopped playing ODIs last year, and he reaffirmed on Thursday that he had no plans to change his mind at the moment. The saying at the time was "I'm done," he said. "However, as time passes and opportunities become more and more accessible, you begin to think very differently than you did when I made my decision.
"There were obviously a lot of things to think about. First and foremost, I needed to see how I got through the Ashes and then think about what I had after the World Cup. When I felt like I had to make a decision and make myself available, it was an easy one to make."
"The words 'World Cup' are pretty inspiring, going into this one as world champions, playing a part in that in 2019, which was an unbelievable moment for us as a team and myself… the idea of going in and potentially being able to win back-to-back World Cups was one of the big things.

It was impossible to resist the attraction of winning back-to-back 50-over world championships. Stokes added.
"Everyone knows – and it's not arrogant for us to say – that we're a very good team. We've got a very good depth of personnel to be able to choose from and our record since the World Cup has been very good. We like our chances, but the thinking about World Cups is who can handle the pressure best on any given day."
14 months after his previous outing in the format, Stokes doesn't anticipate it will take him long to get used to 50-over cricket again.
"I've played 100 games, so I do have some idea of how to do it, coming in and not being captain can actually be quite refreshing."

he said, laughing.