Before to the Nagpur Test, Cameron Green made "significant" progress in his injury recovery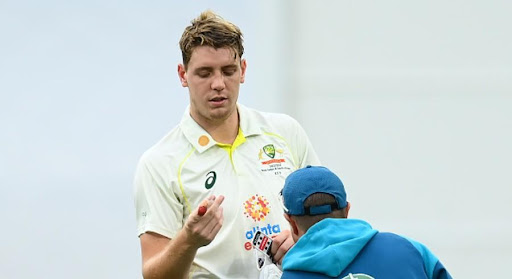 During the MCG Test against South Africa, Cameron Green had a finger injury
Even though it remains extremely doubtful that Australia all-rounder Cameron Green will be able to bowl, his progress in recovering from a fractured finger has been encouraging as he makes another last effort to be ready for the first Test against India in Nagpur.
Green started batting and bowling with a hard ball in the nets shortly after receiving to go to begin training before departing for the tour.
Although Sydney head coach Andrew McDonald said he will be taken into consideration as a specialist batter before traveling, the management will still be worried about the build-up of his workloads after a month off of action.
"He's made some significant steps forward in the last couple of days, probably to my surprise, so there's still an outside chance that everything going well he might be on the team sheet,"

On Saturday, McDonald spoke to reporters in Alur. 
"I wouldn't say he was in discomfort with his bowling, one of the deliveries jarred the bottom of the bat and that can create discomfort for anyone but there's a little bit of awareness around that finger."
How Australia will balance their side, however, remains to be seen given that Green still has a very tiny chance of being an option with the ball in the first Test, which starts on February 9.
While it has been believed that two frontline bowlers will play in Nagpur, Ashton Agar was recalled to partner Nathan Lyon against South Africa at the SCG last month. Captain Pat Cummins was well aware of the powerful opponent Australia's quicks can be even when they are without the injured Mitchell Starc.
"I wouldn't say it two spinners is a given, it's very conditions dependent so particularly this first Test, once we get to Nagpur we'll see,"
"I think sometimes when talking about a couple of spinners you forget how good a lot of our fast bowlers have been in all conditions. Even some of the SCG wickets, there hasn't been a lot in them for quick bowlers but the quick bowlers have found a way.
"We've got plenty of bowling options here – finger spin, wrist spin, left-arm, Starcy when he comes back – so we'll obviously pick the bowlers we think can take 20 wickets, how we are going to split that up we aren't 100% sure yet."
As Australia also has Travis Head's bowling at their disposal, Cummins was open to Todd Murphy, an uncapped offspinner, teaming Lyon if Australia chose to use two frontline spinners. The squad's other option is leg-spinner Mitchell Swepson.
"It's a chance. That's something we'll have to balance up if we want to go with two spinners,"
"Do we want variation, or just two offspinners? So there's no reason why we can't go that way. Travis Head is in the side as well and bowls really good off spin. We've got plenty of variety to choose from."
In terms of batting, McDonald is confident that David Warner would be driven to improve upon a dismal performance in India, despite declaring his tiredness following a hectic home summer just before leaving for the trip.
"He's really looking forward to the challenge of India and it's been well documented that he hasn't had the series that he would've liked here, and it's always challenging,"

McDonald said. 
"But the way that he's applying himself in his downtime to really landing on a method to take on the Indian spinners, also the quicks, and to have a successful tour…I think you'll see him fully invigorated, fully invested and fully recharged for the challenge ahead."
Ahead to departing for Nagpur on Monday, Australia will hold a second comprehensive training session in Bengaluru on Sunday.