Bangladesh's fortunes have increased following Talukdar's collaboration with Litton Das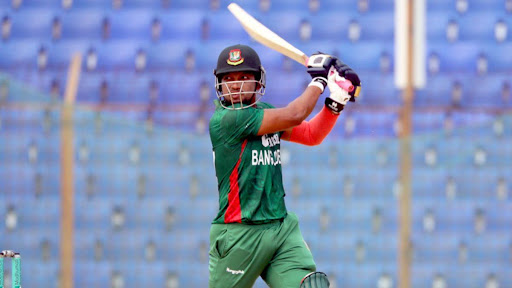 Rony Talukdar has scored 67 off 38 and 44 off 23 in the two innings against Ireland
With Bangladesh's newfound fearlessness, Rony Talukdar's mental state upon his comeback has fit in nicely. He claimed that the players have been urged to play aggressively and with good intent in T20Is by captain Shakib Al Hasan and the rest of the team management.
Bangladesh has won five straight games for the first time in this format, taking this month's T20I series victories over England and Ireland. In the ODI series at Sylhet, they also defeated Ireland 2-0.
By supporting Litton Das perfectly during the powerplay with his clean hitting, Talukdar has helped to establish this new confidence.
After breaking the record for most runs scored during a power play in the previous game, the pair established a new opening partnership record for Bangladesh in the second T20I against Ireland.
For a T20I team that has been wishing for an attacking opening duo, their explosive starts have been a breath of new air.
"Shakib bhai is such a legend of the game that when I played with him in Abahani twelve years ago, he had the same intent and mentality,"

Talukdar said. 
"He always tries to be positive. He always tries to dominate the game. He is trying to spread it within the team. We will play like tigers. We will try to dominate the opponent. We will be fearless. We might fail and then we will succeed. If we can carry this mentality, we can have more success. The coach also thinks in the same way."
"The team management gives us a plan which we try to implement. The basic plan is to have positive intent. We talk about playing fearless cricket."
"That is the instruction. It is a match-by-match plan. If we can continue in this way, it will help us in the future. The team management wants the players to have an aggressive mentality. I think we are playing really well in all three departments."
In his comeback after seven years, Talukdar claimed that he has long stuck to his natural style, and the team management has also advised him to do the same. He was called back because he was one of the best scorers in the BPL this season.
"I have nothing to lose. I have always followed this pattern of playing cricket. I play positively. The team management told me to play my natural game since they saw me playing in the BPL this season. They told me to do the same thing I did in the BPL. They have given me encouragement so I no longer have fear of getting dropped."
Talukdar gave Litton credit for playing powerful shots or grabbing quick singles while batting, both of which made Talukdar's work easier.
"Litton is Bangladesh's main batter; I enjoy batting with him," Talukdar said. "He bats in such a way that you don't realize how the runs have come. I am just staring at his batting. There's something to learn from him. I always want my batting partner to be as aggressive as I am. It makes life easier for both batters. It is important for playing a long innings.
"We try to rotate the strike all the time. Strike rotation in any format releases the pressure on the batter. We tried to take at least a run off every ball. It is possible if you have a positive intent. We are trying to play proper cricketing shots all the time. We didn't set a target. We wanted to play every ball by its merit."