Bairstow shows a glimpse of the 'Bazball' era as England whitewash Kiwis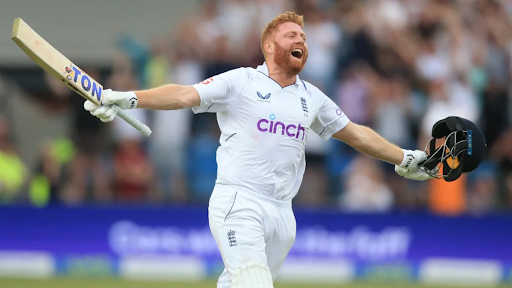 Jonny Bairstow has truly be outstanding against New Zealand in the Test series
A dominant England swept New Zealand 3-0 in the test series with an aggressive seven-wicket victory in the third and final test on Monday. England won the first test by five wickets at Lord's and then chased down 299 runs at Nottingham for a five-wicket win in the second test.
England used 14 players across three matches as the hosts ran away with an upset victory against the defending World Test Champions. Here, we rate how every English player performed in the three-match Test series against the Black Caps –
Batters
Alex Lees – 5/10
Expanded his game after the pedestrianism in the West Indies batting at a strike rate of 50 and looked much better for it. Had poor matches at Lord's and Headingley but proved crucial in the second Test at Trent Bridge with scores of 67 and 44.
There was only one opening stand above 50 in six innings, so the old problem still remains.
Zak Crawley – 2/10
The only player to regress under the new regime. He has the team management's backing so will definitely play against India but he is failing to convince as a Test opener because of his shot selection and the new ball exposing technical issues.
Ollie Pope – 8/10
Series when Pope finally came of age in Test cricket and all in his new role at No 3. Century at Trent Bridge followed by a pivotal 82 in the chase at Headingley. He looks comfortable when it is flat, but still vulnerable when the ball is moving due to defensive issues.
Second Test hundred was long overdue and may well follow the Root path, oscillating between three and natural position at four.
Joe Root – 9/10
The former skipper cntinued his sublime form with a formidable and match-winning century at Lord's followed by an innings of 176 at Trent Bridge with an unbeaten 86 in Headingley run chase finishing things off.
Even his batting has expanded. Reverse scoops for six show how freedom from the burden of leadership can benefit an already great batsman; almost impossible to bowl to at the moment.
Jonny Bairstow – 9.5/10
Remarkable back-to-back sub-100-ball centuries at Trent Bridge and Headingley followed up by a whirlwind final knock of 71 probably should have made him England's man of the series ahead of Root.
He has taken almost 90 Tests but at the age of 32, Bairstow finally looks like a settled player with a defined role in the team. This complex character needs wise handling and the inclusiveness of Stokes-McCullum has eased his insecurity, leading to two of the best performances of his career.
Ben Stokes – 8/10
Set the tone of uber-positivity in the field as captain and with the bat. What a great first series leading the team for Bazball's on-field general. He has been outstanding strategically, delivering clear messages and establishing a team identity in his first series.
Ben Foakes – 6/10
Subbed out of the final game on day four with Covid but performed well with the bat and gloves in the opening two Tests.
A better series with the bat, especially at Trent Bridge where he scored his first Test fifty at home, batting under pressure with Root. Needs to progress when partnered with the tail.
Sam Billings – 5/10
Kept wicket for one day at Headingley after coming in as a Covid replacement for Foakes and did fine with the gloves. Did not bat.
Bowlers
Matt Potts – 8/10
What a debut series for the Durham seamer, who ended up being England's leading wicket-taker and who got crucial wickets at crucial times throughout. 
Benefited from playing under Stokes, his Durham team-mate, and is built for Test cricket both in his bowling – honing in on off stump skilfully – and physically, too. England did not miss Anderson when Potts took the new ball.
Stuart Broad – 7.5/10
May not have been his best series but produced spells in all three Tests – especially the first at Lord's – that proved crucial to England winning.
Embraced a fuller length but average of 35 and strike rate of 66 was the result. Much-improved body language when batting and when everyone is fit he should be used sparingly to keep him hungry.
James Anderson – 7/10
Ruled out of the final Test with ankle niggle but performed well in first two – as his figures show. Faded at Trent Bridge as he battled ankle problems but was magnificent up to that point.
Topped the bowling average with 11 at 18.63 in point-proving mode after Caribbean axing. Competitive edge undimmed and Potts and Overton both credited his advice.
Jamie Overton – 7/10
Only played the final Test and while his figures with the ball were underwhelming, was brilliant with bat, scoring 97 to help rescue England's first innings.
Looks a genuine allrounder, rather than lower-order hitter, and bowled well in spells offering a different option to Potts and Broad. Bowling short, sometimes around the wicket, added a streak of menace that England will need against Australia and India.
Jack Leach – 7/10
Concussed in first Test, struggled in second, but burst into life in third with a 10-wicket match haul. Looks most confident he's been in an England shirt.
Contained and attacked well, and with the full backing of a captain who rates him, Leach is a different bowler. India will go after him but he should have more confidence in the tank to cope better this time.
Matt Parkinson – 3/10
Parkison was introduced as a concussion substitute from day two of the opening Test at Lord's, the leg-spinner at least got a maiden Test wicket.