Australia drop Marnus Labuschagne from preliminary squad for the World Cup in India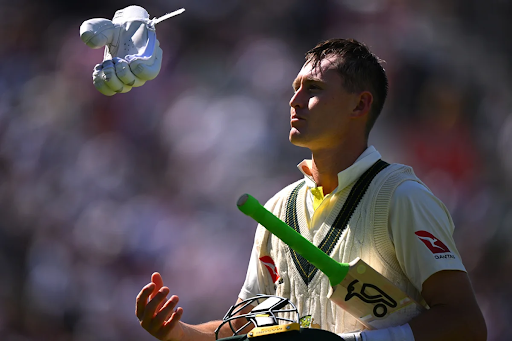 Marnus Labuschagne has been dropped from the Australian one-day side ahead of the 50-over World Cup in India
Lack of consistency with the bat in one-day cricket as well as in other formats of the sport has led to Australia middle order mainstay Marnus Labuschagne being dropped from the teams preliminary squad for the ICC 2000 2350 over World Cup to be played in India from October 5 to November 19.
The five-time champions Australia have announced an 18 member squad which will take on South Africa in an away series followed by a three match ODI series in India," a 50 over World Cup in which Australia will face India in the early stages of the tournament, the squad will be shortened to 15 members as per the rules of the ICC.
Marnus Labuschagne has played a huge number of ODI matches for Australia in the buildup to the 2022 World Cup but he has still not found a place in the preliminary squad which was released recently.
Australia selector George Bailey has now clarified that the decision to drop Marnus Labuschagne from the 18 member squad for the upcoming one-day international matches was largely because of his form with the bat, which was very ordinary in the recently concluded Ashes series as well in which he managed only one century across five Test matches.
George Bailey said,
"It is form based. We know Marnus at his best is good enough to hold down a spot in the one-day team, [but] we just haven't seen enough of it consistently in the role that we'd like him to do. Leading into the World Cup, there's some opportunities for others to get a bit more game time." 
The former Australia batsman George Bailey added that all doors or not shut on Marnus Labuschagne will get a chance to play white ball cricket around the same time when the World Cup squad is preparing for the competition.
"We've been really clear with Marnus. He's going to be part of some Australia A games around the same time, so he can focus on some white-ball cricket. Clearly, the squad we have going to South Africa have the frontrunning for [the World Cup] but Marnus, the age he is, the skillset he has, I have no doubt he'll play a part in one-day cricket in the future. We know at his best he can play a really important role in one-day cricket,"

said George Bailey.
George Bailey said that he has all support for all-rounders Cameron Green who has had a busy season this year since he also played regularly for Mumbai Indians in the IPL 2023 tournament.
"A really important thing to remember with Cam [is] he's doing his learning at the coalface in international cricket. Even as far as Test cricket [is concerned], he's going to play a huge role and be a really, really important member of that side; and he's going to be a really important member of our white-ball teams in the near future,"

said George Bailey.  
"He's certainly one where it's about giving him a little bit more time off to make sure he hits the ground running for the one-day series,"

he added.