At 87 for 4, South Africa was in trouble, but Klaasen teamed up with Miller and Jansen to quickly complete the target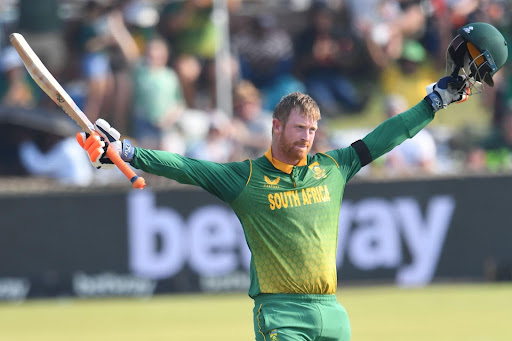 Heinrich Klaasen scored the fourth-fastest century in one-day internationals by a South African batsman
South Africa defeated West Indies in a non-Super League match to tie the series, partly due to Heinrich Klaasen's second ODI century.
South Africa was having some difficulty chasing 261 on a level surface in Potchefstroom when Klaasen joined forces with David Miller for a half-century and teamed with Marco Jansen for 103 runs to reduce the load of the target. At 87 for 4, South Africa was having some difficulty. Klaasen also recorded the fourth-fastest century by a South African.
The outcome stopped West Indies from claiming victory in their first match against a team ranked in the top eight and their third bilateral series win away from home since 2011.
Moreover, they have never won a bilateral ODI series in South Africa, and the last time they did it was 30 years ago when they won in a triangular series that also included Pakistan.
When considering their performance, West Indies will consider the middle order, which blew a promising start (they were 110 for 1) and lost 6 for 96 between overs 19 and 40.
Despite not batting out their allotted overs, they gave the attack something to defend with 50 runs off the final 50 balls faced..
Their bowlers performed admirably at first against a South African lineup without Temba Bavuma (injured) and Quinton de Kock (on rest), but Klaasen's solid hitting made it clear that South Africa would win with more than 20 overs to spare.
After Alzarri Joseph's brutal opening spell and the departure of acting captain Aiden Markram, Klaasen was called upon to complete the task at hand.
Joseph's furious short-ball attack eliminated temporary opener Ryan Rickelton, who fended him to Kyle Mayers at first slip, and No. 3 Rassie van der Dussen, who was hurried into the pull shot..
In order to put Klaasen into play in the eleventh over, Markram first completed the power play before edging a leg cutter from Mayers to Shai Hope.
Nine balls later, West Indies successfully overturned a Tony de Zorzi lbw appeal by Akeal Hosein that had been expected to hit middle-stump by ball-tracking software. With 87 for 4, South Africa was in trouble.
When Klaasen hung back in his crease to dismiss Hosein for two fours in the over, which would become a regular theme of his innings, the tension was relieved.
After dragging Joseph for back-to-back-to-back fours, he smashed Odean Smith over deep mid-wicket for the first of his five sixes to put an end to the West Indies powerhouse's danger.
Although mostly a spectator, David Miller blasted fuller balls from Hosein and Smith for six before giving Hosein a straightforward return catch.
South Africa's batting lineup, which was significantly shorter than usual, had the potential to fall apart, but Marco Jansen performed admirably on his home field. Before he used the reverse sweep against leg spinner Yannic Cariah, he made six runs off the first nine balls he faced.
He repeated the move again in the span of three balls. On his next delivery, which included a six over midwicket, Jansen, who had taken to Cariah, scored 14 runs.
South Africa needed just 55 more runs to complete their inning by the halfway point, and they were scoring at a rate of more than eight runs per over. Klaasen was in his 80+ when Jason Holder moved him up to the 90.
Off the 54th ball he faced, a single off Joseph brought him to his hundred. Jansen was on his approach to scoring his first fifty in an ODI, but in his desire to do so, he directed a Joseph delivery to Shamarh Brooks at backward point, leaving Wayne Parnell to complete the innings.
Previously, Mayers scored on Lungi Ngidi's width to help West Indies score 39 runs off the first seven overs of their innings. But Mayers was already dismissed after he failed a pull off Jansen, which caused Ngidi, who was in the middle of the field, to back away and take a diving catch.
With a knock off 60 balls, Brandon King scored his fourth ODI half-century and kept up his impressive form.
The second-wicket partnership between King and Shamarh Brooks was beginning to show potential when Brooks appealed for a run but King failed to respond, and Brook slipped returning to his crease.
When he was run out for 18, the partnership came to an end on 71. The West Indian innings' highest score was revealed to be this one.
After the run-out, Ngidi was brought back, and King appeared pleased to see him. On his subsequent over, King attempted to play a short ball while he was on his toes, but he chipped it onto his stumps.
In order to get West Indies to 148 for 3 at the middle point and within striking distance of 300, Nicholas Pooran smashed short balls from Coetzee and Ngidi and slog-swept Fortuin over long-on.
After Markram pushed himself to hold an end, they came up far short and he gave his career's most economical performance. He claimed the wicket of Jason Holder, who was turned over and stumped, in his 10 overs for just 30 runs.
At that time, Hope had attempted to whip Bjorn Fortuin over short mid-wicket but had only connected with David Miller, Rovman Powell had been stumped, Nicholas Pooran had been bounced out, Carirah had been strangled down the leg-side.
West Indies would have felt they were below-par and afterwards realized how much below the pace they were. Smith's run-a-ball 17 produced some late thrills.