Bellator 254 got the main event – Ilima-Lei Macfarlane vs Juliana Velasquez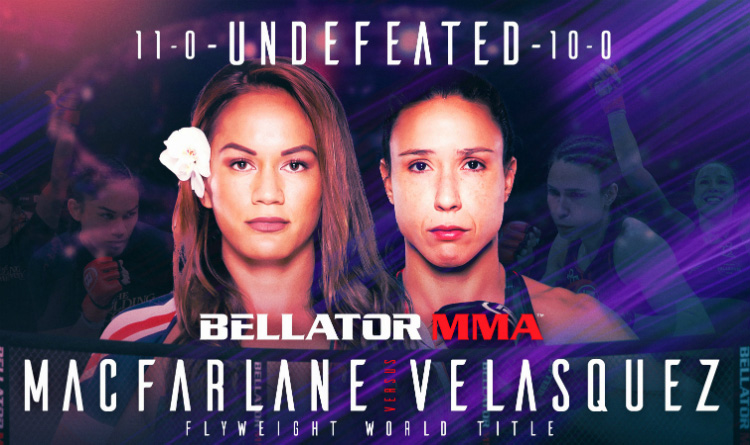 Bellator MMA
Bellator 254 will be headlined by a long-awaited title bout between flyweights Ilima-Lei Macfarlane and Juliana Velasquez. The event is scheduled to take place on December 10 in Connecticut.
Macfarlane is looking forward to continue her dominance in the flyweight division
Ilima-Lei is an undefeated athlete with an 11-fight winning streak. She began her professional MMA career in 2015 and transitioned to Bellator after an impressive victory in her debut bout against Katie Castro. Macfarlane knocked out her opponent in 10 seconds. The Ilimanator won 5 bouts in a row and faced Emily Ducote for the inaugural Bellator flyweight title. She defeated Ducote by submission and won the belt. In the period of 2018-2019, Ilima-Lei defended the title 4 times and set a record for the most victories in Bellator among women – 10.
Velasquez has never suffered a loss as well. Her record currently stands at 10-0. She started competing in MMA as a pro in 2014 and won 1RC championship next year. Juliana signed a deal with Bellator in 2017 and gained 5 consecutive victories in the promotion. On her way to Bellator gold, she defeated former title contender Alejandra Lara and famous Brazilin martial artist Bruna Ellen.
Both ladies are experienced grapplers. Macfarlane earned a brown belt in BJJ, while Velasquez got a black belt in judo. However, Ilima-Lei has a much higher submission rate – 55% versus Juliana's 10%. However, Velasquez has got more knockout power. She won 40% of contests by KO/TKO, The Ilimanator – only 18%. Therefore, each fighter has her own advantage that makes this matchup really exciting and unpredictable. CBS Sports Network will broadcast Bellator 254 from Mohegan Sun Arena in Uncasville.